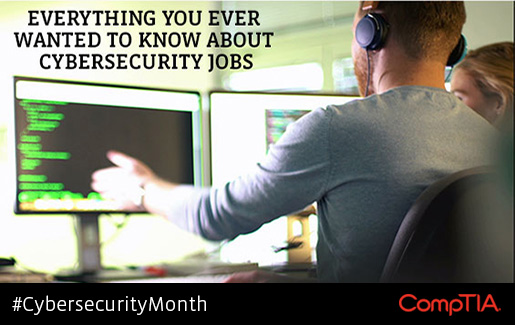 Cybersecurity is constantly evolving and growing – currently, there are more than 700,000 IT pros employed in cybersecurity in the United States. And there are more than 300,000 current U.S. job openings in cybersecurity that need talented IT pros like yourself. Keep reading to learn about the different types of cybersecurity jobs and salaries and how to start your cybersecurity career.
What Cybersecurity Jobs Are Out There?
According to CyberSeek, the top three cybersecurity job titles are cybersecurity engineer, cybersecurity analyst and network engineer. Even if you don't have a ton of experience yet, there's a place for you in cybersecurity, with employers seeking IT pros for entry-level, mid-level and advanced-level cybersecurity jobs. Remember, though, that an entry-level cybersecurity job often still requires IT experience. It's an entry into the specialty, but you need to know how technology functions before you can work to secure it.

We've outlined a few of the most popular ones, along with the certifications you need, in the table below. (P.S. See what's on a cybersecurity certification exam by downloading the exam objectives.)
Common Cybersecurity Job Titles and Details
Job Title
Description
Salary Data
Job Growth
Related Certifications

Monitor network activity
Investigate breaches
Install and use cybersecurity tools
Simulate attacks to identify vulnerabilities

Cybersecurity specialist average advertised annual salary: $75,000

18% growth from 2014 to 2024

Certified Information Security Manager (CISM)
Certified Information Security Auditor (CISA)
Certified Information Systems Security Professional (CISSP)

Detect cyber threats
Implement protections
Monitor network activity
Analyze reports to identify unusual behavior

Cybersecurity analyst average advertised annual salary: $85,000

28% from 2016 to 2026

Act like a hacker to identify vulnerabilities
Stay up-to-date on the latest testing and hacking models
Locate, assess and manage vulnerabilities
Apply appropriate tools for penetration testing

Penetration tester average advertised annual salary: $102,000

18% from 2014 to 2024

Certified Ethical
Hacker (CEH)
CISA
CISM
GIAC
GIAC Certified Penetration Tester (GPEN)
GIAC Web Application Penetration Tester (GWAPT)

Offensive Security Certified Professional (OSCP)

Create new solutions to solve existing security issues
Enhance security capabilities by evaluating new technologies
Define, implement and maintain corporate security policies
Recommend modifications in legal, technical and regulatory areas that affect IT security

Cybersecurity engineer average advertised annual salary: $108,000

28% growth from 2016 to 2026

Security Architect

Provide guidance and leadership on cybersecurity policy
Collaborate with business leaders, developers and engineers to identify business needs and make a plan for implementation
Research and design security features for IT projects
Use cryptography to protect an organization's data

Security architect average advertised annual salary: $129,000
113% growth from 2018 to 2023
Security Operations Center (SOC) Analyst

Provide threat and vulnerability analysis
Investigate, document and report on information security issues and trends
Analyze and respond to previously undisclosed vulnerabilities
Prepare organizational disaster recovery plans

SOC analyst average advertised annual salary: $98,350
28% from 2016 to 2026
Vulnerability Analyst

Develop risk-based mitigation strategies for networks, operating systems and applications
Compile and track vulnerabilities and mitigation results to quantify program effectiveness
Create and maintain vulnerability management policies, procedures and training
Organize network-based scans to identify possible network security attacks and host-based scans to identify vulnerabilities in workstations, servers and other network hosts

Vulnerability analyst average advertised annual salary of $92,600
19% growth from 2016 to 2026
How to Get a Cybersecurity Job
Cybersecurity Certifications
While there are many cybersecurity certifications out there, the certifications in the CompTIA Cybersecurity Career Pathway build upon each other and help IT pros move forward in their cybersecurity careers, from entry-level to advanced.
CompTIA Security+ is a great starting point for getting into cybersecurity. This IT certification assesses the knowledge, skills and abilities an IT professional demonstrates after two years of cybersecurity field work and establishes the core knowledge required of any cybersecurity role.
At the intermediate level, CompTIA offers certifications for both offensive and defensive cybersecurity: CompTIA Cybersecurity Analyst (CySA+) and CompTIA PenTest+. CompTIA CySA+ focuses on defense through incident detection and response and CompTIA PenTest+ focuses on offense through penetration testing and vulnerability assessment. These IT certifications assess three to four years of cybersecurity field work.
CompTIA Advanced Security Practitioner (CASP) enables experienced cybersecurity professionals to prove their mastery of the skills required at the 5- to 10-year experience level. CASP is the pinnacle of cybersecurity certifications and is intended for those who wish to remain immersed in hands-on enterprise security, incident response and architecture, for example, as opposed to managing cybersecurity policy and frameworks.
Cybersecurity Training
If you're thinking about obtaining a cybersecurity certification, the first step is to download the exam objectives (they're free!) to see what topics will be covered. Then, CompTIA CertMaster can help you learn the topics, gain hands-on skills and prepare for your exam. With the CompTIA CertMaster suite of products and Official CompTIA Study Guides, you can go into your certification exam with confidence.
CompTIA Learn is interactive and self-paced, designed with your busy schedule and retention level in mind. Go at your own pace as you learn about cybersecurity through performance-based questions.
CompTIA Labs takes your learning to the next level, through real-life situations using the same software and equipment used by IT pros in the field. Gain the practical experience you need with the guidance and safety net of the CompTIA Labs team.
When you're putting your test date on the calendar, make sure you have the preparation CompTIA CertMaster Practice can provide. Using former certification exam questions, you can test and retest your knowledge until you are comfortable enough to take your exam.
But what if you are more of a traditional book learner? CompTIA has developed official study guides – in print and eBook formats – for your learning convenience. They align directly with CompTIA exam objectives and are packed with the information you need to pass your certification exam.
What's on a Cybersecurity Certification Exam?
Wondering what's on a cybersecurity certification exam? You're in luck, because we provide that in our exam objectives. Download the exam objectives for the CompTIA certification that matches your experience level.
Cybersecurity Degrees
You can get into cybersecurity with a certification, a degree or both. It really depends on what you want to do and what kind of experience you already have. Websites like CyberDegrees.org outline numerous options for pursuing a cybersecurity degree. You can filter between what degree type (associate degree, bachelor's degree, master's degree and others) or program (online or in person) you are looking for. CyberDegrees.org does the leg work for you, providing lists that break down the top online bachelor's degrees, top schools in the country and more!
On-the-job Cybersecurity Experience
Even if you aren't working in a cybersecurity role yet, you already may have cybersecurity experience from another IT role. Cybersecurity feeder roles are IT career areas that are most likely to serve as stepping stones into a cybersecurity career. Networking, software development, systems engineering, financial and risk analysis and security intelligence are all feeder roles that CyberSeek has identified as great paths from which to transition into cybersecurity.
Why It's Great to Have a Cybersecurity Job
There are many ways a career in cybersecurity can bring benefits to your life. If you want a fulfilling career in a field that is ever-changing and only continuing to grow, then a career in cybersecurity may be perfect for you. Cybersecurity offers many different subfields as well as financial stability, with average salaries approaching, if not exceeding, six figures. Most importantly, a career in cybersecurity is rewarding – you are a real-life superhero, defending your network and protecting your organization from attacks. A career in cybersecurity is waiting for you!
Want to know what's on a cybersecurity certification exam? Download our exam objectives today.