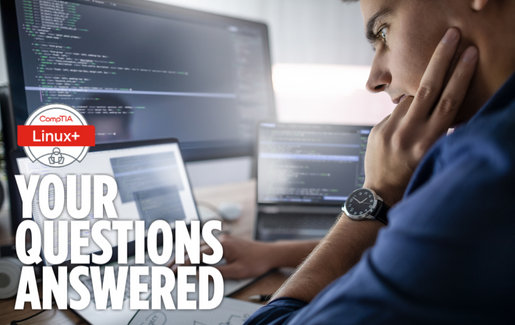 With the launch of the new CompTIA Linux+ came many questions, so we've set out to answer them here. Keep reading to learn more about the CompTIA Linux+ (XK0-005) that launched on July 12, 2022, and post any additional questions in the comments to keep the conversation going.
What's on the New CompTIA Linux+ Exam?
CompTIA Linux+ (XK0-005) is an intermediate-level IT certification that provides IT professionals with knowledge of Linux. It is the only job-focused Linux certification covering the latest foundational skills demanded by hiring managers. CompTIA Linux+ validates the competencies required of an early career supporting Linux systems.
In addition to topics you might traditionally associate with Linux, the new version of CompTIA Linux+ emphasizes the skills needed to configure, monitor and support servers running the Linux operating system such as:
Configure and manage software, storage, processes and services
Analyze system properties and processes and troubleshoot user, application and hardware issues
Understand best practices for permissions and authentication, firewalls and file management
Create simple shell scripts and execute basic BASH scripts, version control using Git and orchestration processes
Download the exam objectives to find out everything that's covered.
What Types of Questions are on the CompTIA Linux+ Exam?
The CompTIA Linux+ exam covers a total of four domains.
| | |
| --- | --- |
| XK0-005 | |
| System Management | 32% |
| Security | 21% |
| Scripting, Containers, and Automation | 19% |
| Troubleshooting | 28% |
And covers a wide variety of topics, including:
Cybersecurity
Kernel modules
Storage and visualization
Device management at an enterprise level
Git and automation
Networking and firewalls
Server side and command line
Server (vs. client-based) coverage
Troubleshooting
SELinux
Automation and scripting
These domains relate back to job roles that are tasked with hardware and system configuration, as well as system operation and maintenance.
Why Should I Choose CompTIA Linux+ Over Other Certifications?
CompTIA Linux+ is vendor neutral, meaning that the knowledge and skills you learn can be used to perform various job roles regardless of the specific programs, tools or distributions being used. Compare this to vendor-specific certifications, which equip you to work with just one platform.
How Much Does CompTIA Linux+ Cost?
The retail price for the new CompTIA Linux+ (XK0-005) is $348 USD per exam. Keep reading to learn more about bundles, which can save you money. You can also click on the ad on this page to get 10% off a voucher or training product.

Read about additional ways to save money on your IT certification.
How Can I Train For CompTIA Linux+?
Start by downloading the exam objectives and practice tests to understand what topics are covered and get examples of questions you might see.
CompTIA offers a full suite of training solutions:
CompTIA's training solutions are all available for purchase from the CompTIA Store.
How Much Time Will I Need to Prepare For CompTIA Linux+?
How much time you'll need to prepare for your CompTIA Linux+ certification exam depends on your background and IT experience. Although there are no prerequisites to taking the CompTIA Linux+ exam, we recommend 12 months of hands-on experience working with Linux servers in a junior Linux support engineer or junior cloud/DevOps support engineer job role. CompTIA A+, CompTIA Network+ and CompTIA Server+ or similar certifications and/or knowledge are also recommended.
If you have no prior Linux experience, you'll want to allot at least 120 hours of study time plus additional time for hands-on practice of the skills covered by the exams. You can do this on the job, on your own or with a tool like CompTIA CertMaster Labs.
If you already have Linux experience, you may not need as much time to prepare as someone who has less experience.
Download the exam objectives to see what you already know and what you might need to work on.
Can You Tell Me More About the CompTIA Linux+ Bundles?
CompTIA Linux+ bundle options include a combination of training materials, class vouchers and retake vouchers, depending on which bundle you select. This is a great way to save money while having access to all the resources you need to pass your exam. Plus, our CompTIA Linux+ bundles are now available in English.
Can I Still Take CompTIA Linux+ (XK0-004)?
Yes, you have until January 16, 2023, to take the CompTIA Linux+ (XK0-004) exam before it retires.
I've Been Studying for CompTIA Linux+ (XK0-004). Should I Switch Gears and Study For the XK0-005 Version Instead?
The new version of CompTIA Linux+ will still be available until January 16, 2023, so it's up to you. Download the new exam objectives and compare them to what you're already studying to see which version best meets your needs.
I Bought a Voucher for CompTIA Linux+ (XK0-004) But Have Not Used It Yet: Can I Use It For the New Version?
Yes, you can use your voucher for any CompTIA Linux+ exam.
I Earned CompTIA Linux+ by Passing the XK0-004 Exam: Will It Be Out of Date When It Retires?
As long as you keep up with your continuing education (CE) requirements, your certification will remain active for three years from the date you passed your CompTIA Linux+ exam. CE also ensures that you have the skills needed for the job now – no matter when you earned your certification.
One way to renew your CompTIA certification is with CompTIA CertMaster CE. CompTIA CertMaster CE will cover the topics that were added to the new exam, so if you use CertMaster CE to renew your CompTIA Linux+ certification, you'll efficiently keep your knowledge up-to-date.
Ready to start studying? Writing out your plan will set you up for success. Download our free training plan worksheet to help get organized and make your dream a reality.
Looking for more about CompTIA Linux+? Check out these articles: