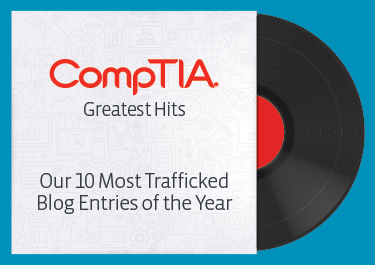 The CompTIA blog was everywhere this year; we published a steady stream of articles covering everything about the business of technology and beyond. You name it, we were there – data breaches, hurricanes, elections… We took on how the world intersects with tech from all angles.
Well, it's that time of year when everyone takes a minute to look back. Read on to check out our top 10 most trafficked articles of the year – our greatest hits, if you will!

10. CompTIA's CEO Wants You to Tell Your Tech Story – So He Told His Own
Todd Thibodeaux took the stage at CompTIA ChannelCon 2018 in Washington, D.C., over the summer to share how technology has shaped his life. Click here to get his tech story.
9. Uncertainty Surrounding Tariffs Puts Tech Exports and Jobs at Risk
As escalating trade tensions ripple across the economy, businesses of all types brace for the expected, and increasingly, the unexpected fallout. The stakes are especially high for the U.S. information technology industry given its size, reach, and strategic importance. Get the full story.
8. Winter Is Coming If You're Not Ready For A Data Breach
In Game of Thrones, Eddard "Ned" Stark warns that the winter is coming; demanding constant vigilance. Businesses may think they're doing just that regarding their cybersecurity, but a recent CompTIA study shows they might not be as safe as they believe they are. Read on.
7. Hackers' New Target: Small Businesses
The popular television series Mr. Robot depicts a group of hackers up for any challenge – the bigger the better – and this is generally how Hollywood casts cyber-criminals. In reality, they're starting to go after the little guy. Find out how and why here.
6. The Next Tech Mecca: North Carolina
When people think of tech hubs, certain names likely come to mind. Silicon Valley. Seattle. Austin. But a certain state is coming to dominate the conversation around tech – North Carolina. Read on to find out why.
5. What the Midterm Elections Meant For Tech
Tech appears to be an industry that both sides of aisle can agree on. Get a breakdown here.
4. Why Nashville and Atlanta Are Tech Hot Spots
CompTIA's 2018 Cyberstates report on the tech job market shows that the U.S. tech workforce thrives well beyond those cities best known for tech. We spoke with two IT professionals who gave us the inside scoop on the lively, unique tech scenes of two Southern U.S. cities. Learn more here.
3. Why the Holidays Are the Perfect Storm for Grabbing New IT Customers
The holidays are the biggest shopping days of the year – and can stress IT systems. As the dust settles on the season, retailers may be looking for a change, meaning big opportunities for SMBs. Find out how.
2. How to Prepare for, and Survive, a Hurricane
As Hurricanes Florence and Michael headed toward land, CompTIA and 36-year CompTIA premier member Mike Semel provided this thorough list of ways to prepare and stay safe. Read on.
1. Facebook's Latest Security Breach May Cost It Billions
When Facebook officials announced last week that cybercriminals hacked their system and collected 50 million user access tokens, heavy GDPR fines became a distinct possibility. Get the story.
Click here to keep up with the CompTIA blog
.