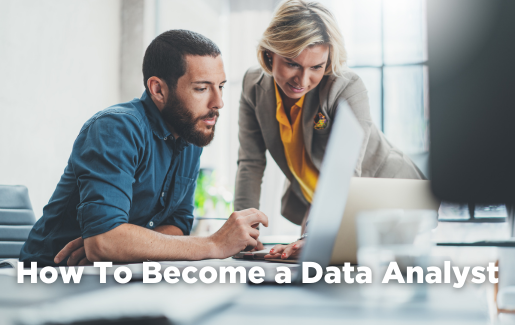 Data analysts have emerged as the backbone of modern businesses, helping organizations make informed decisions and stay ahead of the competition. In today's data-driven world, the demand for skilled professionals who can collect, analyze and transform raw data into valuable insights is rapidly growing.
According to the 2023 CompTIA State of the Tech Workforce report, tech occupation employment over the next decade is expected to grow at about twice the rate of overall employment across the economy—with data scientist and data analyst employment projected at 266% above the national rate.
If you have a passion for numbers, a keen eye for detail and a strong analytical mindset, a career as a data analyst might be the perfect fit for you.
Required Skills for Data Analysts
Over 2.5 million job postings listed in the United States in 2022 show that recruiters and hiring managers are seeking candidates with data analyst skills such as data mining and data visualization.
Although the specific skills you need depend on the role you are applying for, many employers are looking for a combination of the following durable and technical skills.
| | |
| --- | --- |
| Technical/Hard Skills | Professional/Soft Skills |
| Understanding of data processes and principles, and ability to apply basic statistical analysis methods | Communication skills (written and verbal) |
| Data analytics and visualization tools | Storytelling and presentation skills(using bar graphs, pie charts, tables, etc. |
| Ability to mine, manipulate, analyze, interpret and visualize datasets | Decision-making |
| Python, R and other programming languages | Problem-solving |
| Data optimization | Analytical mindset |
| Predictive modeling | Creative thinking |
| Database management | Attention to detail |
| Adherence to governance and quality standards throughout the entire data lifecycle | Organization and time management |
A variety of analytics tools and technologies are also utilized to streamline workflows, enhance productivity and collaborate more effectively.
| | |
| --- | --- |
| Structured Query Language (SQL) | SAS |
| NoSQL Database | Power BI |
| Amazon Web Services (AWS) | Hadoop Ecosystem |
| Microsoft Excel | In-Memory Database |
| Tableau | Apache Spark |
| GitHub | Pandas |
Education and Certifications for Data Analysts
There are a variety of reasons to get certified, and earning industry-recognized data certifications is a great way to verify your skills and improving your chances of getting a data analyst job.
Here's a current sampling of some of the most popular data analytics certifications:
Google Data Analytics Professional Certificate
IBM Data Science Professional Certificate
Amazon AWS Certified Data Analytics
SAS Certified Big Data Professional
Microsoft Certified: Power BI Data Analyst Associate
Certified Analytics Professional (CAP)
Cloudera Certified Associate (CCA) Data Analyst
If you're already pursuing a degree, check to see if your current curriculum includes certification preparation and examination.
Is CompTIA Data+ right for you? Learn about what it covers, the job roles it aligns to, how you train and more.
Data Analyst Career Path and Salary
If you want a career that offers higher flexibility, becoming a freelance analyst might be an excellent fit for you. As a freelancer, you have the ability to choose where you work, how many hours you work and which projects you take on. Gaining experience and building your client base may also open doors to other job opportunities with organizations seeking consulting services to help improve operations and discover new efficiencies, which can lead to significant financial rewards.
If you prefer the stability and structure of a traditional nine-to-five, salaried position, you might start out in an entry-level data analyst role before moving into senior or lead analyst positions, and then later advancing to management positions.
And it pays to be in the fast-growing field of data analytics. According to the U.S. Bureau of Labor Statistics (BLS), the median data analyst salary is $95,270 per year – 108% higher than the median national wage.
No matter which direction you go, with strong data analytic skills, you have the ability to create a career that suits your interests and financial objectives. Data analysts can also follow a pathway to different roles, such as data scientist, healthcare clinical analyst, business analyst and business intelligence (BI) analyst.
Wondering how much you could make as a data analyst? Check out the CompTIA IT Salary Calculator.
There isn't just one straightforward path to becoming a successful data analyst, but here is a step-by-step guide to help you get started.
Step 1: Determine Your Career Goals
By identifying your career goals, you gain clarity on which areas of data analytics interest you the most, allowing you to focus on gaining the relevant skills and knowledge required for your chosen specialization.
This can also give you a competitive edge in the job market. Employers value candidates who have a clear vision of their career path and can demonstrate their commitment to the field. By showcasing your career goals and the steps you've taken to achieve them, you can stand out from the crowd and increase your chances of landing your dream job.
Step 2: Learn the Fundamentals and Get Qualified
After determining your career goals, create a roadmap for your professional development. This includes identifying the right educational programs, certifications and training courses that will help get you where you want to be. With a clear plan in place, you can efficiently allocate your time and resources to maximize your learning and growth.
But every plan needs a starting point. As with every career, beginning with the fundamentals is key. Start by developing some foundational knowledge, such as the different types of data, how data works in an organizational environment and how to use the tools you will need to interpret it.
Data analysts typically have a bachelor's degree in statistics, computer science, math, data science or a related field. If you already have a degree, earning certifications, completing a bootcamp or pursuing a master's degree is a great way to stand out from the competition.
Step 3: Gain Hands-On Experience
Having real-world, hands-on experience is essential for securing a job as a data analyst. It helps with building practical application of skills, portfolio development and confidence building. Working on real data projects exposes you to various challenges and complexities that you may not encounter in a classroom setting, and familiarity with industry tools can help showcase your ability to adapt to different work environments and even boost your average salary potential.
Hands-on experience also enables you to build a portfolio of projects that demonstrate your skills and expertise as a data analyst. A strong portfolio can set you apart from other candidates and serve as tangible proof of your capabilities to potential employers.
Step 4: Network With Industry Professionals
Networking with data professionals can provide valuable insights into industry trends, emerging technologies and navigating the job market. There are various ways you can start networking, like using LinkedIn to connect with peers, attending events and participating in online communities.
Establishing strong relationships with professionals in the field can lead to long-term benefits, such as job referrals, collaboration opportunities and mentorship support throughout your career. Learning from their experiences can help you avoid common pitfalls and make more informed decisions about your career development.
Want to learn more? Check out Networking: Connecting with People Who Can Help You Get the Job.
Step 5: Start Applying for Data Analyst Jobs
You have the fundamental knowledge and hands-on experience to start your career in data. Now, it's time to build and refine your resume, practice interview questions and start applying.
Start looking and applying for potential jobs on employment websites or job boards, like ZipRecruiter or LinkedIn. Be sure to thoroughly assess job descriptions to see if the job matches your skills and interests and apply to positions even if you don't feel 100% qualified for them. Your skills, portfolio and enthusiasm are often more important than meeting every requirement in the job post.
Check out the rest of our career resources series:
Frequently Asked Questions (FAQs)
What Does a Data Analyst Do?
A data analyst leverages insights from multiple data sources to solve certain problems or answer questions, as well as recommend different methods and techniques that can help improve data systems and processes and help stakeholders make informed business decisions.
A data analyst's main responsibilities include:
Collecting, analyzing and reporting on data through creating reports, dashboards and other visualizations associated with customers, business processes or market economics
Developing and implementing databases and data collection systems
Acquiring data from primary and secondary sources
Designing data models
Implementing new data analytics methodologies
Data cleaning and validation
Is It Hard To Become a Data Analyst?
The answer to this question depends on your current skill level and experience with data. If you have no prior experience, needing a strong foundation in mathematics, programming and analytical skills can pose a challenge when it comes to starting your data analyst career. But with dedication, hands-on training and a passion for data, landing your dream job is achievable.
Is Coding Required To Be a Data Analyst?
It depends on the specific job requirements and the tools used within an organization, but coding is typically not a requirement for data analysts. However, being proficient in programming languages like Python, SQL, R or Java can give you a competitive advantage during the job search process.
Can You Become a Data Analyst Without a Degree?
It's possible to become a data analyst without going through a traditional four-year degree program, but it can be more challenging. Data analysis involves a combination of theoretical knowledge and practical skills, so in order to succeed without a degree, you need to develop a strong skill set and gain relevant experience through self-learning, online courses, certificate programs or bootcamps.
If you have relevant experience and at least one data-related certification but no degree, potential employers may be willing to waive their educational requirements.
How Long Does It Take To Become a Data Analyst?
The time it takes to become a data analyst varies depending on your starting point, learning pace and the amount of time you can dedicate to learning and gaining experience.
If you have a bachelor's degree and experience in a related field or possess some of the required skills, it may take less time to get a data analyst role.
If you have no tech education, experience or certifications, it could take anywhere from several months to a few years to acquire the necessary skills and experience.
How CompTIA Data+ Can Fast-Track Your Career as a Data Analyst
CompTIA Data+ is the only entry-level, vendor-neutral, hands-on analytics certification on the market designed for professionals tasked with developing and promoting data-driven decision-making. The topics covered validate the knowledge, skills and abilities learners need to start a career in data.
CompTIA Data+ proves to employers that you have the following data skills needed to meet organizational goals:
Transforming business requirements in support of data-driven decisions
Adding value to the organization
Increasing the bottom line
Improving business efforts
Fueling innovation
After earning your certification, you will have proficient understanding of:
Data concepts and environments
Data mining
Data analysis
Visualization
Data governance, quality and controls
Is CompTIA Data+ right for you? Learn about what it covers, the job roles it aligns to, how you train and more.
Additionally, CompTIA has a full suite of training products to help you learn and practice the skills you need to prepare and pass your certification exam, including:
Get the in-demand skills you need with CompTIA Data+. Download the exam objectives to get started.