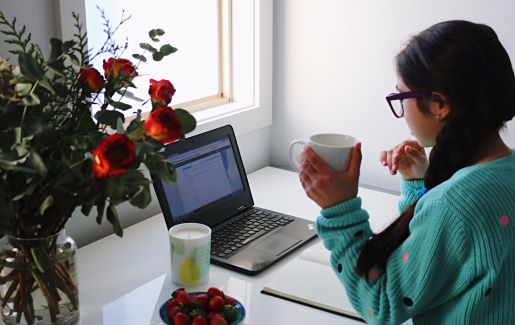 Now more than ever, online training has become essential for gaining IT skills. eLearning resources help you learn anywhere and at any time. You can use it to learn new skills or to prepare for IT certifications, making your downtime more productive. If you're a parent, eLearning shows your kids firsthand the value of lifelong learning. Whether you need to ramp up your skills for your current job or learn something new for your next move, this convenient training mode enables you to learn whenever and wherever is best for you.
Online IT Training for All Learning Types
People learn in different ways – some prefer self-study with online tools and books while others thrive in instructor-led training that mimics a traditional classroom. And many people can benefit from both. No matter how you learn best, both ways are effective and are conveniently available online.
Here's a quick breakdown of the difference between self-study eLearning and live online training:
Self-Study eLearning: Most eLearning resources – whether eBooks, videos or an eLearning platform – are self-paced and on demand, which means you can log on at any time and do the work at your own pace. This does require motivation and discipline to hold yourself accountable, but it means you can work learning into your own schedule.
Live Online Training: For those who crave structure, engagement and answers to your questions in real time, formal instructor-led training might be a better option. With live online training, you attend virtual classes at a set time and complete assignments on schedule, just as you would for an in-person class. The difference is you can log on from anywhere with an internet connection.
Whether you choose guided self-study, like an eLearning platform, or live online training, you'll get knowledge checks and immediate feedback so you retain what you've learned.
5 Reasons to Love eLearning
eLearning is easy to love because it enables you to learn from anywhere, engage with training content, practice what you've learned, combine new learning with prior knowledge and test with confidence.
Learn from Anywhere: If you aren't able to get to a class or one isn't offered near you, eLearning lets you learn from anywhere with an internet connection. And you can decide if you want to work on your own schedule or attend a virtual class.
Engage with Training Content: There's nothing more frustrating than zoning out while you're supposed to be learning. Online learning takes the boredom out of IT training by integrating games, simulations, quizzes and multiple types of media into learning content.
Practice What You've Learned: One of the most powerful ways to retain knowledge is to practice what you've learned. eLearning gives you the chance to pause and replay a lesson over and over and take perfectly timed quizzes to ensure you retain the information long term.
Test with Confidence: No matter how much you know, going into a testing situation with low confidence can sabotage your success. eLearning tools build your confidence by giving you plenty of opportunities to practice what you've learned and get a sense of what testing feels like.
Combine New Learning with Prior Knowledge: If you already have some knowledge on the topic you're studying, you may want to prioritize your studies based on what you don't yet know versus what you do. Some eLearning platforms are designed to build upon your existing knowledge to help you learn new skills.
eLearning and Online IT Training from CompTIA
There are a number of eLearning options out there in a range of price points. Official CompTIA eLearning solutions are flexible and interactive and align with CompTIA certification exam objectives, which are based on real-world IT job roles, ensuring that you're learning the skills you need for your career. Whether you want to enhance your existing skills, learn new ones or prepare for IT certifications, CompTIA has a solution for you.
Official CompTIA Study Guides
CompTIA offers study guides – in eBook and print form – for most of its 13 certifications. Whether you are preparing for an IT certification or simply want to build your knowledge on the topic, CompTIA Official Study Guides are a great resource for learning job-related IT skills. All study guides are available in the CompTIA Store, and some are also available on Amazon. You can even download free eBook samples from our website to try before you buy.
CompTIA CertMaster
CompTIA CertMaster is a suite of online IT training products that includes eLearning, labs for hands-on practice and exam prep:
CompTIA CertMaster Learn is great if you're just starting to learn about a topic. This comprehensive, self-paced eLearning environment is packed with activities and features designed to help you learn and retain content in an engaging way.
CompTIA CertMaster Labs is great if you already have some knowledge on a topic. It helps you practice solving real-world problems in a browser-based environment of live servers hosted in a data center.
CompTIA CertMaster Practice is great if you want to build upon the hands-on skills you already have. It reinforces your knowledge – moving quickly through what you know and focusing on what you don't – to efficiently prepare for CompTIA certification exams.
Learn more about how to train for your IT certification with CompTIA CertMaster.
CompTIA CertMaster products are available for many of the certifications along the CompTIA Career Pathways. Go to the training webpage for your certification to see what products are available. You can purchase all CompTIA CertMaster products through the CompTIA Store and some through Amazon.
CompTIA Live Online Training
CompTIA now offers live online training for CompTIA A+, CompTIA Network+ and CompTIA Security+ that includes instructor-led training, vouchers with free retakes and all three CompTIA CertMaster products. Classes are taught by CompTIA-certified instructors and students can ask questions in the moment and participate in discussions through two-way communication, just like in a traditional classroom. Learn more about CompTIA live online training and see what sessions are coming up.

The CompTIA Tech Career Academy is also currently offering online classes to anyone in the United States. IT-Ready Technical Support is geared toward adults with little to no IT experience and offers tuition support and grants. It focuses on the skills covered by CompTIA A+ as well as soft skills like communication and problem solving. Students receive an exam voucher to get CompTIA A+ and have access to career services to help them land a job once they finish the program. Applications for the online spring classes is open.
Get an IT Certification Anywhere
Starting April 15, 2020, you will be able to register to take CompTIA exams online while maintaining a secure testing environment. If you're looking to get an IT certification but can't – or don't want to – go to a testing center,online testing may be a good option for you:
Test anywhere: Especially from the security and privacy of your own home.

Test anytime: Online testing can be conducted 24/7, so you can schedule your exam at a time that works best for you.

Test securely: Online proctoring is done under the same secure monitoring conditions as in a test center.
Learn more about CompTIA online testing and sign up to receive alerts about the offering.
How to Get into IT with Online Training
Online IT training is not just for existing IT pros. You can train online – either self-study or in a class – to prepare for your first IT job. Two of CompTIA certifications are designed to give you the baseline knowledge needed to get into IT and get your foot in the door with employers who hire entry-level IT pros:
Get Started with Online IT Training
In a time when you don't want to – or possibly can't – leave your home, online IT training lets you continue learning to advance your career. People who want to get into IT or IT pros who want to reach the next level of their career can benefit from online training, either in self-study or instructor-led modes. CompTIA offers a variety of online IT training options to support you every step of the way.
Ready to start studying? Writing out your plan will set you up for success. Download our free training plan worksheet to help get organized and make your dream a reality.