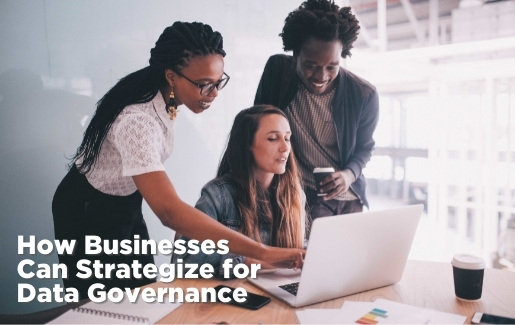 Data governance encompasses the processes, standards and rules an organization uses when working with the information at its disposal. It extends to determining who can access certain data, what they can do with it and in which situations those privileges apply.
Companies from virtually all sectors collect and use data about customers, business operations, sales, marketing efforts and much more. However, it only takes a glance at recent headlines to see how organizations fall short in keeping information protected. Such failures can lead to data breaches and reputational damage.
Fortunately, committing to data governance is an excellent and actionable way to identify and reduce risks. Succeeding with it can also mean a company extracts more value from information since authorized employees know how to find and use it. Here's how business leaders can make data governance a central part of their strategy.
Understand the Specifics of Current Data and Policies
Success with data governance starts with assigning people to applicable roles. Employees who understand their duties and responsibilities are well on their way to helping a company make data handling progress.
Company representatives must also know the kind of data they have, where it resides and whether the content is adequately protected. For example, they should define what constitutes sensitive information, then assess whether it is adequately protected now. Cybersecurity managers should play instrumental roles in that process. They bolster security through entire organizations by creating and upholding relevant policies.
People who work with data to perform their primary roles should also assist with creating and maintaining governance principles.
"Data governance serves as a key pillar to an effective data strategy by enabling organizations to define a set of principles that serve as a guide to how data should be managed across the business," said Mike Leone, senior analyst at Enterprise Strategy Group.
Data specialists collect and clean the information before using it to support business operations. They might recommend a new practice whereby a type of data is formatted a particular way before storage to prevent duplicate records or misinterpretation. These employees may weigh in on how to retain governance standards as people work from home, particularly if cybersecurity managers ask for input.
Connect Data Governance to Overarching Business Goals
It's easier for an organization to get on board with a data governance strategy when everyone realizes how these efforts tie into all the goals of the enterprise. For example, business leaders often find that data governance improves their outcomes when using content to make decisions. Proper data governance allows organizations to consistently collect high-quality information while keeping the content secure throughout its life cycle. Leaders can then trust it more when making crucial decisions.
Executives familiar with the topic say that data governance can create a data-driven business advantage, particularly since reliable information can become a company asset. Creating and sticking to a data governance strategy can also reduce unwanted consequences such as fines or negative media coverage due to information misuse.
Become Familiar with Requirements
Following specific requirements for data handling is especially important with government contracts. For example, federal agencies have security requirements dictating how contractors must handle unclassified, sensitive information. In one instance, Aerojet, which had contracts with the Department of Defense (DoD) and NASA, violated the False Claims Act when it failed to fully disclose its cybersecurity noncompliance to those agencies.
Moreover, companies in some industries or locations must comply with certain regulations for data handling, such as deleting information at a customer's request or setting limits on how long it holds onto it. National labor statistics predicted about 5,400 new jobs in the marketplace for data scientists and related careers between 2016-2026.
Additionally, Burning Glass Technologies projects a 20.6% growth for data governance skills and shows that over the last 12 months, data governance working experience was referenced in more than 63,000 job postings in the United States. Those findings spotlight the fact that company leaders value specialists who work with data.
However, making the most of information to see the biggest business gains requires practicing appropriate governance. Suppose a company is still in the planning phases for data governance. In that case, a good starting point is for representatives to familiarize themselves with any applicable regulations, ensuring they comply with those from the start.
See the Value in Relevant Training and Increased Hiring
Many data governance strategies include a two-pronged approach to employee upskilling. First, people get the skills they need, then validate those new competencies with certifications. Workers should look for certifications with a full line of training products, including study guides, eLearning modules, labs for hands-on practice and exam preparation material.
Hiring new team members to help with the data governance process may be necessary, particularly if company leaders want someone who has several years of real-world data governance strategy experience.
However, an alternative is to have at least one existing staff member complete a relevant certification to keep a company up to speed with requirements. That's an excellent solution, when leaders lack the resources for increasing hiring at the moment but still want to get started on their data governance goals.
See Data Governance as a Continual Goal
Data governance is an ongoing effort. Even after following best practices, business associates will likely find ways to improve over time. The idea is to choose and monitor metrics to help company leaders see if they're on the right track. For example, has the overall time data analysts spent searching for the information they need decreased over the last three months? If so, that likely means data governance is working well.
Finally, company leaders should also keep future-oriented mindsets. For example, CompTIA recently launched the new CompTIA Data+ training and certification. It validates the skills and talent that help companies fuel innovation. Such specialized training can enable companies to maintain data governance momentum.
CompTIA Data+ covers the skills you need in data analytics. Start gaining skills like data visualization, data governance and more with CompTIA CertMaster Learn + Labs for Data+. Sign up for a free trial today!