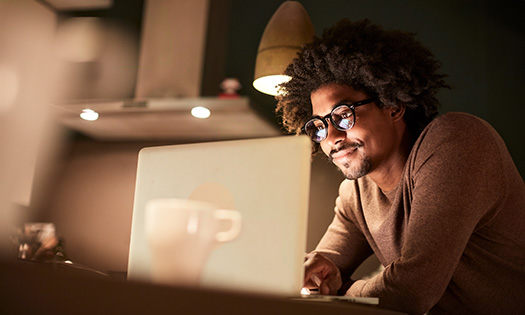 Starting a new job search is exhausting. There's already so much information online about how to improve your job hunt that many IT professionals struggle to actually start an application.
Between updating your resume, scouring dozens of websites for listings and writing countless cover letters, the whole process can feel like an endless slog with little payoff.
To make your job search easier, here are four actionable job-hunting tips that can help you maximize your chances of landing the ideal position.
4 Tips for Your Next Job Hunt
1. Use a Resume and Cover Letter Template
Writing your resume is time consuming. Combine that with designing and formatting it yourself in Microsoft Word or Google Docs, and you're investing hours into each job application.
To save time, try downloading one of the many free resume templates available online.
Most websites have a variety of different designs and formats that are suitable for any type of job seeker — from entry-level candidates to experienced specialists.
But before you download one, ask yourself a couple questions about what kind of template you need for your application:
What level of formality is right for the position I want?
For example, a colorful resume template with stylized fonts is appropriate for a job at some startups. However, hiring managers for most IT positions expect candidates to have a formal, basic design for their resume.
What's the best resume format for me?
Depending on your level of experience and skill set, there are three different resume formats to choose from. Each one is designed to highlight different professional strengths and downplay certain areas that aren't quite as strong.
For example, a chronological resume format places your most recent work experience toward the top and is suitable for most job seekers.
Meanwhile, a functional resume format places your skills and abilities above your experience section and is best for candidates like career changers, who need to downplay gaps in their employment or want to highlight a specific skill set.
Lastly, a hybrid resume format combines elements from the chronological and functional resume formats and gives skills and experience an equal amount of space.
Once you answer what format and level of formality is right for you, you'll have a more specific idea of what kind of template best accommodates your requirements.
2. Update Your LinkedIn Profile
Having a stellar LinkedIn profile is a great way to attract recruiters, build your professional network and start nailing down job offers.
Better yet, with an enticing profile, hiring managers come to you — freeing up your time to search actively for even better job opportunities.
To enhance your online presence, a good IT LinkedIn profile should include the following:
Professional headshot

: Well-lit with a neutral background and a clear view of your face

Strong profile summary

: A concise overview of your key qualifications and goals

Thorough experience section

: Explanations of your accomplishments and results

List of relevant technical skills:

With endorsements from your network
Updating your LinkedIn profile is a simple way to maximize your professional visibility and gives employers and recruiters a more well-rounded look at your qualifications.
3. Leverage Your Professional Network
Experts estimate that 70% of people find their jobs via networking. That makes it one of the most effective methods for finding an IT job.
If you're starting a new job search, the first thing you should do is reach out to your industry connections to find new leads. Chances are, someone will tip you off to a potential job opportunity, or even offer you a recommendation.
However, if you don't already have an extensive network to fall back on, don't worry. There are countless IT networking events, both in person and online. You can also meet other IT pros on social media and in online forums like Reddit. In general, IT is a very welcoming community, and many IT pros are happy to help other IT pros.
Even if you're not naturally great at making new connections, with some practice networking begins to feel more natural. See if you can leverage networking to build new professional relationships, because they might later translate into job opportunities.
How to Get an IT Job
Are you job hunting? Check out our full series on how to get an IT job:
Simplify your job hunt
Subscribe to CompTIA's IT Careers Newsletter
for more advice, and get 10% off your next CompTIA purchase.
4. Tailor Your Job Application
It may seem counterintuitive to spend extra time tweaking your application for each position you apply to when you're trying to simplify your job search. However, doing something as effortless as swapping the skills mentioned in your resume can actually save you a lot of time, because it greatly improves your chances of getting an interview.
Hiring managers at large companies receive hundreds of applications for each job posting, yet many candidates don't even bother to edit their resume to fit the job requirements — expecting that their technical skills alone will get them a job.
By modifying your resume and cover letter to fit the requirements of the position you want to fill, you can immediately catch the hiring manager's attention and look like a perfect fit for the role.
Simply read through the job description, take note of any hard or soft skills directly mentioned in the ad and then highlight the skills that pertain to you in your application.
The end result? More hiring managers will reach out to you for interviews, which leads to a greater number of job offers, and ultimately a shorter (and more successful) job search.
Make your next job search painless
To reiterate, you can make your next job hunt easier by doing the following four things:
Use a template for your resume and cover letter

Polish your LinkedIn profile

Reach out to your professional network

Tailor your application to each position
Now that you know what's necessary to simplify your next job search, it's time to begin. And once you've landed the position you want, make sure to send in a resignation letter for your current position so you can avoid burning any professional bridges.
CompTIA is teaming up with Zip Recruiter to help connect you with jobs. Submit your information to receive customized job alerts via email.