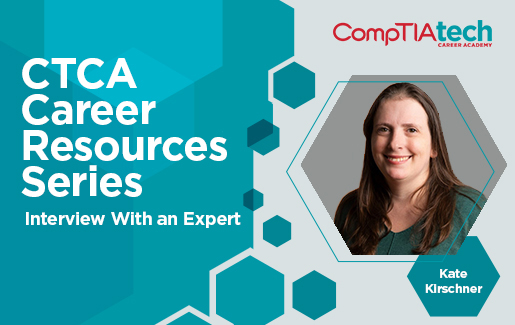 We've all heard the phrase: "It's not always what you know, but who you know." While this is an overgeneralization, it can be an important piece of the job search puzzle. When applying for jobs, networking is a tool that can help you make connections, meet new people and open doors to new opportunities.
Kate Kirschner, senior manager, career services at CompTIA, provided her insight into the best practices around networking. Kirschner, along with Ringo Yang, CTCA alumni and IT service desk specialist and Froedtert & Medical College of Wisconsin, explain how you can fight the natural jitters that come with reaching out to other professionals, find events that can help you build your professional network and emphasize the importance of human connection in your job search.

Check out the career resources series:
Keeping your LinkedIn profile up-to-date is key, noted Kirschner. Before you start sending off connection requests and messages to individuals that work in your dream role, it is important to realize that what you get out of these interactions is dependent on what you put in. This means devoting time to your profile so your experiences and accomplishments can do some of the work for you.
"Just like your resume, update your profile whenever you change positions at minimum and try to stay active by posting and commenting even when you're not job searching," Kirschner said. "LinkedIn is not just for finding jobs, updating it also helps you keep track of start and end dates."
Yang echoed Kirschner's advice.
"Always keep [your LinkedIn profile] up-to-date. That way you don't forget your job responsibilities because they can start to pile up," Yang said.
When crafting your profile, be sure you have:
An appropriate headshot
A well-written headline
Complete and accurate work experience and skills
Recommendations
Kirschner also suggests following organizations that you want to work for or are in the industry you're interested in and joining LinkedIn groups that align with your career interests. Once your profile provides an accurate representation of you as a job seeker, you can begin to cast your net.
Using LinkedIn as a Tool
Over and above personalizing your profile to include the key things you want others to know about you, you'll want to be sure you're posting and sharing content. "Try to do a few a week to start, this is how people in your network get to know you better and it encourages more interaction, you should also like and comment on others posts as well," Kirshner said. Think of your posts as conversation starters, if it piques an employer's interest, all the better.
"Don't be afraid to connect with someone. Some people have rules like they only accept people they meet in person, etc., but the larger the network, the more content you'll be exposed to," Kirschner said. "Make sure to include a note and don't be disappointed if someone doesn't accept your request, it's not personal." Best practice is to wait until you connect with someone to send a message, if they accept your connection then they are more likely to engage. "You can thank them for connecting and then share why you asked to connect," she said.
According to Kirschner, if you don't feel ready to send off a message to new connections right away, that's ok too. Even if you don't plan to message a new connection, the more connections you have the more content you can see in your feed, including events.
The Value of Networking Events
There are plenty of opportunities out there, both virtual and in person. When looking for virtual events Kirschner suggests searching sites like LinkedIn, Meetup and Eventbrite. If there is a group with a focus of interest to you on LinkedIn, following it will help you find events as well.
"You can find plenty of virtual events. If you connect with recruiters [on LinkedIn] they will invite you to them. Don't be scared to take that risk," Yang said.
When it comes to in-person job fairs, be sure you know the specific requirements of each event you plan to attend. "Confirm you can bring resumes, many places require you to submit them electronically, even if the event is in-person," said Kirschner. She also suggests the following seven tips when networking at job fairs:
Look at the directory and identify top companies by doing research beforehand
Prepare your elevator pitch and practice it ahead of time to reduce nerves
Get a map of the layout of the location and target those top companies
Don't overlook organizations that didn't initially pique your interest, you never know what opportunities they have
Introduce yourself to at least one person at the booth and tell them what you are looking for
Ask for business cards or follow-up materials
Take notes on your map of who you want to follow-up with
Planning will help you ensure you don't miss the top organizations you want to target. "Remote job fairs are similar, but many times you may be in a Zoom group or there is an option for individual networking, be ready for both options," she said.
Kirschner suggests getting the full names and email addresses of those you spoke with so you can follow-up with your resume. "Depending on the industry, they may not want a hard copy," she said. However, carrying a hard copy of your resume is never a bad idea.
Networking is a great tool for all, but it can be scary. However, it's important to remember that everyone at these events is generally friendly and your fellow attendees are probably just as nervous as you are.
"If you have to wait in line to talk to someone at a booth, talk to people in line. I met someone at a job fair and I am still in contact with them. Other participants may be great for your networking efforts as well," Kirschner said. Every time you introduce yourself and test out your elevator pitch you will get better at it. No one is a networking pro right off the bat, and that's ok.
Practice Networking Etiquette
When talking with peers or recruiters, it's important to always stay engaged and practice attentive listening. If you have trouble thinking of questions on the spot, write some down in a notebook or on your phone to glance at between conversations. If you know there will be certain people or organizations there that you want to target, create more specific questions for them ahead of time, Kirschner noted. Asking questions is critical because you can learn more about others and their organizations as well as the industry. People will generally be excited to talk about what they do and why they enjoy it.
The work doesn't stop after you've left the event. Taking notes can help you to remember what you discussed so you can reference something from your conversation when you reach out in the future.
"If you get an email address, send them a follow-up or a thank you email and look them up on LinkedIn to stay connected," Kirschner noted. "If it feels like you had a good connection, ask them to meet for coffee. This doesn't have to be anything formal, and it may spark a long-term connection. If they say no, don't take it personally."
With time, networking will get easier, and you will foster relationships that can help you gain experience and reach your goals. Remember: The power of human connection is strong if you are willing to put in the work.
Interested in starting your tech career? Learn more about CompTIA Tech Career Academy.