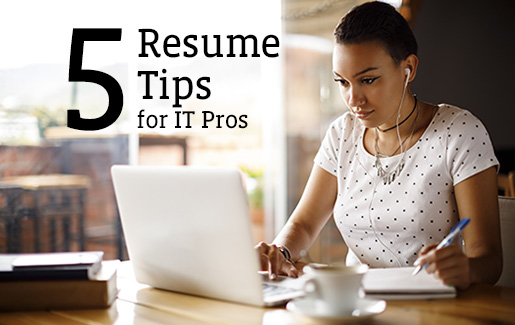 As the pandemic took its toll, professionals in multiple industries found themselves unexpectedly forced to look for new jobs. Although IT positions are less likely to be at risk, it makes sense for all workers — including those in IT — to keep their resumes fresh. We still don't know what the long-term effects of COVID-19 will be on the economy, so it's best to stay prepared. Whether you're already engaged in a job search or you simply want to stay prepared, fine-tune your resume so it stands out.
To perfect your IT resume or simply reinforce the basics of writing a resume (if you need a refresher), follow these five tips. After a few quick revisions, you'll be ready to make a strong first impression with your application.
1. Begin With a Strong Resume Introduction
IT roles require a specific set of technical skills – and the job posting will tell you which skills the employer is looking for. Make it clear at the start of your resume that you have those skills (like network troubleshooting, C++ or security analytics), or else you likely won't even make it to the interview stage.
Your resume introduction is the perfect place to make your case that you qualify for the job. There are two resume introductions that generally work best for people working in IT, and they're called career objectives and qualifications summaries.
Career Objective
A career objective is an effective introduction for recent graduates, career changers and anyone who has little professional IT experience.
Use your career objective to highlight what work-related skills you bring to the company. In three to four sentences, summarize what qualifies you for the particular job. Be sure to include your total years of relevant experience and any role-related degrees or certifications you hold.
Here's an example:
IT specialist with 7+ years of professional experience in information security and digital forensics. Expertise in a wide variety of operating systems, including Windows 7, 8 and 10; Windows Server 2012 (R2), 2016 and 2019; and Linux, including CentOS, Ubuntu, Arch, Debian, BackTrack and Kali. Possesses an associate's degree in information security and digital forensics.
Qualifications Summary
A qualifications summary works best for professionals with several years of experience. As the name suggests, a summary of qualifications is a summary-style resume introduction that places your IT qualifications in one central location. Using a bulleted list, it lets you highlight your most relevant work experience, skills and accomplishments at the top of your resume.
Is there something you've accomplished that you absolutely don't want a potential employer to miss? Put it here. Recruiters and hiring managers definitely skim resumes, but they're more likely to absorb the information they read first.
Here's an example:
Product manager with 8+ years of experience developing brand strategy, evaluating financial performance and marketing

Managed an annual budget of $4.7 million

Exceeded sales quota by 74%



Want some tips from the experts? Hear from real HR professionals about what to put on your resume.
2. Use Powerful Action Verbs
In your work experience section, each job title should be followed by bullet points describing your accomplishments from that job. And each of those bullet points should begin with a strong action verb emphasizing the importance of those achievements.
Here are some action verbs that commonly apply to IT work that you can use in your own resume:
Administered

Created

Developed

Implemented

Monitored

Supported
Sample IT Resume
Check out these examples of action verbs used in an IT resume (in bold and italics below):

SECURITY OPERATIONS SECURITY ANALYST / Security Professionals Inc. / Columbia, SC

Monitor multiple security systems for a Fortune 500 company
Investigate incidents caused by malicious activities, and identify false positives
Document security events daily to create a baseline of activity for the client network
NETWORK OPERATIONS MONITORING TECHNICIAN / Technology Smarts / Charleston, SC
Refined and improved the existing documentation system, resulting in reduced labor costs totaling $15,000 annually via increased workplace efficiency
Consolidated multiple ticketing systems, improving communication and ticket turnover rate by 7%
Investigated alerts created by IDS/IPS, including malicious file uploads, compromised servers, SQL injections and port scanning
3. Quantify Your Relevant Work Accomplishments
Including statistics related to your work performance in your application (whether in your cover letter or your resume) strengthens your chances of landing job interviews. Such data is especially important to include in an IT resume — you're in a technical field, so adding numbers reiterates your technical proficiency.
You can also quantify your accomplishments to make them more impressive to hiring managers. Quantification lets you demonstrate how you not only achieved something, but how well you achieved it.
Here's an example of what we mean:
Without quantification: "Developed interactive website"
With quantification: "Developed interactive website that increased sales by 25%"
4. Include Your Awards and IT Certifications
Awards and IT certifications give you credibility. By including them in your resume, you show potential employers that you're capable and that industry experts value your work and validate your skills.
IT certifications, such as those offered by CompTIA, prove to employers that you have the skills they're looking for. Developing CompTIA certifications is a rigorous process that involves industry experts, including IT professionals and hiring managers, to make sure that the certifications meet the demands of today's IT workforce.
Even if a hiring manager is not familiar with one of your IT certifications, you can use the exam objectives to explain what skills are covered and how they apply to your experience. (More on this below!)
Don't forget that the workshops you've attended, certificates you've earned and courses you've taken outside of the traditional school system still count as education. Include on your resume all relevant workshops and coursework that you've completed in a classroom or online if you have the space.
Awards you earned in college count, too, but leave off awards and certifications you received in high school unless they're recent or especially impressive.
How to Get an IT Job
Are you job hunting? Check out our full series on how to get an IT job:
Perfect your IT resume
Subscribe to CompTIA's IT Careers Newsletter
for more advice, and get 10% off your next CompTIA purchase.
5. List Your Relevant Skills
Most employers use applicant tracking system (ATS) software to accept and process job applications. The ATS scans resumes for certain keywords and phrases, and then separates the promising resumes from the irrelevant ones.
Because you're in a highly technical field, potential employers will use ATS software to weed out resumes of people who don't have the technical knowledge required for the job. Including technical keywords helps ensure your resume makes it past the ATS to be looked at by a human (note that many of those keywords will be on the job listing). Some hiring managers include the names of CompTIA certifications – like CompTIA A+ – as a keyword.
Dedicate a specific section to computer or IT skills, then fill it with every single relevant skill you have. This skill section should list every security tool, software package, operating system and network configuration that you have experience with. Use the job posting as a guide to make sure you're using the same terms as the employer.
If you're applying for a job that requires excellent soft skills, such as a project manager position, list those too. Soft skills refer to your non-technical skills that keep things running smoothly, such as leadership and interpersonal skills.
Your Next Move
Even if you have complete job security, it's always a good idea to keep your resume fresh and ready to go because you never know when a better opportunity might come along. With an up-to-date, polished resume, you can quickly apply to the perfect IT job when it presents itself.
CompTIA is teaming up with Zip Recruiter to help connect you with jobs. Submit your information to receive customized job alerts via email.