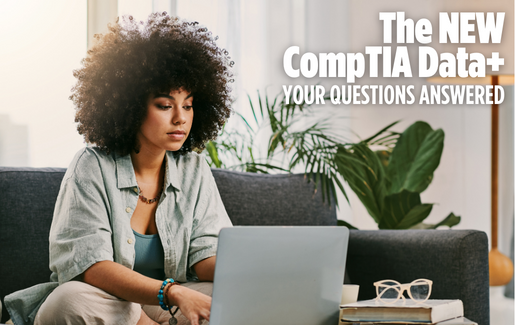 If you're looking to break into the technology industry, but don't have a ton of technical experience, a data-related job may be a good fit for a variety of reasons. First and foremost, demand for data roles is huge. During the past 12 months, there were over 193,000 job postings by U.S. employers for data analysts, data mining specialists, data engineers and data scientists. More than half of these positions are in the 0 to 2 years or 3 to 5 years of experience range.
That's why CompTIA is launching CompTIA Data+. CompTIA Data+ (DA0-001) is an early-career data analytics certification for professionals tasked with developing and promoting data-driven business decision making. There's been quite a buzz around CompTIA Data+, and we've been getting a lot of questions about the exam. Continue reading as we answering some of your biggest questions.
Why Are Data and Analytics Skills Important?
Data-related jobs are projected to be among the fastest-growing occupations through the balance of this decade, with some positions, such as data scientists, expected to grow up to five times faster than other occupations.
But the need for core data skills extends beyond data-specific job roles. Employers listed over 1 million job postings over the past 12 months seeking candidates with skills in data analysis, data mining or data visualization.
CompTIA Data+ can help you develop and refine these skills and prove you have the hands-on experience employers are looking for.
What's on the New CompTIA Data+ Exam?
CompTIA Data+ is an early-career data analytics certification for professionals tasked with developing and promoting data-driven business decision-making. That means that you can make yourself more employable by learning how to better analyze and interpret data, communicate insights and demonstrate competency. CompTIA Data+ validates certified professionals have the skills required to facilitate data-driven business decisions, including:
Mining data
Manipulating data
Visualizing and reporting data
Applying basic statistical methods
Analyzing complex datasets while adhering to governance and quality standards throughout the entire data life cycle
Download the exam objectives to find out everything that's covered.
What Types of Questions are on the CompTIA Data+ Exam?
You can expect performance-based and multiple-choice questions across five domains:
Data Concepts and Environments (15%)
Data Mining (25%)
Data Analysis (23%)
Visualization (23%)
Data Governance, Quality and Controls (14%)
These domains relate back to job roles that are tasked with developing and promoting data-driven business decision-making.
For example, your organization collects all sorts of data, but is it easy to parse through that data, analyze the data and make sense of it? This is where data visualization comes into play. Telling the story of your data and getting stakeholders to understand is a valuable skill that employers want. To get a greater perspective, read our recent article on Why Data Visualization is Crucial for Successful Financial Planning.
To learn more about the CompTIA Data+ exam domains, please download the exam objectives.
What Job Roles are Aligned to CompTIA Data+?
As the importance of data analytics grows, more job roles are required to set context and better communicate vital business intelligence. Collecting, analyzing and reporting on data can drive priorities and lead business decision-making. The following data and analytics primary job roles align with CompTIA Data+:
Clinical analyst
Reporting analyst
Business data analyst
CompTIA Data+ is an ideal certification for not only data-specific careers, but also other career paths that benefit from analytics processes and data analytics knowledge. Jobs like marketing specialists, financial analysts, human resource analysts or clinical health care analysts can optimize performance and make well-informed decisions when they use and evaluate data correctly.
Why Would I Choose CompTIA Data+ Over Other Data Analytics Certifications?
CompTIA Data+ is the only data analyst certification that covers baseline data analytics skills, assesses hands-on abilities and is vendor neutral and tool agnostic.
Vendor-neutral certifications provide analyst skills needed to perform various job roles regardless of the specific programs and tools being used. Compare this to vendor-specific certifications, which equip you to work with just one platform (such as SAS, Tableau or Microsoft). There are also certifications that dive deeper, such as big data and business analytics that can be pursued after receiving CompTIA Data+.
How Much Does CompTIA Data+ Cost?
The retail price for CompTIA Data+ (DA0-001) is $239. CompTIA offers numerous ways to reduce this cost. Check out our article on how to save on exam vouchers as well as information about financing options.
How Can I Train for CompTIA Data+?
Start by downloading the exam objectives to understand what topics are covered. If you're ready to start studying now, CompTIA has you covered with our full suite of training products. You will be able to choose from our self-paced study guide, which is available in print and eBook formats, CertMaster Learn, CertMaster Labs and CertMaster Practice.
CertMaster Learn is a comprehensive online learning experience covering all the CompTIA Data+ exam objectives.
CertMaster Labs is a virtual lab environment addressing the hands-on, performance-based aspects of exam prep.
CertMaster Practice is an adaptive and realistic practice test experience that works nicely as a follow-up to other training because it truly diagnoses your knowledge gaps and then skills you up in your weaker areas.
We also offer instructor and student guides (print and eBook), as well as instructor-led training for CertMaster Labs, CertMaster Learn and CertMaster Practice. Learn more about how you can train for CompTIA Data+.
The amount of time you'll need to prepare for CompTIA Data+ depends on your existing knowledge on the topics and your hands-on data analytics experience. We recommend that you have 18–24 months of experience in a report/business analyst job role, exposure to databases and analytical tools, a basic understanding of statistics and data visualization experience. We also suggest that you dedicate between 30 and 40 hours of studying before sitting for the exam.
How Long is CompTIA Data+ Good For, and How Can it be Renewed?
As with many CompTIA certifications, CompTIA Data+ is good for three years. CompTIA offers a number of ways for you to renew your certifications. Learn more in the continuing education (CE) section of our website.
I Need to Renew One of my Other CompTIA Certifications. If I Pass CompTIA Data+ Will That Renew It?
No, CompTIA Data+ will not renew any other CompTIA certifications at the moment. Additional new certifications and learning materials centered on data knowledge and skills will be introduced beginning in 2023, with resources available for all career levels – early (CompTIA Data Foundations), intermediate for data analytics (CompTIA Data+) and data systems (CompTIA DataSys+) and advanced data science (CompTIA DataSci+).
Is CompTIA Data+ Approved by the DoD for 8570 Requirements?
No, CompTIA Data+ is not U.S. Department of Defense (DoD) 8570 approved. As always, CompTIA Data+ is developed using the ANSI/ISO 17024 Standard.
For more information on CompTIA Data+ and to receive updates, check out the CompTIA Data+ product page and download the exam objectives.