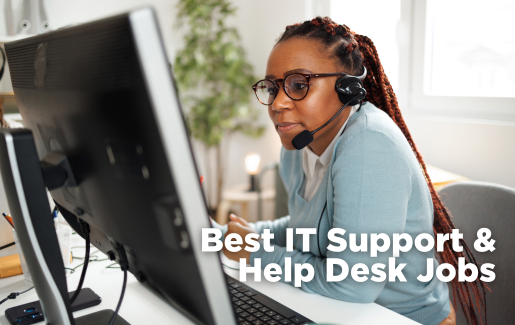 If you're searching for an information technology (IT) support role, you may be a little confused by all the different job titles you see in job descriptions. That's because there's so many! Different organizations have different needs and that means the daily responsibilities assigned to IT support can change from one company to another. While there are certainly nuances between titles, all of these roles fall under the larger family of IT support specialists.
The good news is that this family of IT job titles is not only a substantial part of the tech world, but it's a great place for entry-level jobs and support jobs pay well too.
According to data from CompTIA State of the Tech Workforce 2023, the U.S. Bureau of Labor Statistics (BLS) and Lightcast:
IT support is one of the largest tech occupation categories with an estimated base of 771,600+ employed U.S. workers in 2023.
More than 1 in 10 of all types of the 5.8 million tech jobs in 2023 are for IT support specialists.
Employers listed 1.8 million job postings in the United States seeking candidates with technical support related skills over the 12-month period ending April 2023.
The median annual salary for IT support specialists in the United States is $57,890.
Salaries for advanced IT support specialists can top $94,000.
Let's take a look at the many different job titles that can fall under the IT support specialist framework, how they can differ and what skills you need to succeed in these jobs.
IT Support Job Descriptions and Titles
If an organization uses technology, they need technical support specialists. These IT pros are generally responsible for troubleshooting technical issues, maintaining operating systems and working with internal and external end users to ensure efficiency. And since every single type of business, organization or company today utilizes some form of technology, the need for technology specialists is huge.
Did you know there were more than 348,400 job postings by U.S. employers for IT support specialists during the 12-month period ending April 2023, per Lightcast? If your job search shows you are qualified to apply for an IT support specialist position, you're also likely to qualify for these roles as well.
IT Support Specialist
Before we get into the different IT support job titles, let's first take a look at what an IT support specialist does. IT support specialists are first-line problem-solving experts that ensure users get the most out of technology.
IT support specialists:
Assist with unique software configurations
Troubleshoot hardware, software and networking problems
Provide technical assistance to end users
Ensure security measures remain intact
Train end users on technology best practices
Research new tools
IT support specialists work with many other technical and non-technical roles within an organization. On the technical side, IT support specialists can work with network administrators or cybersecurity specialists as they troubleshoot issues and information systems. On the non-technical side, IT support specialists are the first point of contact for end users when they have problems with technology. Job titles with similar responsibilities include IT specialist and technical support specialist.
Help Desk Support Specialist
The help desk is a place where many IT pros get their start. Simply put, the help desk is the place you call when you need help. A help desk support specialist must have a solid foundation of technical knowledge and also excel at customer support.
Help desk support specialists:
Diagnose and solve computer issues
Install and train end users in new technologies
Provide remote technical support over the phone or internet
Backup and restore data files
Repair hardware
Configure software to maintain operating systems
The main difference between an IT support specialist and a help desk support specialist is that the support in this role is focused on help desk tickets.
There are different tiers of help desk support:
A Tier 1 help desk technician handles more routine issues like password resets or user problems
A Tier 2 help desk technician manages more complex problems often with remote control tools
A Tier 3 help desk technician works with engineers or devops to make hardware or software changes or fix bugs
Job titles with similar responsibilities include help desk technician, help desk analyst and service desk analyst.
Field Service Technician
A field service technician is responsible for analyzing, troubleshooting and evaluating technology issues in the field. This role generally supports external clients or end users.
Field service technicians:
Pay attention to customers' descriptions of computer problems
Ask questions to properly diagnose the problem
Walk customers through the recommended problem-solving steps
Set up or repair computer equipment and related devices
Train users to work with new computer hardware or software
Document changes, revisions and problems
What makes a field service technician different from an IT support specialist or a help desk support specialist is the fact that the work is primarily done in the field. A field service technician role is not a typical office job. This type of IT pro works at client sites or a customer's home – like a cable company technician, for example.
Other technician roles, like data support technician or IT server technician are similar in that they are focused roles. For instance, data support technicians typically maintain computer networks or provide technical support directly to users. Similar to help desk technicians and field service technicians, they support others remotely or in person. Data support technicians may also work in call centers.
The scope of an IT server technician role can range depending on the size and type of employer. Some server technicians work full-time to oversee the server systems of a specific organization, while others operate on a contract basis and are called in when needed.
Desktop Support Specialist
Maintaining computer hardware and software systems are the main responsibilities of a desktop support specialist. These IT pros ensure the smooth operation of software and hardware products for employees within an organization and customers outside of an organization.
Desktop support specialists:
Diagnose and resolve technical issues with hardware or software systems
Consult with end users to understand and troubleshoot technical issues
Assess user needs and recommend solutions like patches, upgrades or enhancements
Provide information on installation, maintenance and use of technical systems
Backup data, upgrade IT systems and install new software or hardware
Document and create technical support procedures and templates
Desktop support specialists share many of the same responsibilities as IT support specialists and field service technicians, however this role is typically focused on computer hardware and software. Desktop support specialists are generally considered an entry-level role within an organization and often report to senior IT pros like a systems administrator (sysadmin) or IT manager.
Job titles with similar responsibilities include computer technician, computer support technician, computer support specialist, computer systems analyst and network support specialist.
IT Support Analyst
IT support analysts provide a wide range of technical support and may also be tasked with evaluating the overall support program.
IT support analysts:
Resolve computer hardware and software problems
Answer queries from users
Ensure security measures remain intact
Prepare service records
Handle escalations
Create IT operations, procedures and best practices
While IT support analyst are able to provide the same type of support services that IT support specialists, help desk support analysts, field service technicians and desktop support specialists do, the differentiation is in overall assessment of the IT support program. IT support analysts may be asked to create and document department procedures and best practices for distribution among the entire organization.
Job titles with similar responsibilities include IT analyst, business analyst, help desk analyst, technical support analyst and with some experience, IT support manager.
Essential Skills and Qualifications for IT Support Jobs
While we've named more than 20 different job titles that fall under the larger family of IT support specialists, you may be surprised to learn that for the most part, these job titles generally require the same type of knowledge and skills.
Most of these jobs are considered entry-level IT positions and do not require a traditional four-year degree. Employers seeking candidates to fill entry-level IT support jobs will look for customer service experience, technology experience and validation of skills that come from IT support certifications or bootcamp programs.
CompTIA A+ certification, for example, is considered the industry standard for launching IT careers into today's digital world. CompTIA A+ appears in more tech support job listings than any other IT credential. When you get certified with CompTIA A+ you are showing potential employers that you can:
Identify, use and connect hardware components and devices
Install and support Windows operating systems
Troubleshoot PC and mobile device issues
Explain the types of networks and connections
Troubleshoot real-world device and network issues
Protect against security vulnerabilities
Install and configure laptops and other mobile devices and support applications
Set up client-side virtualization and cloud concepts
Follow best practices for safety, communication and quality assurance
Interested in CompTIA A+? Download the exam objectives for free to see what's on the exams.
Future Outlook: What to Expect
As technology evolves, more jobs will be created. At nearly double the national estimated growth rate, tech jobs are projected to be among the fastest-growing occupations over the next 10 years. Specifically, the need for IT support specialists will reach about 789,000 by 2033 – that's 21% above the national rate.
And while that's fantastic news for those getting started in their tech careers, the even better news is that there is limitless growth potential when you work in technology. For example, an entry-level tech support job could lead to other positions like computer programmer or database administrator (DBA).
There are many opportunities for career growth beyond the IT support function since IT support specialists have fundamental knowledge in many areas. The most common new roles for IT support specialists are network administrator, cybersecurity specialist or IT project manager. A less common – but still viable option – is software developer.
Launching a career in IT support is a great way to learn a broad range of fundamental skills that will propel you into other avenues of technology. It's not only an entry-level career option, but it's an area of tech that will help you decide where you want to go, and what you want to be, in the future.
Ready to get started? Take our quiz to see which CompTIA certification is right for you.