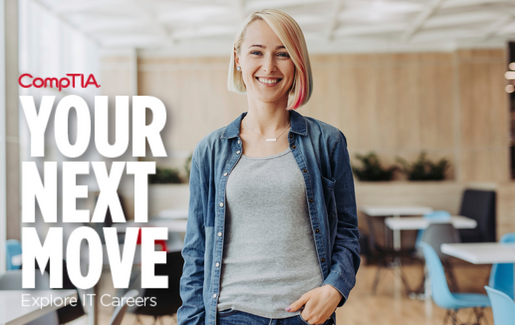 This article is part of an IT Career News series called Your Next Move. These articles take an inside look at job roles related to CompTIA certifications. Each article will include the responsibilities, qualifications, related job titles and salary range for the role. As you consider the next move in your IT career, check back with CompTIA to learn more about your job prospects and how to get there.
As in any field, there are projects that teams of employees work on in technology. For everything to go smoothly, someone needs to take charge and oversee the project. If you have excellent communication and project management skills, plus a natural ability to lead, a career as an IT project manager could be your next move.
What Is an IT Project Manager?
An IT project manager sets timelines for group projects and keeps the group on task and on budget. In addition, a project manager may have the following job duties:
Coordinate project phases and schedules
Select the right people to serve on the project team
Delegate assignments
Effectively communicate with all stakeholders in the project
Organize project plans and prepare reports and other tools to detail the specific budget, time and projected outcomes of the project
Track the progress of the project and adjust plans as needed
A project manager is the liaison between those who ordered the project and those who bring it to life. Strong interpersonal skills are a must, and a project manager must relay the goals of the project to the team and the issues that arise back to the stakeholders.
Project managers need excellent leadership skills and communication skills to be able to move projects along and keep work on track. A project manager must also be highly organized and task oriented to keep the team on track. An IT project manager, in particular, needs extensive knowledge of IT to know what expectations are manageable for the size and scope of a particular project.
What Is the Difference Between a Project Manager and a Project Coordinator?
If you're thinking about getting started in project management, there are two job roles you'll see in job listings. Although project manager and project coordinator sound similar, they are offered at different experience levels.
For starters, a project coordinator is a more entry-level position and a good steppingstone to get into project management. Project coordinators present different methodologies by coordinating project timelines and reporting back to management with different details. Project coordinators don't necessarily need to know how to use specific platforms or methodologies, but they may gain experience with them that will help them advance to a project manager role. A coordinator role is a great way to get your start in project management and build the skills you need to eventually move up to an IT project manager role.
A project manager will triage problems as they come up and maintain records of expenditures. Both project managers and project coordinators must present proper time management and problem-solving skills. However, project managers are better prepared to manage all the stages of an assignment from start to finish, while a project coordinator executes the steps within those stages. When you think about it, these two roles work well hand-in-hand and give great exposure for future IT or project management roles.
How To Become an IT Project Manager
Some people start as a project coordinator, whereas others may start in an IT role, or even a non-technical role. After these starting positions, you may realize you enjoy the world of project management.
Getting an education is usually the first step before getting into the industry. You may not need a college degree for an entry-level job, but it will help you in the long run. Earning certifications to validate the skills you have can also be an important step in starting your project management career. Keep reading to discover what it takes to become an IT project manager.
What Education Do I Need To Be a Project Manager?
Many organizations hiring an IT project manager are looking for someone with the above-mentioned skills plus a bachelor's degree in computer science or management information systems (MIS). However, having project management certifications can supplement or even be an alternate to a technical degree.
Some organizations may require their IT project managers to have a graduate degree, and a common degree that can take beyond the undergraduate level to complete is a Master of Business Administration (MBA). Many people pursuing an MBA take classes while working, which is an option that can increase the time required to complete that degree.
These certifications may include CompTIA Project+, which is designed for people who are managing small- to medium-sized IT projects, or Project Management Professional (PMP), which is designed for those with more project management experience and who manage large-scale projects.
How Can I Learn Project Management Skills?
In addition to CompTIA Project+, project managers need certain skills and experience. Having a background in both business and technology is often seen as a plus, as it can help a project manager better assess how the organization operates or how to select and implement technology. Certifications like CompTIA A+, CompTIA Network+, CompTIA Security+ and CompTIA Cloud Essentials+ can help you understand more about implementing technology solutions in the workplace. Check out the CompTIA Career Roadmap to see what other certifications can help you become a project manager.
In addition to certifications, CompTIA offers a full suite of training products to help you learn the skills needed to become an IT project manager.
If you're ready to start learning now, CompTIA Project+ (PK0-004) training includes the following: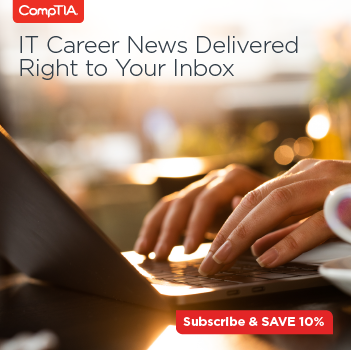 This November, CompTIA will launch a new version of Project+ (PK0-005), along with a full suite of training products:
How Many Years Does It Take To Become an IT Project Manager?
Project management jobs may require several years of experience in a related IT job, while some lower-level positions may require just a few years of experience. Director positions are more likely to require at least 5 to 10 years of related work experience.
Overall, the number of years of experience required varies with the organization. Smaller or newer companies may not require as much experience as larger or more established ones – it all depends on the career path you choose.
Is It Hard To Be an IT Project Manager?
Like any job, there are easy tasks and there are difficult tasks. Throughout every project, it is important to take initiative and gain experience as you go. Putting in the work to learn and gain experience will make your path easier and help you reach your career milestones.
Ultimately, anyone with the drive to learn can become a project manager. Many of the key skills are used in other fields and even in everyday life. It's just a matter of putting those skills into practice within the framework of project management. It will take time, practice and energy, but it's not necessarily hard once you build a foundation of skills and knowledge.
The Details
IT Project Manager Salary Range
The median annual salary for an IT project manager is $159,010 as of May 2021 (U.S. Bureau of Labor Statistics (BLS)).
IT Project Manager Job Outlook
According to Lightcast, There were 274,000 job postings by US employers for IT project managers during the past 12 months ending September 2022. Employers have posted more than 840,000 IT jobs in the US seeking candidates with project management skills during this 12 month period.
Job Titles Related to IT Project Manager
+ Means More
At CompTIA, + means IT careers. That means you can consider us your partner on your journey to becoming certified, finding, interviewing for and winning that new job role.
We help you save money. Getting a CompTIA certification is an investment in your career but getting a discount can help. There are several ways you can save money on your CompTIA purchases.
We help you decide how to take your exam. Scheduling your exam is the easy part. CompTIA exams are offered at testing centers around the world as well as through online testing, which is available 24/7, so you can test in person or at home. Learn more about your testing options.
We help you land your next job. We've teamed up with ZipRecruiter so you can get access to job alerts, digital badging and more. Be sure to sync your credentials on ZipRecruiter as you continue to grow within the tech industry.
Need more job inspiration? Check out CompTIA's Tech Job Report video series now premiering on CompTIA Connect. Learn more about the latest data and trends in tech hiring and the implications for employers and the U.S. workforce with new episodes each month.
Will your next move be IT project manager? If so, download the exam objectives for CompTIA Project+ to see what skills you need to get you there.