CompTIA's State of the Tech Workforce, also known as Cyberstates, is the definitive guide to tech workforce trends, the number of available jobs in technology, and tech industry employment statistics by state, metro area and nationwide. The State of the Tech Workforce aggregates mountains of data and transforms it into easy to understand visuals and actionable insights.
See full report PDF for details or the interactive site.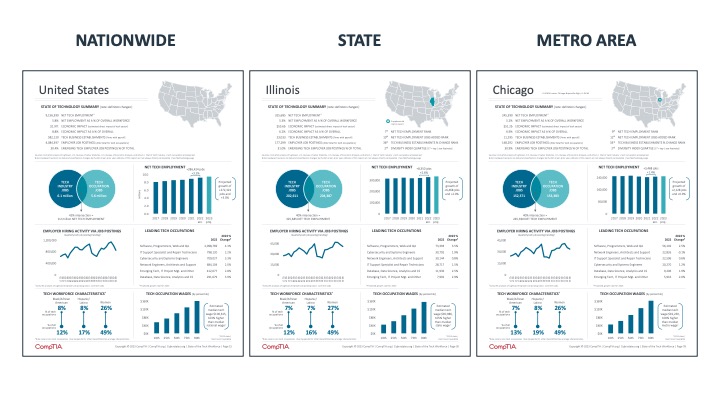 The tech workforce consists of two primary components, represented as a single figure by the 'net tech employment' designation. The foundation is the set of technology professionals working in technical positions, such as IT support, network engineering, software development, data scientist, and related roles. Many of these professionals work for technology companies (42%), but many others are employed by organizations across every industry sector in the U.S. economy (58%).
The second component consists of the business professionals employed by technology companies. These professionals – encompassing sales, marketing, finance, HR, operations and management, play an important role in supporting the development and delivery of the technology products and services used throughout the economy.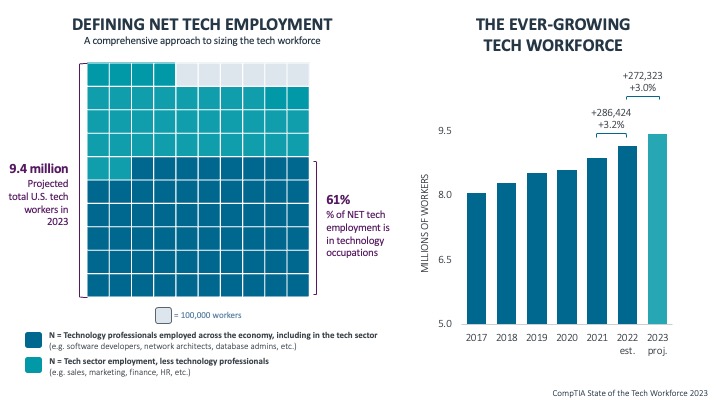 Across all tech occupation categories covered in this report, the median salary, also referred to as the 50th percentile or midpoint, was an estimated $100,615 in 2021, the most recent year of available data. This figure is more than double the median wage across all occupations of the U.S. labor force. Percentiles help to provide insight into how salaries progress throughout a tech career, with the upper levels at the 75th or 90th percentile range achieved through years of experience, training and certifications. Please see CompTIA's IT Salary Calculator for an interactive mapping of of detailed salary data by location.
There are several approaches to assessing labor force characteristics. Numeric totals and relative percentages are good starting points. Taking it a step further, however, provides deeper insights and more context.
To measure overall race and ethnicity characteristics within the tech workforce, CompTIA's State of the Tech Workforce uses a metric called Simpson's Diversity Index. This index weights two key facets of race and ethnicity within the workforce – richness and evenness (or think of it as depth and breadth) and reflects it in a single metric. The metric is calculated across the 7 primary race and ethnicity categories captured by the U.S. Bureau of Labor Statistics: American Indian and Alaska Native, Asian, Black or African American, Hispanic or Latino, Native Hawaiian and Other Pacific Islander, Two or More Races, or White.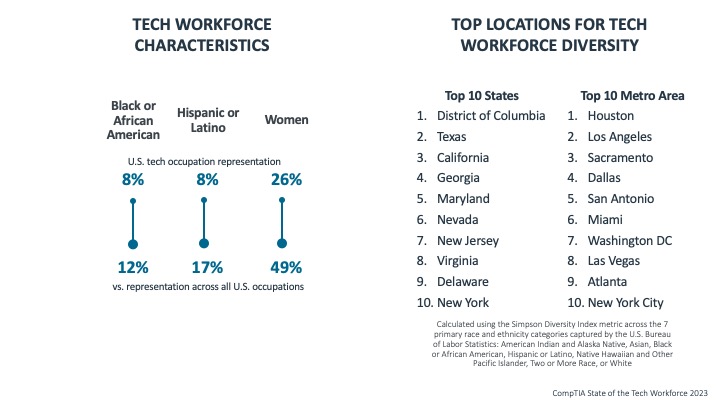 Read more about IT Workforce.