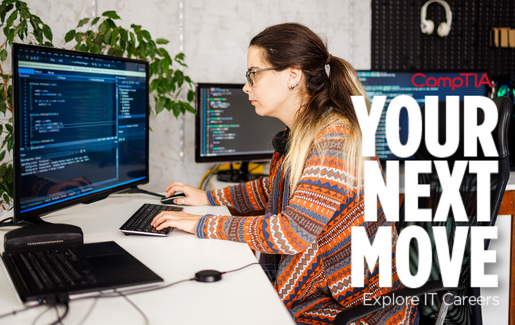 This article is part of an IT Career News series called Your Next Move. These articles take an inside look at the roles related to CompTIA certifications. Each article will include the responsibilities, qualifications, related job titles and salary range for the role. As you consider the next move in your IT career, check back with CompTIA to learn more about your job prospects and how to get there.
Software development could be your soft launch into the large and fast-growing tech world. This job role allows you to use your customer-facing skills and recommend potential upgrades for your customers. If you enjoy getting your hands dirty with software development and have an admiration for problem-solving, then software developer could be your next move.
What Is a Software Developer?
Software developers are the creative minds behind computer programming, and they must complete technical and important tasks throughout their workday. Here are a few ways they support an organization:
Develop, create and modify general computer applications software or specialized utility programs.
Analyze user needs and develop software solutions.
Design software or customize software for client use with the aim of optimizing operational efficiency.
May analyze and design databases within an application area, working individually or coordinating database development as part of a team.
Some software developers develop applications that can allow people to do specific tasks on computers or devices, while others develop the underlying systems that run the devices or control the networks. It is necessary that software developers can identify the core functionalities that users need.
How To Become a Software Developer
While education is minimally advertised for this job role, a majority of job postings for software developers only require a high school degree, vocational training, or a bachelor's degree in computer and information technology or a related field. About 40% of job advertisements don't require a bachelor's degree or higher, but employers have been seeking software developers who have 0-5 years of experience. Employers are also looking for certain qualities when it comes to vetting candidates, including:
Teamwork/Collaboration
Communication skills
Problem solving
Troubleshooting
Writing
Planning
In addition to credentials and important qualities, software developers need certain skills and experience. A few skills include:
Software engineering
Java
SQL
Python
Having a background in business and technology is often seen as a plus, as it can help a software developer better assess how the organization operates or how to approach developing applications and programs. Certifications like CompTIA ITF+ and CompTIA Security+ can help you get started towards your next career move.
Check out the CompTIA Career Roadmap to see what other certifications can help you become a software developer.
In addition to certifications, CompTIA offers a full suite of training products to help you learn the skills needed to become a software developer.
Want to see more? Check out our available training options offered in the CompTIA store.
The Details
Software Developer Salary Range
According to the U.S. Bureau of Labor Statistics (BLS), the median advertised salary for a software developer is $120,730 as of 2021. This is 164% higher than the median national wage in the United States. Although, many factors influence wages including location, job-level, industry sector, employer size, specialty skills, years of experience and more.
Check out CompTIA's IT Salary Calculator for more details.
| | | | | |
| --- | --- | --- | --- | --- |
| 10th Percentile | 25th Percentile | 50th Percentile | 75th Percentile | 90th Percentile |
| $64,470 | $90,870 | $120,730 | $151,960 | $168,570 |
Software Developer Jobs
The BLS stated that there were 1.3 million job postings for open software development positions in the United States during the 12-month period ending October 2022. More than 1 in 3 job postings were for work-from-home or hybrid positions.
Software development is one of the largest tech occupation categories with an estimated base of 1,627,000 employed U.S. workers in 2022. And the need for software developers will continue to grow, reaching nearly two million by 2032. The 10-year projected growth rate for software developers is 215% above the national rate.
According to Lightcast, employers have listed more than 2.3 million job postings in the United States seeking candidates with software development related skills. Some employers currently looking for software developers include Amazon, Humana, Deloitte, Dell and Capital One.
Job Titles Related to Software Developer
Applications developer
Java developer
+ Means More
At CompTIA, + means IT careers. That means you can consider us your partner on your journey to becoming certified, as well as finding, interviewing for and winning that new job role.
We help you save money. Getting a CompTIA certification is an investment in your career but getting a discount can help. There are several ways you can save money on your CompTIA purchases.
We help you decide how to take your exam. Scheduling your exam is the easy part. CompTIA exams are offered at testing centers around the world as well as through online testing, which is available 24/7, so you can test in person or at home. Learn more about your testing options.
Need more job inspiration? Check out CompTIA's Tech Job Report video series now premiering on CompTIA Connect. Learn more about the latest data and trends in tech hiring and the implications for employers and the U.S. workforce with new episodes each month.
Read about more IT jobs featured in Your Next Move.
Will your next move be software developer? If so, download the exam objectives for CompTIA ITF+ to learn more.