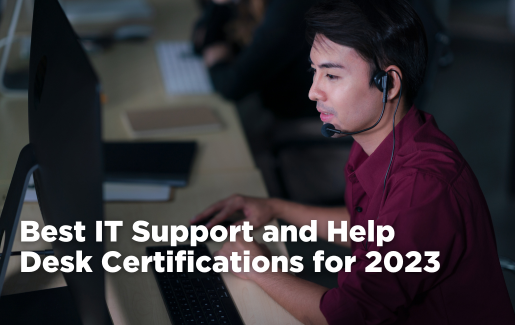 If you like solving problems and troubleshooting technology issues, then a career in IT support may be right for you. IT support can be the first step in your career before moving into areas like computer networking and cybersecurity, or you can build your tech support skills over time to work on more advanced issues as a Tier II or Tier III technician, a systems administrator or an IT support manager.
Despite the pandemic and , thefuture of IT jobs[AC1] is still solid with a projected 272,323 net new tech jobs in 2023, according to report. Compared to other careers, IT is relatively easy to get into - with the right IT certifications, that is. Whether you're looking to change careers or advance your tech support skills, the right IT certification can set you on your path.
IT certifications prove to employers that you have the skills they need on their teams. In fact, according to CompTIA's 2023 Workforce and Learning Trends report, 80% of HR professionals in medium-size and large organizations rely on industry-recognized technical certifications during the hiring process. But how do you choose which certification to get? You can start with our list of the best certifications for IT support.
CompTIA A+
The CompTIA A+ certification is an ideal IT credential for beginners. It prepares candidates to install, configure and maintain personal computers, mobile devices, printers and laptops. It also enables technicians to perform basic networking and PC troubleshooting skills, as well as interact with various operating systems.
CompTIA A+ is a foundational, vendor-neutral certification that can open doors for new IT professionals. Vendor-neutral certifications cover skills that can be applied to any vendor's product, whereas vendor-specific certifications dive into the products of one vendor only. An article by Coursera explained that CompTIA A+ is an industry-standard credential that can kickstart an IT career.
CompTIA A+ covers the skills needed for jobs such as the following:
Desktop support administrator
CIO listed CompTIA A+ as the number one most popular IT certification for 2023. This foundational IT certification covers skills related to troubleshooting, cybersecurity, mobile devices, operating systems, virtualization, the cloud, software and more.
Additionally, according to the 2023 Dice Tech Salary Report, CompTIA A+ is the most popular certification held by IT pros. And according to an analysis of Lightcast job posting data, CompTIA A+ is the number one cited certification for IT support jobs, with nearly 35,000 ads in the U.S. including it during the 12-month period ending in April 2023.
CompTIA Network+
CompTIA Network+ is another vendor-neutral certification that covers the skills needed for IT support. It validates the technical skills IT pros need to securely establish, maintain and troubleshoot networks on any platform.
CompTIA Network+ isn't just ideal for those who want to get into tech support, but for anyone who sees a future for themselves in IT. This is because it covers concepts such as network security and best practices for cybersecurity. Whether you want to pursue computer networking or IT security, CompTIA Network+ is a must for building foundational skills.
Google IT Support Professional Certificate
The Google IT Support Professional Certificate can help you learn the skills relevant to any entry-level tech job. These skills enable you to perform tasks such as:
Wireless networking
Computer assembly
Program installation
Customer service
The Google IT Support Professional Certificate differs from a certification. A certificate proves to employers that you have knowledge in a given area. Conversely, a certification proves that you have passed a certification exam. This indicates you have the skills to successfully do the job you are applying for. Certificates can help prepare you to get certified and add weight to your resume.
Google and CompTIA have teamed up to help people get into IT with the combination of the Google IT Support Professional Certificate and the CompTIA A+ certification.
Cisco Certified Network Associate (CCNA)
Cisco Certified Network Associate (CCNA) is one of the best certifications for IT support.
The CCNA exam covers topics such as:
IP services, networking fundamentals
Automation and programmability
Security fundamentals
When you earn the CCNA, that proves to employers that you can manage advanced networks.
CCNA isn't for beginners. It's recommended that candidates have one year of experience with Cisco services and products, at least. They should also understand network fundamentals and have knowledge of IP addressing.
With this vendor-specific certification, IT pros can provide end-user support for Cisco products and services. CCNA can also help prepare technicians for jobs such as IT support specialist, network specialist and network engineer.
Microsoft Certifications
Microsoft Certified Solutions Associate/Expert (MCSA/MCSE) were entry-level IT certifications that were retired in January 2021. Before IT pros could get advanced Microsoft certifications, they had to earn the MCSA.
Microsoft still offers associate-level and expert-level certifications in its certification programs. Microsoft 365 Certified: Modern Desktop Administrator Associate is an example of an associate-level certification. Microsoft Certified: Azure Solutions Architect Expert is an example of an expert-level certification.
Microsoft certifications are vendor specific and can help prepare IT pros to work with Microsoft equipment and software.
Information Technology Infrastructure Library (ITIL) Foundation
Information Technology Infrastructure Library (ITIL) Foundation is one of the ITIL help desk certifications. Those who take the ITIL Foundation certification exam must understand the principles and best practices of ITIL 4. They should also be familiar with the concepts of Agile, Lean and DevOps.
ITIL Foundation is one of the best certifications for IT support. Why? Because it helps businesses "manage risk, strengthen customer relations, establish cost-effective practices, and build a stable IT environment that allows for growth, scale, and change," explained Senior Writer Sarah K. White in an article by CIO.
Additional Certifications to Consider for IT Support
If you're in a more advanced IT support role, you may consider certifications focused on IT specialties.
For example, if your work centers around IT security, certifications like CompTIA Security+ or Certified Information Systems Security Professional (CISSP) can validate your experience and prove you have the cybersecurity skills needed for advanced technical support. Or they can help you move from an IT support job into cybersecurity.
Or, if the cloud is your area of expertise, certifications like CompTIA Cloud+ or AWS Certified Cloud Practitioner can validate the skills you need for advanced tech support related to cloud platforms. AWS certifications are vendor-specific and focused on Amazon Web Services, whereas CompTIA certifications are vendor-neutral and can be applicable to any cloud platform.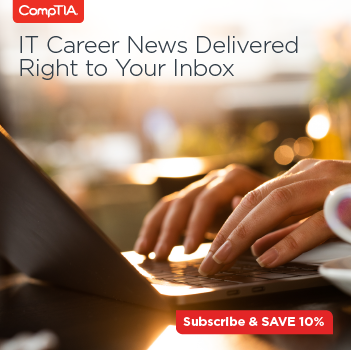 Start Your IT Career with CompTIA A+
Information technology support certifications are some of the most versatile IT credentials available. They can be a great starting point to begin a career in IT and will help you thrive in many different IT jobs. If you want a job in tech support, such as help desk, an IT support certification will get you there.
CompTIA A+ is considered to be one of the best IT support certifications. It is vendor-neutral and the industry standard for establishing a career in IT. Later this year, CompTIA will launch an updated version of this certification, ensuring that certification holders have the skills needed for today's tech support jobs.
Best of all, CompTIA will cheer you on as you earn this certification:
Learn tech support skills with CompTIA A+: CompTIA offers instructor-led and self-study training options to help you learn the skills needed for your certification exam and for your career. Check out the classes offered by the CompTIA Tech Career Academy, CompTIA live online training, self-paced eLearning, interactive labs, exam prep and study guides.
Save money on CompTIA A+: CompTIA can help you pay for your certification by providing voucher discounts and financing options.
Take the CompTIA A+ certification exam: Prove your knowledge by getting certified. You can take your CompTIA A+ exam at a testing center or online from your home, office or other secure location.
Get a job with CompTIA A+: Land a tech support job by promoting your certification with a digital badge. CompTIA and ZipRecruiter have also teamed up to send your tailored email alerts based on your certifications, skills and experience.
CompTIA is here to help you every step of way in earning the best IT support certification for you. Learn more here.
Ready to get started? Download the exam objectives for CompTIA A+ to begin studying.