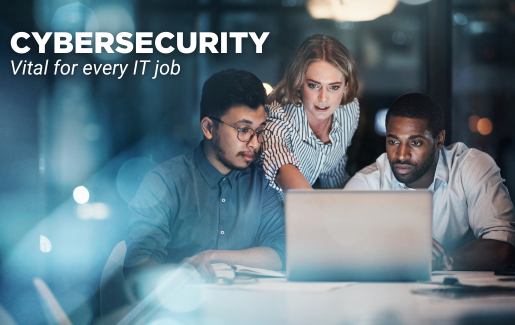 Cybercrime is a word that packs a punch as cyberattacks have the potential to either damage or devastate organizations of all sizes. Cybercrime is costly to organizations across all sectors, with the median cost of a data breach being $4.35 million in 2022. This number increases for organizations with less advanced security processes, like formal incident response teams. And successful cyberattacks don't merely result in profound financial loss for companies – they can also damage an organization's reputation.
By prioritizing information security through employing and upskilling cybersecurity professionals and increasing the cybersecurity workforce, organizations can ensure vulnerable data is protected. They can help prevent the devastating losses caused by cybercrime. Organizations that invest in cybersecurity also ensure compliance with regulatory requirements and promote the mitigation of cyberattacks and security incidents.
Cybersecurity Professionals Are In Demand
Without data security professionals building and maintaining secure computer systems and networks and creating security solutions, cybersecurity initiatives can't succeed. While cybersecurity professionals are in high demand in the IT job market, the talent shortage is alarming. CompTIA's State of Cybersecurity 2024 report states that there were over 660,000 cybersecurity-related job openings in the United States between May 2022 and April 2023, representing a 28% increase from the same time period in 2020.
As IT security jobs remain unfilled, the cybersecurity skills gap is leaving organizations more open to potential threats. The average time to identify and contain a data breach is 277 days, but cybersecurity professionals can help shorten that time, saving organizations money.
How Much Money Does Cybersecurity Save Organizations?
Cyberattacks are costly in many ways, especially financially. Cybersecurity initiatives and best practices that promote data protection can save organizations considerable amounts of money. For example, companies that adopt a zero-trust security model, build a robust incident response plan and employ certified cybersecurity staff save $2 million annually in costs related to cybercrime.
CompTIA Certifications Are Key to Improving Cybersecurity
CompTIA certifications play a key role in improving cybersecurity and helping IT pros along their cybersecurity career path. CompTIA Security+, an early-career certification, is one of the most popular cybersecurity certifications on the market. However, other CompTIA certifications also cover essential data security technical skills related to:
Programming
Operating system security
Troubleshooting
Automation
Encryption
Network monitoring
Application security
Security management
IT governance
Moreover, knowledge of cybersecurity and related skills are relevant to each CompTIA certification.
IT professionals of all types must have knowledge of cybersecurity to stay at the top of their game and remain competitive and effective. By earning CompTIA certifications, IT pros can ensure they possess the skills they need to perform well on the job.
Cybersecurity Relevancy to Each CompTIA Certification
Wondering to what degree each CompTIA certification covers cybersecurity topics? Cybersecurity relevancy to CompTIA certifications can range from 20% to 100%. The following CompTIA certifications have 100% information security relevancy:
Other CompTIA certifications cover cybersecurity topics as well. Here's how the other CompTIA certifications stack up in terms of data security relevancy:
No matter what CompTIA certification an IT pro earns, they will become more knowledgeable of and skilled in cybersecurity. As they seek out cybersecurity training programs and certifications, they'll gain the skills they need to be successful. Also, CompTIA certifications can help IT professionals establish themselves in a data security specialization that works for them.
Cybersecurity Relevancy to Job Roles and Main IT Domains
Cybersecurity is relevant to all information technology job roles, not just to cybersecurity jobs. IT pros of all kinds should be literate in cybersecurity topics. Having a cybersecurity skill set will help them carry out their tasks safely, promote data security and reduce vulnerabilities within an organization.
Here are some examples of IT domains and how cybersecurity relates to them:
Infrastructure
An effective cybersecurity strategy includes securing an organization's infrastructure. In fact, securing an organization's infrastructure is simply referred to as infrastructure security. Infrastructure security applies to networking systems, computers and endpoints, and cloud-related hardware and software.
Infrastructure security primarily helps ward off cyberattacks. It also promotes network security and guards devices from natural disasters. Overall, infrastructure security improves security measures and reduces issues related to loss of customers, downtime, compliance costs and brand and reputation diminishment.
Any IT pro working in an infrastructure-related role must have knowledge of cybersecurity, best practices and security measures, and understand how to implement them. Common jobs roles in IT infrastructure include IT support/help desk specialist, application support analyst, systems operator, systems administrator, systems analyst, network engineer, network administrator, network architect and database administrator.
Data and Analytics
There is an overlap between data and cybersecurity as there is a stronger need than ever to secure data in cloud environments. Often, these environments don't have firm frameworks. The overlap also exists between cybersecurity and the application of data analysis techniques.
Data is key to organizations gaining insight into the past. This helps them make better business decisions in the future. The CompTIA article, Cybersecurity and Data Analytics, explains that cybersecurity analysts, cybersecurity engineers and cybersecurity specialists all play a role in cybersecurity analysis. So do other cybersecurity professionals, such as security operations center (SOC) analysts. The article describes cybersecurity analysis as an advanced field that straddles both data and cybersecurity.
Those who work in data and analytics must have knowledge of cybersecurity. A few cybersecurity skills they should possess include threat intelligence, intrusion detection and response, risk analysis and data modeling.
Other cybersecurity roles within data and analytics include data scientist, data analyst, data support technician and database administrator.
Software Development
Cybersecurity is particularly relevant to software development. Without clear cybersecurity practices being used during the software development process, software will leave organizations open to cyberattacks such as unauthorized access and data breaches.
Today, software is developed rapidly, which increases the risk of security concerns. Software developers, software engineers and other IT pros who help develop software must have cybersecurity skills to create a secure environment for users and ensure software system integrity. A few targeted skills needed relate to secure coding, computer programming languages, cryptography, information systems and information assurance.
Like other forms of cybersecurity, software security protects an organization's reputation, reduces security costs and risks and promotes user privacy and regulatory compliance.
CompTIA certifications help employers ensure that employees have the validated skills needed to protect their organization, resolve security issues and qualify for a variety of cybersecurity careers.

Ready to get started? Download the exam objectives for any CompTIA certification for free to see what's covered.