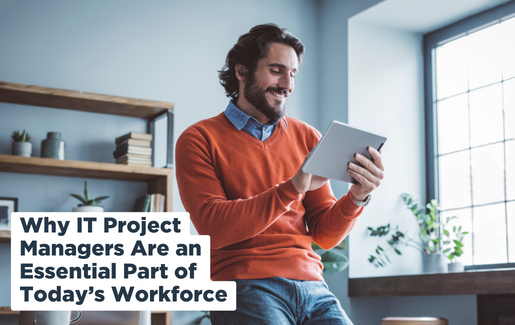 IT project management is an absolute must in today's workforce. With more than 585,000 firms comprising the IT industry in today's market and more than $600 billion being spent on IT in SMBs annually, it's imperative that we implement and manage IT projects strategically and methodically. In fact, with an approximate 70% failure rate for projects, IT project managers have gone from a luxury to a must-have.
IT project managers bring multiple skill sets to the table, helping to drive project deliverables, keep the project in scope and on budget, and build successful project teams. Here are seven additional reasons why IT project managers are essential.
1. IT Project Managers Translate Tech Speak for Business Partners
IT project managers are excellent communicators. They know what is taking place from a technical implementation perspective and they understand how it can be applied to solve a business problem. This is a common problem with technical projects because IT has difficulty explaining the project in terms that are understood by leadership. With an IT project manager, you get a translator who can make sense of the project in terms that both teams can understand.
But IT project managers go beyond considering the needs of internal teams. IT project managers help to gather the necessary requirements for an IT project to ensure that the project meets the expectations of business partners, while also satisfying the needs of users and considering the potential problems IT may face. With only 2.5% of companies reporting 100% project success, IT project managers are needed to bridge the gap between all stakeholders, including users, IT and business leaders.
2. IT Project Managers Drive Timelines to Align With Other Business Priorities
Timelines are often a critical piece of technology implementations because so much rides on the use of a particular solution. But anyone who has taken part in a large project knows that it can be difficult to keep to a timeline without having some level of oversight and monitoring to ensure that individuals are making progress on their separate tasks. In fact, it's reported that 48% of projects exceed the original timeline. This is where an IT project manager is very useful. Your IT project manager will set individual tasks for team members, identify the order that things need to be completed in and monitor completion to ensure that milestones and overall timelines are being met.
3. IT Project Managers Bring Decentralized Teams Together
In the aftermath of the pandemic, we are still seeing many teams operating in decentralized environments. It's a common situation for businesses to hire individuals that are spread across the globe. In that kind of working environment, it can be difficult to align the tasks of each person to meet a final goal. An IT project manager will develop a project plan that outlines all tasks, identifies stakeholders and project team, while also facilitating communication and collaboration so that decentralized teams act as a functioning unit.
4. IT Project Managers Put the Right People in the Right Roles
According to ProofHub, "organizations end up wasting 12% of their valuable resources due to poor project management." IT projects are often complex undertakings with a need for various skill sets from across the organization. It's a common pain point for companies that teams are simply tapped to take over a project without any real consideration to whether it's a good fit. IT project managers evaluate and assess the skills available and assign roles to ensure project success. If you want a successful implementation, you have to go beyond warm bodies in chairs and make sure that you not only have talented people, but you have the right skills to strategically and tactically execute the project.
5. IT Project Managers Assist in Issue Resolution
All projects have their issues. Whether there is risk to the timeline, difficulty aligning goals or even the possibility of exceeding scope, project obstacles are nearly inevitable. According to McKinsey, 17% of IT projects can go so bad that they threaten the very existence of a company, while one in six projects exceed cost by 200% and schedule by 70%. A good IT project manager helps to manage issues as they arise so they don't lead to critical problems – or even project failure. This could involve identifying new resources on the team, readjusting tasks or modifying the timeline to ensure that all requirements are being met or removing obstacles for the project team.
6. IT Project Managers Ensure Quality Control
Some people prefer to get things done quickly, rather than doing them correctly. IT project managers oversee every aspect of a project to ensure that the final product is of the best quality and that it meets the requirements gathered throughout the project. Because project managers have appropriately and consistently communicated with all stakeholders throughout the project, they know how to define project success and identify when a delivered solution is substandard.
7. IT Project Managers Oversee Change Management
Change is unavoidable in business. Employee turnover, leadership change-ups and new technology are just a few examples of ways that organizations experience change. One report shows that 81% of projects with effective change management came in or under budget. Because IT project managers engage in continuous documentation while monitoring teams and the fine details of a project, change management becomes much more manageable with the help of an IT project manager. IT project managers can oversee new team members and ensure that all considerations are being evaluated before implementing a change.
Interested in a Career as an IT Project Manager?
CompTIA Project+ is perfect for IT project managers who coordinate or manage small- to medium-sized projects. CompTIA Project+ covers key project management concepts beyond the scope of a single methodology or framework, making it more versatile than other project management certifications.
After successfully passing the certification exam, candidates will have the knowledge and skills required to:
Manage the project lifecycle
Ensure appropriate communication
Manage resources and stakeholders
Maintain project documentation
Get the in-demand project management skills you need with CompTIA Project+. Download the exam objectives to get started.