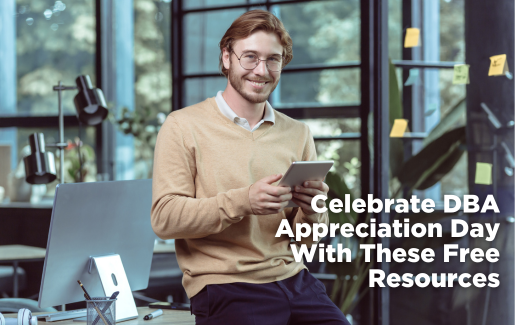 In honor of Database Administrator (DBA) Appreciation Day, we celebrate the invaluable contributions of DBAs in our increasingly data-driven world. Their expertise in managing, securing and optimizing complex databases is the backbone of many businesses.
And to celebrate, we have gathered a collection of our favorite articles to help you sharpen your skills and stay up-to-date with the latest in database management.
Free Database Administrator Resources
Unlock your career potential with the best database certifications. Discover the top courses and programs to take your skills to the next level.
Discover what database security is and why it's essential for protecting your sensitive data. Our guide covers everything you need to know to stay secure.
From job role salaries to learning step-by-step how you can get a job in data, discover everything you need to know about data analytics with this ultimate guide.
Working in data analytics requires mastering tools and technologies that enable you to gain insights from data. Learn more about the essential tools you need to succeed.
IT pros are charged with taking care of data, and these 7 skills will help as they play an increasingly strategic role in organizations.
Careers
Are you organized, security focused and able to understand structures well? If so, then database administration may be the next move for you.
If you want to become a data expert and are able to balance the short-term and long-term needs of an organization, data architect may be a good next move for you.
If you are a technological jack-of-all-trades and like working in the central hub, then a career as a data center manager could be your next move.
Learn about data analytics jobs, skills, salaries, training and why data makes a great career.
Get Started With CompTIA DataSys+
CompTIA's newest certification is here! Learn all about CompTIA DataSys+ and see if it aligns with your career ambitions.
With the launch of the new CompTIA DataSys+ certification came many questions, so we've set out to answer them here.
Learn how the skills covered in CompTIA DataSys+ translate to on-the-job responsibilities.
Studying for the CompTIA DataSys+ exam is simple when you have a plan. Here are some essential tips for test-taking success.
+ Means Data Careers
Do you need to improve your database skills? At CompTIA, + means IT careers. CompTIA certifications are well known for providing you with the credentials you need to show future employers you have the skills to maintain, manage and protect the database environment of an organization.
Here are 5 ways that + means IT careers:

1. Choose a Certification
Not sure which certification is right for you? CompTIA offers data certifications for two pathways: manage and interpret. The CompTIA Data Pathway can help you pick a certification based on your experience and career goals.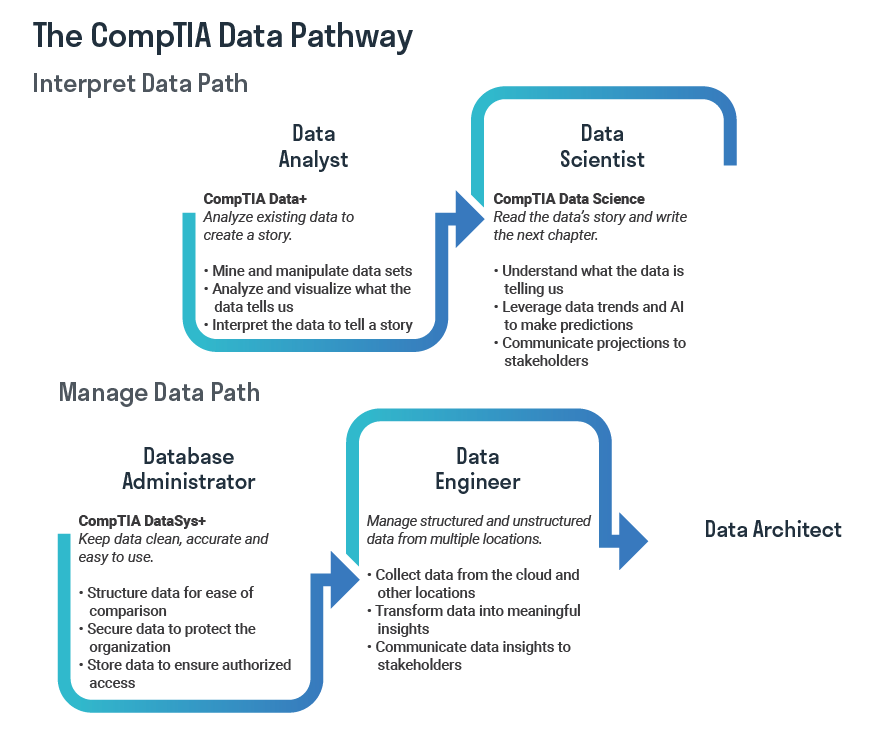 2. Study for Your CompTIA Certification Exam
CompTIA has multiple options to help you study for your CompTIA certification exam. Whether it's eLearning or study guides, we have what you need to prepare. Read more about how to study for CompTIA Data+ and CompTIA DataSys+.
3. Save Money on CompTIA Certifications
Getting a CompTIA IT certification is an investment in your career, but getting a discount can help. There are a number of ways you can get a discount on your CompTIA purchases.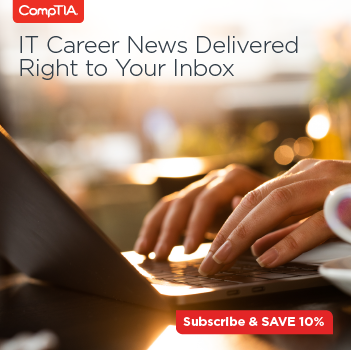 4. Take Your CompTIA Certification Exam
Scheduling your exam is the easy part. CompTIA offers online testing 24/7, so you can either go to a testing center or take it from nearly anywhere with an internet connection.
5. Land Your Next IT Job
Once you earn your certification, CompTIA can help you find the perfect IT job. We've teamed up with ZipRecruiter so you can get access to job alerts, digital badging and more. ZipRecruiter is a leading online employment marketplace that leverages artificial intelligence (AI)-powered smart-matching technology to actively connect millions of employers and job seekers. Be sure to sync your credentials on ZipRecruiter and continue to grow within the tech industry.
We're thrilled to share these resources with you, and we hope they'll serve as valuable tools in your professional journey. Whether you're looking to learn new skills, gain deeper insights into your field or keep up with the latest trends, these resources are designed to empower you and drive your career forward.
Ready to get started? Learn the skills you need with CompTIA CertMaster Learn + Labs. Sign up for a free 30-day trial today!