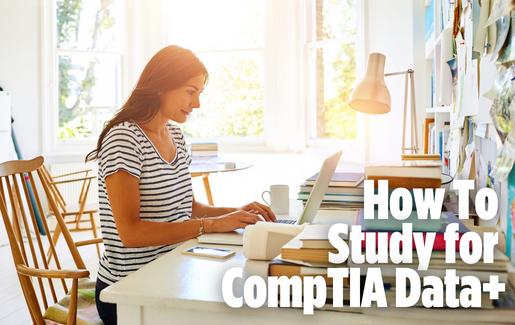 Jobs in data are spreading like wildfire. For years organizations have been collecting data, but until recently, they've just been skimming the surface regarding what they can do with that information. If you want to break into a data role, you need to improve your data analytics skills – and CompTIA Data+ could help you get there. CompTIA's newest certification, CompTIA Data+ (DA0-001) validates the data analytics skills and talent that organizations need to fuel innovation. Read on to learn how you can learn these skills and earn this new data analytics certification.
Step 1: Create a Plan
Making the decision to better yourself comes first. Training for any certification exam requires patience, planning and dedication. Before you start creating your own plan, consider the following questions:
Answering these questions lays the groundwork for a study plan that takes your personal knowledge and preferences into consideration and sets you up for success. Once you've completed this first step, it's time to download the exam objectives for CompTIA Data+.

Step 2: Download the CompTIA Data+ (DA0-001) Exam Objectives
CompTIA exam objectives are a wonderful place to start. This document tells you what concepts will be on the exam – and what you need to focus your attention on. You can download the exam objectives for the new CompTIA Data+ directly from the CompTIA website.
It's worth your time to read the exam objectives and note what you already know and what may be completely new to you. Taking the time to do this will help you prioritize study topics to ensure you're studying in the most effective way possible.
When you read the exam objectives, you'll see that they are divided into what we call domains. The domains are weighted, which will also help you organize your exam preparation.
Here are the new CompTIA Data+ domains and their relative weights:
Data Concepts and Environments (15%): Identify basic concepts of data schemas and dimensions, and explain the difference between common data structures and file formats.
Data Mining (25%): Explain data acquisition concepts, reasons for cleansing and profiling datasets, and manipulate data to prepare it for analysis.
Data Analysis (23%): Apply the appropriate descriptive statistical methods, and explain and interpret the outputs of analyses.
Visualization (23%): Communicate the insights of analysis through the conceptualization and the development of appropriate visualizations.
Data Governance, Quality and Controls (14%): Summarize important data governance concepts and apply data quality control concepts.
Pay attention to how each domain is weighted. If you think about the certification exam content as being divided this way, it can help you direct your study time accordingly. Learn more about what's on the CompTIA Data+ exam.

Step 3: Learn the Material
If you've done the homework outlined in steps 1 and 2, you're in an ideal position to start learning! CompTIA CertMaster Learn is a comprehensive, self-paced eLearning solution designed around the CompTIA Data+ exam objectives. This interactive platform includes lessons, games, videos and flashcards arranged in a personalized study plan; practice questions with immediate feedback to show what you've mastered and what you'll want to revisit; and a countdown calendar to keep you on pace.
Alternatively, The Official CompTIA Data+ Study Guide also covers all the exam objectives and allows you to study one topic at a time or cover a set of related subjects at once on your own timeline. Some certification candidates prefer to pair the study guide with CompTIA hands-on training tools.
Of course, that's the other component to CompTIA certification exams – putting what you've learned into action. CompTIA Data+ is the only entry-level, vendor-neutral, hands-on analytics certification on the market. It proves your ability to not only analyze and report on complex data sets, but also adhere to oversight and quality data standards.
Step 4: Get Hands-On Experience
This is often the catch-22 when it comes to entering a new job market. Employers want to see that you have experience, but how do you gain that experience if you never have the opportunity to learn? This is where CompTIA CertMaster Labs comes in.
CompTIA CertMaster Labs for Data+ allows you to learn how to mine, manipulate, visualize and report on data using actual software applications in a browser-based lab environment. This allows you to zero-in on exam objectives and practice with extensive step-by-step activities.
CompTIA CertMaster Labs feature:
Browser-based virtual environments that use real equipment
Step-by-step lab guides aligned with CompTIA Data+ exam objectives
Pre-configured exercise requiring minimal setup
You can use CertMaster Learn and CertMaster Labs simultaneously, in a seamless learning experience with CertMaster Learn + Labs for CompTIA Data+. By combining these two training solutions, you can learn the skills and then practice them before moving onto a new concept. Sign up for your free trial to check it out.

Step 5: Get Exam Ready

Knowledge plus hands-on experience is the key to mastering these skills. But there is one more piece of the puzzle you need to boost your confidence and go into your exam ready and able – it's called practice.
It doesn't matter if CompTIA Data+ is your first CompTIA certification exam or your 10th. It's important to familiarize yourself with how questions are presented and get used to the pressure of a timed exam. CompTIA CertMaster Practice is a companion tool that helps you close your knowledge gaps and learn intelligently.

You'll reinforce your knowledge with CompTIA CertMaster Practice by:

Assessing your skills and improving areas of weakness
Tracking real-time knowledge gains and topic difficulty
Practicing your skills and confirming your knowledge before exam day
CompTIA Live Online Training

If you prefer to learn in a classroom with guidance from an instructor, CompTIA Live Online Training might be for you. With all the comfort and flexibility of an online environment, Live Online Training with a CompTIA instructor simulates the traditional classroom learning experience with two-way communication, allowing you to ask questions and participate in discussions.
CompTIA Live Online Training classes are led by highly qualified CompTIA instructors who have CompTIA Data+ and real-world data analytics experience. CompTIA instructors follow industry-standard training best practices to get results; at the end of your session, you'll be trained on everything you need to know to pass your CompTIA Data+ certification exam.

Ready to Get CompTIA Data+ Certified?
Whether you choose to self-study with the trifecta of CompTIA CertMaster Learn, Labs and Practice or take CompTIA Live Online Training, you should feel confident in your preparation for your CompTIA Data+ certification exam.
Did you know? When you purchase a bundle with CompTIA training solutions plus an exam voucher, you get a free retake voucher, just in case your first try doesn't go as planned. Check out our bundle offers.
Ready to get started? Sign up for a free 30-day trial of CompTIA CertMaster Learn + Labs today.