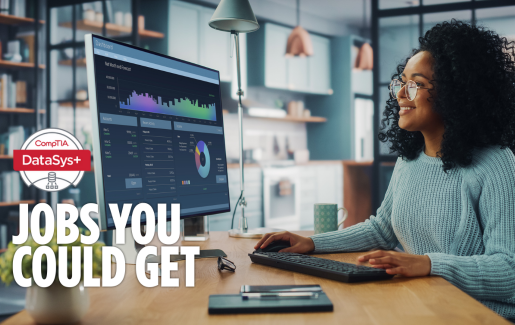 Digital data isn't new, but in the age of artificial intelligence, predictive analytics and customer personalization, data has become the lifeblood of many industries. With the growing amount of data generation and consumption, organizations need tech pros with critical data management and administration skills to aid in making well-informed choices, adhering to regulations, fostering innovation and deriving significant insights.
In fact, employers listed more than 2.1 million job postings in the United States seeking candidates with database-related skills over the past 12 months.*
If you manage databases in your role or are moving into a role that does, take a look at the new CompTIA DataSys+ certification. CompTIA DataSys+ covers what database administrators (DBAs) need to deploy, manage and maintain systems, including employing the fundamentals of scripting and programming in a database environment while using security and business continuity best practices.
What Skills Does CompTIA DataSys+ Cover?
CompTIA DataSys+ prepares data pros for database management positions and shows employers that you have the skills and hands-on experience necessary to get the job done, including:
Database structure types
The different aspects of database planning and design
The various phases of the implementation, testing and deployment of data
The purpose of monitoring and reporting database performance
Common database maintenance processes
In addition, CompTIA DataSys+ trains you to:
| | |
| --- | --- |
| Design and model databases to meet a specific organizational need | Execute database tasks, including processing and structuring data files, running routines, monitoring and maintaining data, documentation of incidents, etc. |
| Install, configure and maintain database software and tools for optimal performance | Establish and maintain sound security, backup and recovery policies and procedures to ensure governance and regulatory compliance |
| Work with key stakeholders to translate data into actionable intelligence | Develop, modify and run code, including SQL and other scripting methods |
Companies are looking to hire qualified tech pros that can confidently handle these tasks to deploy, manage and maintain databases across a variety of vendor products.

Download the exam objectives for free to find out everything that's covered.
5 Jobs You Could Get With CompTIA DataSys+
Becoming certified in CompTIA DataSys+ opens doors to a variety of data management jobs, but you may come across a wide array of job titles and postings that all sound slightly different. Let's take a look.
1. Database Administrator (DBA)
Skilled database administrators are needed to oversee, maintain and protect the increasing quantity of data that organizations are collecting.
A database administrator's responsibilities include:
Configuring and maintaining the database management system
Creating policies for the maintenance, security and use of the database management system
Training employees in how to use the database management system
Updating the database code as new technologies emerge
Recovering and backing up data as needed
Different types of database administrators include:
System database administrator
Application database administrator
Cloud database administrator
Performance database administrator
While database administrators were once found primarily in large organizations, they are becoming commonplace in organizations of all sizes and all industries as the need for data management becomes a broader business imperative.
And it pays to have data management skills. In 2021, the median pay in the United States for database administrators was $96,710, according to the U.S. Bureau of Labor Statistics (BLS). This is 111% higher than the median national wage for all occupations.
Read more about becoming a database administrator.
Database administrator is the main job role that CompTIA DataSys+ prepares candidates for. However, depending on the size of an organization and its data priorities, there are a few varieties of this role that you may come across during your job search.
2. Database Designer
A database designer is responsible for creating and maintaining the structure of a database system, ensuring that it meets the needs of the organization and provides efficient data storage and retrieval.
Database designers support their organization in the following ways:
Analyzing and understanding business requirements to design an appropriate database structure
Creating and maintaining Entity-Relationship (ER) diagrams and data dictionaries to document database design
Optimizing database performance by designing efficient table structures, indexes and relationships
Collaborating with database developers and administrators to implement and maintain the database design
Continuously reviewing and updating the database design to accommodate changes in business requirements or technology
A database designer plays a crucial role in ensuring that an organization's data is stored and managed effectively, enabling efficient data-driven decision-making and streamlined business processes.
3. Database Manager
A database manager is responsible for overseeing the administration, maintenance and security of an organization's database systems, ensuring optimal performance and data integrity.
A database manager's responsibilities include:
Managing and monitoring database systems to ensure optimal performance, availability and security
Developing and implementing database backup and recovery strategies to protect data from loss or corruption
Collaborating with IT teams to plan and execute database upgrades, migrations and integrations
Establishing and enforcing database policies, procedures and standards to maintain data integrity and security
Training and mentoring database administrators and other team members on best practices for database management
A database manager is essential for maintaining the health and security of an organization's database systems, ensuring that data is readily available and protected from potential threats.
4. Database Developer
A database developer is responsible for designing, implementing and maintaining database solutions that meet an organization's data storage and retrieval needs.
Database developers support their organization in the following ways:
Developing and maintaining database objects such as tables, views, stored procedures and triggers
Writing and optimizing SQL queries to ensure efficient data retrieval and manipulation
Collaborating with database designers to implement and maintain database structures
Troubleshooting and resolving database-related issues, including performance bottlenecks and data inconsistencies
Assisting in the development and implementation of database security measures to protect sensitive data
A database developer plays a vital role in creating and maintaining the database systems that power an organization's data-driven processes and applications.
5. Database Specialist
A database specialist focuses on the design, development and optimization of databases to ensure efficient data storage, retrieval and management.
A database specialist's responsibilities include:
Creating and implementing database structures, schemas and data models to ensure efficient data storage and organization
Developing and maintaining processes for data extraction, transformation and loading (ETL) to ensure seamless integration of data from various sources into the database
Monitoring and analyzing database performance, identifying bottlenecks and implementing necessary optimizations to improve query response times and overall database efficiency
Implementing and maintaining security measures to protect sensitive data, ensuring data integrity and complying with regulations and industry best practices
Working closely with database administrators, developers and other stakeholders to provide technical expertise, troubleshoot issues and ensure the database meets the evolving needs of the organization
Database specialists play a crucial role in the effective management of organizations' data assets. By designing and optimizing databases, they ensure that data is stored and accessed efficiently, securely, and in compliance with relevant regulations, ultimately contributing to the success of the organization.
If you want to land one of these jobs, the new CompTIA DataSys+ certification can validate your data skills and advance your career.
Looking for more about CompTIA DataSys+? Check out these articles:
Get the in-demand skills you need with CompTIA certifications and training solutions. Download the exam objectives to get started.
* Source: CompTIA State of the Tech Workforce 2023 | U.S. Bureau of Labor Statistics | Lightcast