This article is part of an IT Career News series called Your Next Move. These articles take an inside look at the roles related to CompTIA certifications. Each article will include the responsibilities, qualifications, related job titles and salary range for the role. As you consider the next move in your IT career, check back with CompTIA to learn more about your job prospects and how to get there.
Nowadays, the quantity and quality of data an organization collects are extremely valuable. Businesses are making complex decisions based on this data. Identifying how and where the data is stored and protected is a full-time job of its own. If you're a qualified IT pro who is organized, dependable and proactive, a career as a data center manager may be your next move.
What Is a Data Center Manager?
A data center manager is responsible for managing and handling all types of data within an organization in the following ways:
Supervises maintenance, installation and updates of data center systems
Maintains building records and schematics
Creates policies and rules related to data accessibility and distribution
Establishes guidelines for data entry or storage of customer data
Ensures the safety and protection of customer data
Manges the storage, distribution and back up of data
Ensures compliance with guidelines and government regulations
A data center manager must wear a number of hats. From managing staff and scheduling shifts, to installing and moving hardware, the data center manager is an integral part of an organization's success. A data center can store billions of dollars of information. It is essential that the data center is staffed adequately and active around the clock.
A successful data center manager should be well organized to prevent incidents caused by human error and should be on-site. They must be involved and responsive to what's going on day in and day out. Additionally, data center mangers must always seek out ways to improve the data center.
How to Become a Data Center Manager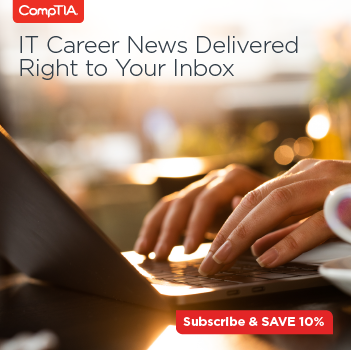 Today's data centers have evolved from a building containing an on-premises infrastructure to one that connects on-premises systems with cloud infrastructure where networks, applications and workloads are virtualized in multiple private and public clouds.
Today's data center manager must understand how to effectively maintain and secure the portions of their infrastructure stack that are under their control while meeting service-level agreements (SLAs).
Most organizations hiring a data center manager are looking for someone with a bachelor's degree in computer science, management or a related field. Many years of experience are also required, along with relevant training in software and physical infrastructure. Someone with electrical or HVAC experience is also a plus.
Certifications like CompTIA Network+ and CompTIA Server+ can set you on the right path to becoming a data center manager.
CompTIA Network+ helps develop a career in IT infrastructure covering troubleshooting, configuring and managing networks. The new CompTIA Network+ N10-008 exam was released in September 2021.
CompTIA Server+ ensures IT pros have the skills to work in data centers or cloud environments by requiring the candidate to demonstrate multi-step knowledge to securely deploy, administer and troubleshoot servers. The new CompTIA Server+ SK0-005 exam was released in May 2021.
In addition to certifications, CompTIA offers a full suite of training products to help you learn the technical and professional skills necessary to become a data center manager. Check out the CompTIA Career Roadmap to see what other certifications can help you become a data center manager.
The Details
Data Center Manager Salary Range
The median salary for database administrators and architects, which includes data center managers, is $98,860 a year (U.S. Bureau of Labor Statistics (BLS)).
Data Center Manager Job Outlook
From 2020 to 2030, the BLS projects an increase of 8% for the category of database administrators and architects with 168,000 net new jobs expected during that 10-year period.
Job Titles Related to Data Center Manager
Read about more IT jobs featured in Your Next Move.
Will your next move be data center manager? If so, download the exam objectives for CompTIA Server+ to learn more.