This article is part of an IT Career News series called Your Next Move. These articles take an inside look at the roles related to CompTIA certifications. Each article will include the responsibilities, qualifications, related job titles and salary range for the role. As you consider the next move in your IT career, check back with CompTIA to learn more about your job prospects and how to get there.
Just like an architect creates a blueprint for a new building, a data architect is responsible for creating the blueprint that informs the organization's enterprise data management framework. Data architect is a senior-level role that translates business requirements into technical specifications and requires candidates to have excellent data modeling, conceptualization and business intelligence skills.
What Is a Data Architect?
After evaluating an organization's potential data sources, a data architect designs a plan to integrate, centralize, protect and maintain them in the following ways:
Collaborates with teams to create a data strategy that addresses business requirements
Creates end-to-end models and plans for data consumption and analysis
Develops data models for database structures
Designs and deploys database structures
Integrates technical functionality
Monitors, refines and reports on performance
Maintains database security and creates standards to ensure the system is safe
Preserves a corporate repository of all data architecture artifacts
Data architects are often senior leaders on a project. They must be able to effectively lead a team that may include data modelers, data engineers and database administrators. Some organizations need data architects who specialize in data modeling techniques, while others may be looking for experts in data warehousing; extract, transform, load (ETL) tools; SQL databases or data administration.
Data architects and data engineers usually work together to plan and build the enterprise data management framework. The data architect's role is to create the blueprint for the framework, while the data engineer is responsible for the build.
How to Become a Data Architect
Most companies hiring a data architect are looking for someone with a bachelor's degree in computer science, computer engineering or a related field. The right candidate will have plenty of experience (8 to 15 years) in working with application architecture, network management and performance management.
A data architect is an advanced-level role that requires on-the-job experience. Typically, data architects hold prior roles as data engineers, data scientists or solution architects before working their way up to data architect. In fact, in some ways a data architect is an advanced or senior-level data engineer.
Because the role of data architect requires years of experience and training, there isn't just one pathway to follow. Here are a few ways you could become a data architect.
Pathway #1
If data architect is your dream job, you could start as a network administrator. With experience, training and credentials, you could then move into a network engineer or network architect role. You could then move laterally into a data architect role.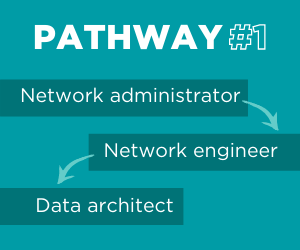 Pathway #2
Another potential pathway would be to start as a systems administrator. With plenty of sysadmin experience under your belt, you could then get a job as a systems engineer or systems architect, which could, in turn, lead to the same lateral move to data architect that we outlined in pathway #1.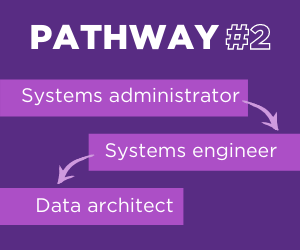 Pathway #3
If you prefer to follow a data career path, you could start as a database administrator. Then with some training and credentials – such as the new CompTIA Data+ - you could advance to business intelligence (BI) analyst, then BI architect and then data architect.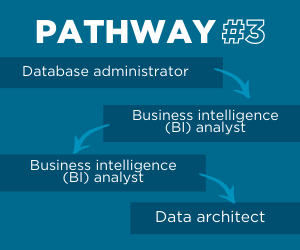 A combination of CompTIA Network+, CompTIA Linux+, CompTIA Server+ and CompTIA Data+ can help you get there.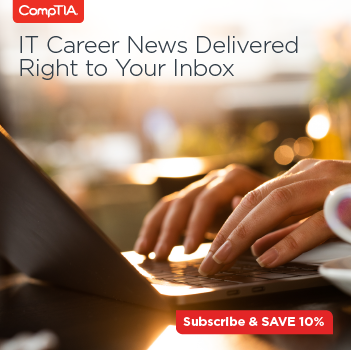 In addition to the certifications, CompTIA has a full suite of training products, from eLearning to exam prep, to help you learn the skills you need on the job and prepare for your certification exam.
The Details
Data Architect Salary Range
Data architect is a relatively new role. While the U.S. Bureau of Labor Statistics (BLS) does not specifically list salaries for data architects, it does list 2019 salaries for similar roles:
Computer network architect: $112,690
Database administrator: $93,750
Computer programmer: $86,550
As of May 2021, payscale.com reports that the average data architect in the United States earns a salary of $121,198.
Data Architect Job Outlook
From 2019 to 2029, The BLS projects an increased demand of 10% for database administrators, a close position to data architecture, with 12,800 net new jobs expected during that 10-year period.
Job Titles Related to Data Architect
Will your next move be data architect? If so, CompTIA can help you get there. Download the exam objectives for CompTIA Network+, CompTIA Linux+, CompTIA Server+ or CompTIA Data+ to see what skills you need to master, and then check out CompTIA CertMaster Learn to get started.