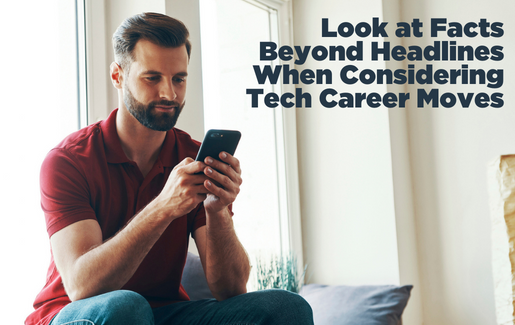 As an IT professional following business news, you may have seen headlines lately about layoffs at big technology companies. If you've been considering making a career move, those stories may leave you feeling confused or discouraged about job prospects. Workers in other industries evaluating a career change to working in tech, and young people entering the workforce as aspiring technologists, may feel the same way.
But there are reasons to stay positive. There is plenty of good news about strong demand in our nation's employment market for workers with tech skills. To see it, you need to look beyond the headlines at three key facts when contemplating a new IT position or moving into a tech job.
Related Blog: The Real Story on Tech Jobs
Key Fact #1: Tech Sector Employment is Much More than "Big Tech" Jobs
When large technology corporations reduce their labor forces, the impact is felt within their businesses and specific industries – not necessarily across the entire market for technology skills. For example, layoffs at a big software firm may reflect increasingly competitive conditions in the marketplace for specialized apps rather than the whole industry's need for skilled developers that design those applications.
The same principle holds for a big computer maker. Cutting its workforce may have more to do with supply chain challenges than overall demand for skilled technicians that service computers and maintain computing networks.
That's why job cuts at "big tech" companies shouldn't dissuade you from seeking new IT positions or entering the technology industry. Another reason is the makeup of the tech workforce. CompTIA's State of the Tech Workforce report, also known as Cyberstates, builds a single figure for "net tech employment" from two statistical components, including:
The number of technology pros working in technical positions: Think technical support specialist, network engineer, software developer, data scientist and related roles. Many of these employees work for technology companies (41%), but many others work for organizations across every industry sector in the U.S. economy (59%).
The population of workers employed by technology companies: These professionals – encompassing sales, marketing, finance, HR, operations and management, play an important role in supporting the development and delivery of technology products and services used throughout the economy.
These distinctions are more about describing economic movements that influence decisions confronting business leaders than assessing career choices available to you. Knowing organizations need thousands of tech workers to fill open positions surely inspires confidence. But bear in mind that perhaps only a few of those jobs offer a good fit for your skill set and career goals.
Focus more on your long-term objectives than the short-term tactics of half a dozen large tech companies.
Key Fact #2: Overall Demand for Workers with Tech Skills Remains High
In February, the CompTIA Tech Jobs Report confirmed that, while some tech-sector companies shed employees in recent months, the overarching trend in tech employment continued upward. CompTIA's monthly analysis of U.S. Bureau of Labor Statistics (BLS) data shows many layoffs in recent times involved non-IT positions, such as sales, marketing or related support functions. In fact, January's tech unemployment rate fell to 1.5% as job postings for future tech hiring increased by more than 22,000, reversing a dip late last year.
"The low tech unemployment rate and steady hiring activity by employers confirms the long-term demand for tech talent across many sectors of the economy," said Tim Herbert, chief research officer, CompTIA.
Moreover, multiple metropolitan areas showed jumps in postings for tech positions to start 2023, including Atlanta, New York City, Dallas, Houston, Austin, Tampa and Washington, D.C. Plus, the volume of postings for tech jobs stayed up for industries such as professional, scientific and technical services, finance and insurance and manufacturing.
These stats reinforce that many businesses in multiple regions and industries still want workers with tech skills. Again, the critical question to ponder about tech careers is not availability of opportunity, but which available opportunities fit your skills and goals.
Key Fact #3: Many Non-tech Industries Need Your IT Skills More Than Ever
Last year, the World Economic Forum with the management consulting firm McKinsey & Company put forth a resilience agenda for sustainable, inclusive business practices and operations. Authors cite digital technology as a pivotal factor enabling success at organizations of all kinds.
What this agenda means to IT pros, aspiring technologists and other workers looking for new tech jobs is organizations across the spectrum of industries around the globe will need highly available, highly secure systems to succeed today and tomorrow. That means certified IT skills for working with networks, cybersecurity, in the cloud and on the help desk will be in-demand for years to come.
In fact, research indicates the global market for managed IT services exceeded $267 billion last year and is expected to grow at a rate greater than 13% until 2030. Here in the United States there are more than 100,000 managed service providers (MSPs) supporting the implementation and maintenance of business technology. Each one depends on a continual, evolving pipeline of tech talent to thrive.
Other industries with high demand for IT skills include:
Remember the secret to finding tech jobs in these industries, at technology companies or any organization looking for IT talent is focusing not on the breadth of opportunity, but on the depth and value of your skills.
Get career advice like this right in your inbox with CompTIA's IT Career Newsletter. Subscribe today, and you can save 10% off your next CompTIA purchase.