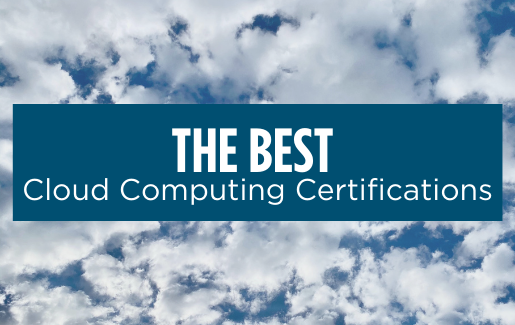 2023 is prime time to get your head in the cloud. You can do this by earning at least one of the best cloud computing certifications out there. But why cloud computing? For starters, it pays really well. We'll dive into this more later in the article, but know that certified cloud computing professionals – including network architects, cloud architects and cloud network engineers – can make salaries well into six figures.
Need a reason besides money to get into cloud computing? Try job security.
The demand for cloud computing professionals has never been higher. We can thank the acceleration of digital transformation caused by the COVID-19 pandemic for that. According to Simplilearn, cloud skills are in high-demand as companies strive to derive the most value from cloud-based technology. Global job site, Indeed.com concurs, identifying cloud skills as a major trend in the tech skills market.
IT professionals can snag a cloud computing job by earning a cloud certification.
Employers are seeking IT pros with expert-level skills related to:
Cloud architecture and design
Cloud concepts
Cloud solutions
Security within the cloud
Automation and virtualization
The public vs. private cloud
Big data
Data science
Pursuing the best cloud certification for you is the first step to obtaining these skills and starting your cloud computing career.
What Are the Best Cloud Computing Certifications of 2023?
There are many career-building cloud computing certifications out there. Any of them would look great on your resume and help you build essential cloud skills. The first one to consider is CompTIA Cloud+.
CompTIA Cloud+
CyberVista placed CompTIA Cloud+ on its list of top cloud certs for 2023 saying, "The CompTIA Cloud+ certification is an ideal vendor-neutral credential for entry-level professional or those working with multiple cloud platforms. Cloud+ is for practitioners looking to master the multi-vendor skills and abilities required for roles within data centers."

The new CompTIA Cloud+ certification domains include:
Cloud architecture and design
Disaster recovery
Automation and virtualization
High-availability
CompTIA Cloud+ (CV0-003) covers information security within the cloud at great depth. It ensures certification holders have the hands-on experience they need to secure cloud environments regardless of the vendor solution. This makes it a great foundational cloud certification that pairs well with any vendor-specific cloud computing certification.
CompTIA Cloud+ is not an entry-level certification. It's meant for IT pros with two to three years of experience in system administration or networking. Getting certifications like CompTIA Network+ and CompTIA Server+ first set candidates up for success.
Here's everything you need to know about the new CompTIA Cloud+ certification.
Google Professional Cloud DevOps Engineer
Among the best cloud computing certifications you can earn this year is Google Professional Cloud DevOps Engineer. This certification enables an IT pro to step into a cloud DevOps engineer role. In this role, technicians develop operations that promote prompt delivery speed and reliable service.
Those who earn this certification are skilled at:
Building software delivery pipelines
Managing incidents
Deploying and monitoring services
Cloud DevOps is a niche field. Google Professional Cloud DevOps Engineer can get technicians into the field. This specialized certification is right for technicians who desire to work within Google Cloud Platform (GCP) as a cloud engineer.
The Google Professional Cloud DevOps Engineer certification exam covers a variety of topics. A few examples include optimization of service performance, service-monitoring strategies and site reliability engineering principles. Think you may be interested in DevOps? Read What is DevOps and What Does it Mean for You?
This is just a small sampling of the best cloud computing certifications currently available. There are dozens out there, so do your research, especially if there is vendor-specific equipment you want to work with.
Certified Cloud Security Professional (CCSP)
Another one of the best cloud computing certifications on the market this year is the Certified Cloud Security Professional (CCSP). This cloud certification supports cloud usage within an enterprise or organization. CCSP is a global credential that ensures technicians are on the cutting edge of cloud computing security and information security.
Candidates for the CCSP cloud certification must have at least five years of experience in IT. The experience must be cumulative, paid, full-time work. Earning CISSP, another certification by (ISC2), excludes candidates from the experience requirement.
The CCSP certification exam covers cloud design, data, security, compliance and risk.
Microsoft Certified: Azure Administrator Associate
Interested in becoming a successful Microsoft cloud administrator? Azure Administrator Associate might be for you. Technicians who hold this certification have mastered the Azure fundamentals they need to implement, monitor and maintain Microsoft Azure solutions.
Candidates can expect the Azure Administrator Associate certification exam to cover services related to:
Computing
Storage
Networking
Security
Microsoft Azure Administrator Associate requires at least six months of on-the-job experience in the subject matter. Therefore, it is a good choice for beginners who want to work with Microsoft equipment.

AWS Certified Solutions Architect - Associate (CSAA)
AWS Certified Solutions Architect - Associate (CSAA) is a top certification for those with AWS cloud experience. It is intended for technicians who want to advance their career with AWS.

Amazon Web Services (AWS) Certified Solutions Architect was designed for those already in a solutions architect role. Candidates should have at least one year of experience designing distributed systems for AWS.

This certification enables qualified candidates to:

Build and deploy secure, robust applications on AWS technologies
Define cloud solutions using architectural design principles that are founded on customer requirements
Offer implementation guidance to AWS throughout the lifecycle of a project
Manage SaaS applications
There are no official prerequisites for the CSAA. However, candidates for this certification should have at least two years of hands-on experience working in the AWS cloud. AWS Certified Developer is another AWS cloud certification qualified candidates may consider.

Which Cloud Certification Pays the Most?
One of the primary reasons IT pros choose to go into cloud computing is because of the pay. But what is the ROI for individual cloud certifications? For starters, CompTIA Cloud+ yields an annual U.S. salary of $114,718, per the Global Knowledge 2021 IT Skills and Salary Survey.
Rounding out the other certifications listed above, here are the numbers:

Google Professional Cloud DevOps Engineer: $107,907 (median salary in North America from January 1 to May 10, 2021, as reported by Burning Glass)
Certified Cloud Security Professional (CCSP): $127,000 (Infosec Institute)
Microsoft Certified Azure Administrator Associate: $107,683 (Simplilearn)
AWS Certified Solutions Architect – Associate: $148,348 (Skillsoft 2022 IT Skills and Salary Survey)
Editor's Note: Burning Glass data represents advertised salaries, and Global Knowledge data represents self-reported salaries. Existing workers with these certifications could be earning more (or in some cases less); as usual, location plays a significant role in salary variance. Advertised salaries aggregated from job postings tend to understate actual salaries (employers often do not include specifics on bonuses in job ads, job candidates in tight labor markets may negotiate higher pay or employers may not realize what the market will bear when posting a job ad). Read more about this in the article, "IT Job Myths Busted: What Is an Average Salary?"

Each of these certifications pays well, and these figures may just be salary starting points for certification-holders.

It's fine to want to earn a high level of income. At the same time, IT pros shouldn't necessarily go for the cloud certification that pays the most on paper. They should pursue the certification that will further their career and give them a foundation of cloud skills.

If you want cloud skills that translate well across a variety of platforms, seek a vendor-neutral certification, like CompTIA Cloud+. Vendor-neutral certifications give you the skills needed to work with any cloud provider, or in a multi-cloud environment.

Vendor-neutral certifications also complement vendor-specific certifications quite well. Stacking a vendor-neutral certification with a vendor-specific one may result in a higher salary than having a vendor-specific certification alone.

Want to get started as a cloud engineer? Check out Your Next Move: Cloud Engineer.

Which Cloud Computing Certification Should Beginners Start With?
Beginners interested in cloud concepts should focus on getting a vendor-neutral cloud certification, such as CompTIA Cloud+, before any others. According to Security Degree Hub, people who choose to earn CompTIA Cloud+ first, and then add a vendor-specific certification are more established in the field. Beginners should also focus on getting some hands-on IT experience.
Vendor-specific cloud certifications or certification programs that don't have prerequisites can feel overwhelming to beginners. Building a solid skill set that covers all things cloud is vital. It gives new IT pros the confidence they need to pursue the best cloud certifications throughout their career. It also provides them with knowledge that may make it easier to learn vendor-specific cloud concepts.

Why CompTIA Cloud+ is the Best Cloud Computing Certification for You
CompTIA Cloud+ is considered by staffing firms, colleges and IT publications to be one of the best cloud computing certifications. It is vendor neutral and complimentary to any vendor-specific cloud certification.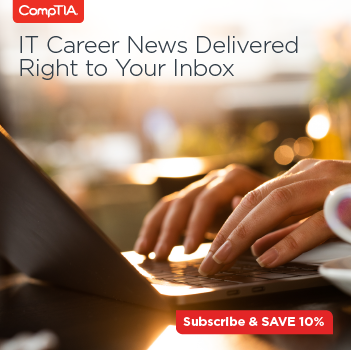 With CompTIA Cloud+, you are more likely to step into an expert-level IT role sooner than later. Global Knowledge reports that IT pros who earn CompTIA Cloud+ often become security administrators, cloud systems administrators, directors, network engineers, network security analysts and network technicians.

CompTIA Cloud+ is the only vendor-neutral, performance-based certification that covers more than a specific vendor or a single function. It helps you better realize the return on investment of cloud infrastructure services.

Ready to start your cloud computing career? If so, begin gathering a set of cloud skills that:

Can apply to any equipment or vendor
Build a foundation for future cloud certifications
Ensure a high level of income
With the new CompTIA Cloud+, you can obtain this skill set. Best of all, CompTIA will cheer you on as you earn this certification by helping you:

1. Study for CompTIA Cloud+: CompTIA has all the training resources you need to prepare for your CompTIA Cloud+ certification exam including self-paced online training courses, interactive labs, exam prep and study guides.

2. Save money on CompTIA Cloud+: CompTIA can help you pay for your certification by providing voucher discounts and financing options.

3. Take the CompTIA Cloud+ Certification Exam: Social distancing requirements have made it challenging to take IT certification exams. That's why all CompTIA certification exams are available online. Check out our FAQs about online testing.

4. Get a job with CompTIA Cloud+: Land a cloud job role by promoting your certification with a digital badge. CompTIA and ZipRecruiter have also teamed up to send your tailored email alerts based on your certifications, skills and experience.

CompTIA is here to help you every step of way in earning the best cloud computing certification for you. Learn more here.

Ready to get started? Download the exam objectives for the new CompTIA Cloud+ to begin studying.