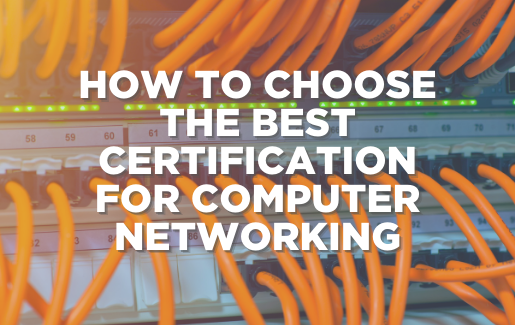 Throughout your IT career, earning certifications will help you acquire the skill set you need to advance your career. IT certifications can also validate the skills you already possess. No IT pro's resume is complete without at least a couple of certifications. Certifications are also vital for those who want to specialize in a given area in IT, such as computer networking.
Everything IT pros do is built off of networking concepts. This is why the best certifications for computer networking are beneficial to just about any technician, particularly those working in cybersecurity.
Technicians can use networking certifications to get into network infrastructure, network management and other networking specialties.
Networking certifications provide the expertise technologists need to answer questions such as:
The best computer networking certifications can also increase your pay. The Global Knowledge 2020 IT Skills Salary Report indicated those who work in infrastructure, networking and telecommunications earn an average salary of $94,650 per year.
Choosing the right computer networking certification(s) can be confusing. Making sure you have a solid foundation of IT knowledge and information systems is a great place to start. Then, you can choose whether vendor-neutral certifications or vendor-specific certifications are your best option.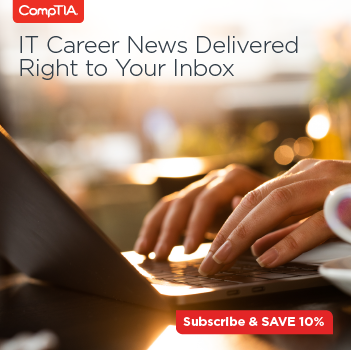 Foundational IT Certifications Everyone Should Start With
Are you just getting started in IT or in an entry-level role and thinking about your next move? Either way, you'll want to make sure you have a solid foundation of IT knowledge. CompTIA's core certifications set a baseline of knowledge that will serve you well throughout your IT career and will prepare you to obtain more advanced certifications over time.
CompTIA IT Fundamentals (ITF+)

CompTIA IT Fundamentals (ITF+) is an entry-level certification designed for those with little-to-no experience in IT. It introduces the building blocks of IT in an easy-to-digest manner. CompTIA IT Fundamentals helps career changers and students in other fields decide whether or not IT is right for them. Earning this certification is ideally the first step toward deciding if a career in computer networking is right for you.
CompTIA A+

Many employers seek out candidates who hold CompTIA A+ when they're hiring for entry-level IT positions. In fact, it's the industry standard for landing your first IT job. CompTIA A+ is about much more than PC support, though. It prepares candidates to troubleshoot and problem solve. CompTIA A+ covers a wide range of IT issues, from networking and operating systems to mobile devices and security.
Once you have a solid foundation of IT skills and some experience under your belt, you can look toward a specialization in networking.
Invest in yourself without breaking the bank. CompTIA Tech Career Academy offers flexible, affordable and fast training for careers in tech.
Learn more.
The Best Certifications for Computer Networking
Some of the best certifications for a computer networking career can be found on the CompTIA Infrastructure Career Pathway. The five certifications included in the CompTIA Infrastructure Career Pathway validate the skills needed across IT operations to work on any vendor's equipment.
These vendor-neutral certifications include:
CompTIA Network+
CompTIA Security+
CompTIA Linux+
CompTIA Server+
CompTIA Cloud+
CompTIA Network+
IT pros who hold CompTIA Network+ are ready to manage and design networks. They can also properly control network devices, enhance network performance, troubleshoot network issues and maintain network security. CompTIA Network+ aligns with IT job roles including network administrator, systems engineer, network support specialist and network analyst positions. CompTIA Network+ is the perfect choice for those who want a vendor-neutral certification capable of advancing their computer networking career.
CompTIA Security+
CompTIA Security+ validates the baseline skills needed to perform core IT security functions. It focuses on the latest trends and techniques in risk management, risk mitigation, threat management and intrusion detection.
This certification helps network professionals understand and keep their organizations secure and connected. It aligns with IT job roles such as systems administrator, security administrator, network engineer and junior IT auditor/penetration tester.
CompTIA Linux+
CompTIA Linux+ covers concepts including system configuration, the command line interface, scripting basics, network settings and services and system security. An IT pro with CompTIA Linux+ knows how to configure, boot and troubleshoot system network settings and services. They can also write scripts and perform basic SQL data manipulation.
This networking certification aligns with job roles such as systems administrator, network administrator, technical support specialist and Linux administrator.
CompTIA Server+
CompTIA Server+ prepares IT pros to work in data centers and cloud environments. It validates the skills needed to securely administer physical and virtual servers.
This certification covers server administration skills like server hardware installation and management; server administration, including high availability and virtualization; security and disaster recovery; and troubleshooting. CompTIA Server+ aligns with IT roles such as systems administrator, data center technician, network administrator and server administrator.
CompTIA Cloud+
CompTIA Cloud+ ensures IT pros can deploy and automate secure cloud environments that support the high availability of business systems and data. IT pros with this certification can also troubleshoot capacity, automation, connectivity and security issues. It aligns with IT jobs such as senior systems administrator, senior network administrator, systems engineer, senior network engineer and cloud engineer.
CompTIA foundational and networking certifications are designed to be stacked, as each certification builds upon and relates to the others. They also provide a foundation of knowledge for vendor-specific skills and certifications because the skills covered by CompTIA certification can be applied to any device or system.
For example, any of the above CompTIA certifications could be followed with vendor-specific certifications like:
VMware Certified Professional
AWS Certified Advanced Networking Specialty
Certified Entry-Level Python Programmer Certification
Juniper Networks Certification Program
CompTIA certifications also create a strong foundation for Cisco networking certifications, although they are not a formal prerequisite.
Cisco Networking Certifications
If you're looking for vendor-specific networking certifications, Cisco certifications are among the most popular. You can combine CompTIA certifications with vendor-specific certifications to validate your job role expertise and apply those skills to a specific tool. Cisco certifications are categorized by experience level – associate, professional and expert – and apply networking skills to Cisco devices.

Cisco Certified Network Associate (CCNA): The CCNA certification covers network access, IP connectivity, IP services, security fundamentals, automation and programmability and aligns with IT jobs including network administrator, network engineer and network specialist.
Cisco Certified Network Professional (CCNP) Enterprise: This version of Cisco's CCNP certification has replaced CCNP Routing and Switching and covers enterprise infrastructure, architecture, virtualization, network assurance, security and automation. Candidates should have three to five years of experience implementing enterprise networking solutions.
Cisco Certified Internetwork Expert (CCIE) Enterprise Infrastructure: Formerly known as CCIE Routing and Switching, this networking certification is for expert-level technicians with five to seven years of networking experience. Engineers who hold this certification plan, operate and troubleshoot complex enterprise networks.
Is CCNA Better Than CompTIA Network+?
Both CCNA and CompTIA Network+ are popular networking certifications. But which is the best computer networking certification for you? Because CompTIA Network+ is vendor-neutral and the new CCNA is vendor-specific, CompTIA Network+ is often the better choice.
| | |
| --- | --- |
| CompTIA Network+ | Cisco CCNA |
| Broadens an IT pro's ability to support any equipment. | Focuses only on the skills needed for Cisco solutions. |
| Prepares IT pros for specific job roles, such as network field technician, network administrator, network field engineer and more. | Prepares IT pros to support Cisco solutions. |
| Well-known by employers and may hold more weight on a resume and give an IT pro more credibility. | Many employers are unfamiliar with the revamped CCNA. |
| Provides technical skills as well as business skills/professional skills. | Offers technical skills only. |

Check out our infographic CompTIA Network+ vs. the New CCNA to learn more.

How CompTIA Can Help You Become a Certified Network Specialist
CompTIA Network+ is one of the best computer networking certifications you can earn. Global Knowledge stated that those certified in CompTIA Network+ are in-demand worldwide. Sarah K. White, senior writer for CIO from IDG, cited CompTIA Network+ as one of the best IT certifications to launch your career. IT Career Finder agrees, saying that becoming Network+ certified "is a distinctive step toward a career in networking or telecommunications."
Clearly, earning CompTIA Network+ is a good move. But getting certified can feel overwhelming. Don't worry – CompTIA is here to help you every step of the way.
CompTIA can assist you in becoming a certified network specialist by helping you:
1. Choose your CompTIA certification. Use CompTIA's Career Roadmap and the IT Career Center to discover what IT jobs are available. These resources can help you determine which certifications, such as CompTIA Network+, will help you get the job you want.

2. Study for your certification exam. To ensure you pass your certification exam, CompTIA provides you with learning resources that prepare you to ace the exam. From instructor-led training to online tools that assess your exam readiness, CompTIA has you covered. You can also use our free study planning worksheet to keep you on track.

3. Save money on your certification. Worried about how you will pay for becoming a certified network specialist? CompTIA provides financing options and voucher discounts for those seeking certifications.

4. Take your certification exam. CompTIA offers both online testing, so you can test from your home or office, as well as in-person testing at testing centers.

5. Land a job. After you earn your certification, you can claim a digital badge that will help you find job opportunities related to your CompTIA certification. Also, CompTIA and ZipRecruiter have teamed up to help you find a job based on the certification(s) you've earned.
Want to know more about how CompTIA can help you become a certified network specialist? Check out + Means IT Careers: How CompTIA Can Help You.
If you've decided CompTIA Network+ is the best computer networking certification for your career path, download the exam objectives to get started. A career in networking awaits!