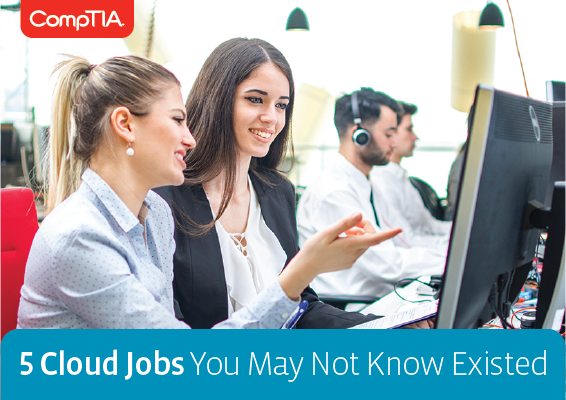 What is cloud computing? How about cloud infrastructure? The definitions for these terms can change based on who you talk to and continues evolving, but one thing that cannot be denied is that cloud computing and cloud technology are growing – in fact they're expanding rapidly. The world has grown with the prevalence of digital technology. Cloud systems are becoming the norm, with physical ones slowly being phased out. Cloud hosting has become its own niche.
As this industry develops, so do the job opportunities. And the best part is that there's a fit for everyone – even those who aren't as technically inclined. No matter what skills you currently possess, there's a cloud job for you. Since this area is so new in the tech arena, there's not enough data to give accurate salary data, but knowing what to expect from various roles can help you prepare to purse your own cloud job – no matter where you are in your career journey.
Want to get in on this evolving niche? Here are five cloud jobs that should be on your radar.
Cloud System Administrator
Every team needs someone to maintain its machines, whether virtual or physical. As technology progresses, data is moving from physical servers to virtual ones. This calls for the evolution of a system administrator into a cloud system administrator. This person will be responsible for troubleshooting, configuring, maintaining and planning for future needs.
Qualifications
Experience with various virtualization technologies including hybrid cloud systems
Experience with server and storage technologies
Experience in various coding languages, such as C, C++, Python and PHP
Understanding of cloud security
Ability to design and implement cloud infrastructure systems
A minimum of three years of experience in system administration and integration
A bachelor's degree in computer science, computer engineering or a related field
Cloud Engineer
Cloud engineers do a little bit of everything to keep the system functioning. They are responsible for multiple facets of infrastructure, including processes, project management, architecture and procedures. If it's technological and cloud, the cloud engineer will likely be working on it. They need to be able to work with virtualization technologies, networks and multiple operating systems.
Qualifications
Experience with infrastructure architecture and processes
Experience in various coding languages
Experience with virtualization technologies
Experience working in networks with multiple operating systems such as Windows, Linux OS and Oracle DB
A minimum of three years of experience and competency in Azure
A bachelor's degree in computer science, engineering or another related field, but some companies prefer a master's degree
CompTIA Cloud+ gives you the general skills you need to implement cloud solutions. Once you've progressed in your cloud career, other certifications such as CCNA Cloud (Cisco), CCNP Cloud (Cisco) and MCSE Cloud Platform and Infrastructure (Microsoft) could benefit you as well.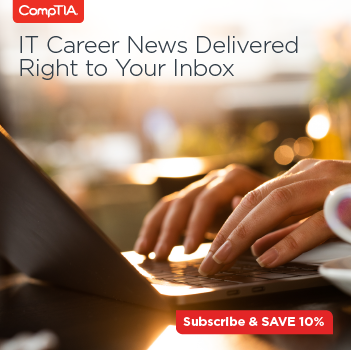 Cloud Integration Specialist
As systems move from hardware to virtualization, a need is born for someone who knows how to make this transition seamless. That person is the cloud integration specialist. This position is tricky to fill because it requires knowledge of both sides – cloud computing as well as data integration. This person will possess coding and infrastructure knowledge as well as virtualization experience.
Qualifications
Experience in cloud computing
Experience working with data integration between systems
Network and systems administration experience
Extensive knowledge of programming in multiple languages
Seven to nine years of related work experience
A bachelor's or master's degree in a technical field
The person best qualified for this position will likely be a data integration engineer who also has experience and understanding of cloud.
Cloud Architect
Cloud architects are always in demand. This senior-level position requires extensive knowledge about cloud technology and how to configure these cloud networking systems. Cloud architects need to be able to work with existing applications and datasets and meet the set requirements of an enterprise, whether it be public or private. This person oversees their company's cloud computing strategy, including adoption, design, management and monitoring.
Qualifications
Extensive network configuration experience
Experience in areas like data computing and networking
The ability to deploy a new cloud computing system
At least 10 years of experience in multiple programming languages (such as Java, Node.js, PHP, Python, Ruby on Rails, among others)
A bachelor's degree in computer science or engineering
Cloud Sales Specialist
Not every job in sales is tech focused. Maybe you think tech is interesting but don't possess the coding and hardware skills that most of the industry requires. If so, cloud sales specialist could be for you. Cloud involves everyone in a company, from entry-level staff to C-level professionals, from end users to IT pros. It doesn't matter your experience level – if your company relies on cloud computing, you're likely using it.
With this massive integration comes a need for individuals who understand the cloud and it's growth and who can communicate these traits effectively to those making purchasing decisions. These individuals are cloud sales specialists.
Qualifications
Effectively communicate technical aspects of cloud solutions to purchasing decision makers
Use communication skills and industry knowledge to show how cloud can impact and benefit a business
Travel to meet with potential and existing customers to expand the cloud's reach
Basic understanding of all things cloud
If you're interested in cloud sales, CompTIA Cloud Essentials can help you gain the foundational knowledge you need to walk the talk.
Conclusion
As the cloud continues to evolve, so will these job roles. With the newly updated CompTIA Cloud+, you can stay up to date with all things cloud and be ready for anything that comes your way.
Ready to get started? Learn more about the new CompTIA Cloud+.