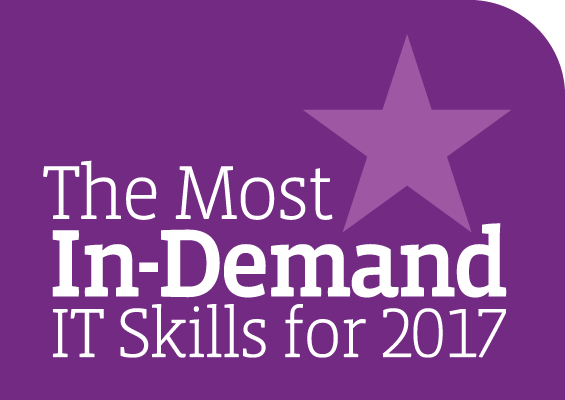 Whether you're looking for a new job or want to move up in your organization, knowing what skills employers are looking for can give you a leg up in climbing the career ladder. And if you're looking for work in IT, you're in luck because it's one of the fastest-growing sectors in the United States. In the fourth quarter of 2016, U.S. employers added 337,000 IT jobs, and that number is slated to grow even more in the coming year. So, what skills are employers looking for? Here are five of the most in-demand skills for IT pros in 2017.
1. Security
With new security breaches and hacks happening every day, it's more important than ever for organizations to secure their networks and information. While security analyst is one of the fastest-growing jobs ever tracked by the U.S. Bureau of Labor Statistics, there are a range of other opportunities as well for people who can proactively analyze network and user behavior to identify and mitigate threats before they occur. And security skills don't just apply to security specialists – all IT pros should make infrastructure and data security part of their everyday job. Need to brush up on your security skills? Check out CompTIA Security+, Cybersecurity Analyst (CySA+) and CompTIA Advanced Security Practitioner (CASP) certifications.
2. Data
Organizations gather massive amounts of data, and they need employees who can organize it, analyze it and explain it to decision makers. Candidates with experience using business intelligence tools, data-related programming languages like SQL, and database tools like Hadoop and Oracle are in high demand. Those who can interpret the data and translate it in a way that helps inform senior leaders about business needs, competition and opportunities are even more valuable.
3. Mobile
According to Computerworld's 2017 Tech Forecast, 35 percent of the 196 IT executives surveyed plan to increase spending on mobile applications in 2017. Even if your specialty isn't app development, employers want IT pros with mobile proficiency to manage and maintain the apps once they launch, understand user interface and experience, and ensure programs work on a variety of devices.
4. Cloud
With cloud spending expected to hit $195 billion by 2020, organizations will continue to need IT pros who understand how the cloud works, where it works best and how to secure it. If innovation and cutting-edge technology excite you, having cloud skills can position you for a wide range of opportunities. CompTIA Cloud Essentials and Cloud+ certifications can give you the jump start you need.
5. Soft Skills
Being able to communicate well and foster relationships will never go out of style, and it's becoming even more important for IT pros to have these skills. With every department and every staff member relying on technology to do their job better, smarter and faster, IT pros collaborate with everyone from entry level to the C-Suite. And when you have an idea about how to implement or improve technology in your organization, you need to convince decision makers to understand its importance and get on board.
No matter your area of expertise, having a diverse skill set will position you well for whatever comes next in your career. And if you have any of these five skills, you'll be well on your way to landing the next opportunity. What skills are you looking to develop in 2017?