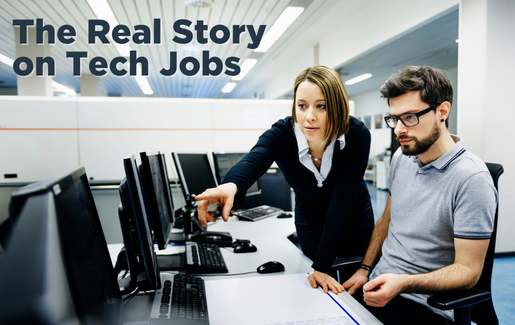 A few months ago, my colleague James Stanger wrote about what he calls "mythconceptions" around cybersecurity job roles. He tackled topics like the use of AI/automation, differences between industry sectors and the impact of digital transformation. The big takeaway was that cybersecurity remains a solid choice for a career even as some trends pose possible threats.
Throughout the summer, the research team has gotten several calls from media outlets wondering about not just cybersecurity roles, but the overall picture for technology jobs. Things have changed a bit even since James wrote his article. Inflation has held center stage as a huge economic concern, and there have been several reports about tech companies making cutbacks or slowing their hiring plans. With all the questions we've been getting, it felt like a good time to build on James' post and address the big picture.
The Confusing State of the Economy
For starters, there's a lot of concern about the state of the economy. Inflation has clearly been in the spotlight after rocketing to 40-year highs. The situation may be cooling, but it's definitely still cause for concern. GDP fell for two straight quarters, which is a common signal for a recession. Consumer sentiment is at all-time lows. All those data points are specifically for the United States, but a similar picture is unfolding across the globe.
But those numbers don't tell the whole story. Unemployment has also been hovering at a historically low rate. Consumer spending has been strong even in the face of rising prices. These economic indicators suggest that the United States is not in a recession, though the overall picture feels murky regardless of the exact label.
Derek Thompson at The Atlantic has written about the weirdness of the economy, trying to make sense of the conflicting signals. The real challenge with all the strange data points is forecasting – all the noise in the system makes it hard to tell where things are heading. In the moment, though, things aren't too bad. A recent CompTIA survey of small and medium-sized businesses found that 30% of SMBs felt they were currently thriving, compared to just 22% who felt that way last year.
Tech Headlines vs. Tech Sector vs. Tech Jobs
The overall economy isn't the only thing that's confusing. There are also different data points and sentiment when it comes to the technology industry. I already mentioned the high-profile layoffs among tech companies. Most of these share a common thread: Just like the economy is recovering from generational disruption, many tech firms are adjusting to life after the pandemic. Lockdowns and remote work were good for streaming services and video calls, but that growth is hitting a speed bump as routines return to something more familiar.
Layoffs are just one variable impacting the broader tech sector. After rapid investment to make operations flexible and support remote work, spending has cooled. Supply chain woes are also hitting the tech sector hard. Financial concerns might not even be the biggest headache. Around the world, countries are strongly considering different regulations for the tech industry, possibly adding to negative sentiment or techlash.
However, it's important to remember that tech jobs are something different than the tech industry. CompTIA's Cyberstates shows that 59% of all tech jobs are outside the tech industry, in verticals such as health care, banking, education and many others. Tech jobs and tech hiring show long-term stability. CompTIA's latest Tech Jobs Report showed 21,000 new tech workers throughout the economy. While job postings took a slight dip in August, hiring was still strong with just under 320,000 new listings.
The Driver for Demand
It may be hard to make an accurate forecast with all the churn in the economy and the tech sector, but the good news is that the main factor driving demand for tech jobs isn't going away. I've written before about digital transformation, which is a topic that usually sparks a strong reaction because it doesn't have the clearest definition. From my perspective, there are five traits that characterize digital transformation efforts:

Evaluation and adoption
Cloud-first infrastructure
Software-define processes
Data-driven decisions
Cybersecurity-aware operations
Each of these could be its own blog post, but for now the point is that organizations need more technologists with more distinct specialties. Whether it's infrastructure, cybersecurity, data or software development, tech jobs will continue to be in demand. This is good news for anyone taking their first step on a career journey or anyone building their career over the long haul. Technology isn't completely immune to the ups and downs of the economy, but it's been a good bet for a long time, and there's no reason to think it will fade in the future.
Get more tech insights like this right in your inbox with CompTIA's IT Career Newsletter. Subscribe today, and you can save 10% off your next CompTIA purchase.