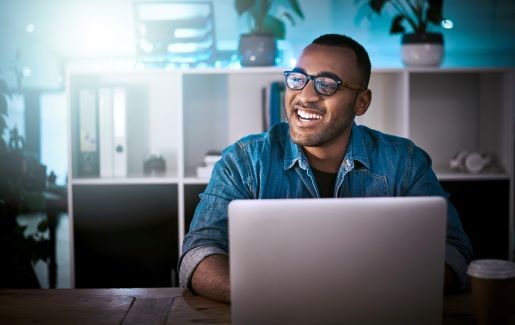 Are IT certifications worth it?
We would say yes.
And then you would ask why.
So, let's get to the why.
Actually, it has a lot to do with your personal why. Why do you want to pursue a career in IT? Is it the longevity of a satisfying career doing something you're passionate about that's attractive? Or is it having the flexibility to work from anywhere while still making a good salary that's intriguing? Perhaps it's both – or something else altogether. Whatever your reason for wanting to work in technology, IT certifications are a great place to start. Let's explore why.
3 Reasons to Get IT Certifications
Earning an IT certification is advantageous for a variety of reasons.

A third-party credential validates the knowledge and the skills you claim to have.

This is really important in the eyes of employers.

What you learn during your certification training will most certainly help you on the job.

If you want to be successful, being good at what you do is essential.

Taking the initiative to obtain an IT certification shows that you are proactive and committed.

Employers like to see creativity, resourcefulness and leadership in employees.
Preparing for and obtaining an IT certification is a great way to stand out from the crowd. But these aren't the only reasons to get certified. Again, let's go back to your why.
How Can an IT Certification Help You Achieve Your Personal Goals?
Your goal: I want to build my foundational knowledge in technology and land an entry-level job.
Are IT certifications worth it? Yes. CompTIA A+, for example, is considered the industry standard for establishing a career in IT. If you want to learn the basic principles of technology, CompTIA A+ is a great starting point. And don't just take it from us. Indeed, Monster and Reddit users agree!
Your goal: I want to explore a specialty like computer networking or cybersecurity.
Are IT certifications worth it? Yes. The 2020 IT Industry Outlook report says that 48% of IT pros plan on building technical skills within their current area of specialization, and 45% of IT pros plan on building a technical skill in a new area this year.
Your goal: I want to continue to further my IT career.
Are IT certifications worth it? Yes. Most of us want to be promoted, take on more responsibility and make more money. Staying on track takes a bit of planning. Consulting the CompTIA Career Roadmap allows you to see all job categories and career paths that are available with specific certifications.
Levels of IT Certifications
IT certifications are available at any experience level. Most could be categorized as beginner, intermediate or advanced. Having a beginning certification on your resume can very likely land you an interview for an entry-level position. But that's not the case for positions that require more experience and training.
Increasing your earning potential may require a specialized set of skills that eclipses the entry-level certification. CompTIA Stackable Certifications allow you to build (and validate) a specific sequence of skills to advance your career.
In order to win the job of your dreams, you have to adequately prepare for it. That's why CompTIA not only categorizes its certifications by experience level, but also by career pathway.
CompTIA has four IT certification series that test different knowledge standards:
Core certifications, like CompTIA A+, lay the groundwork for the specialized pathway certifications, and additional professional certifications cover necessary IT skills like project management. Let's take a closer look at what it all means.
Reimagine your post-high school educational experience with CompTIA Tech Career Academy, an affordable, fast alternative to traditional college.
Find out how.
Core Skills
Every IT position requires a baseline knowledge on topics like operating systems, hardware, computer networking and more. CompTIA's core IT skills certifications level the playing field and lay the foundation for a successful career in IT, no matter what path you take. An IT certification in this category can help you land your first job as an technical support specialist or at the help desk technician.

Infrastructure
IT infrastructure is the bedrock of IT operations and necessary for any business to function. For years, employers have used CompTIA certifications to identify IT professionals who can support and manage data center and network operations. A certification in this category can help you earn a position in the data center, on the DevOps team or as a solutions architect, for instance.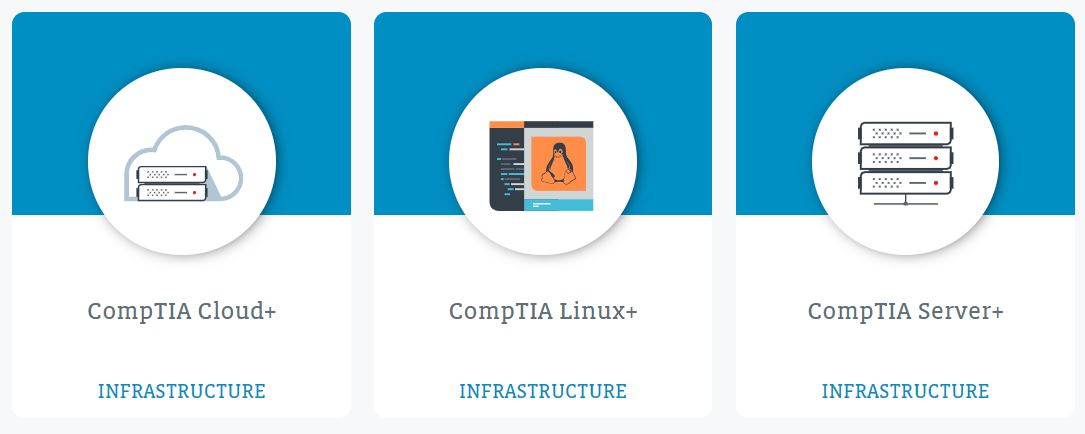 Cybersecurity
The need for skilled cybersecurity professionals is growing at a rapid pace. Cybersecurity specialists must nurture their practical, hands-on skills to know how to proactively address security incidents and issues – not just identify them. An IT certification in this category can help you win a role as a cybersecurity analyst, penetration tester or threat hunter.

Additional Professional
In addition to the specialized skills validated along the CompTIA career pathways, IT pros need professional skills like project management and training. CompTIA's professional skills certifications cover these versatile skill sets that help take your career to the next level. For example, a certification in this category could help you land a job as a project manager at a tech company, which is a great way to get your foot in the door.


Types of IT Certifications
Perhaps the most loaded question isn't are IT certifications worth it, but instead, which IT certification should I get? With a variety of professional certifications out there, it's easy to feel overwhelmed. Choosing which certification will benefit you the most should be your first step.
Here's a summary of some of the more popular types of IT certifications available to you.
| | |
| --- | --- |
| Type | Description |
| CompTIA | Validates vendor-neutral skills ranging from IT support to networking and cybersecurity. |
| AWS | Assesses expertise needed to deliver on cloud initiatives using Amazon Web Services (AWS). |
| Cisco | Proves networking skills using Cisco equipment and technologies (CCT, CCNA, CCIE). |
| Google Cloud | Validates expertise in transforming businesses using Google Cloud technology. |
| IBM | Proves proficiency in the latest IBM technology and solutions. |
| ISACA | Validates skills in IT audit, security, governance and risk (CISA, CRISC, CISM, CGEIT). |
| (ISC)2 | Recognizes information security leaders who understand cybersecurity strategy (CISSP). |
| ITIL | Validates skills against a set of IT service management practices. |
| Microsoft Certifications | Assesses Microsoft skills in Azure, Dynamics 365, Windows, Microsoft 365 and SQL server (MTA, MSCA, MSCE). |
| Oracle | Validates skills in Oracle solutions across cloud, Linux, software and hardware products for a variety of technical roles. |
| PMI | Recognizes those trained in project management via Project Management Professional (PMP). |
| RedHat | Proves skills needed to take on projects utilizing RedHat technology, including Linux (RHCSA, RHCE, RHCA). |
| SANS/GIAC | Validates skills in security administration, management, audit, software security and Linux. |
| SAS | Assesses skills in the application of SAS to solve analytics and data management challenges. |
| VMware | Validates the skills required to integrate and manage VMware virtualization technologies used in the data center, at the network level and in the cloud (VCA, VCP, VCAP, VCDX). |

The biggest difference between CompTIA certifications and many of the others listed in this table is that CompTIA certifications are vendor neutral. This means that the skills you learn while training for a CompTIA certification are applicable across the board to many different operating systems, networks and technologies.

Cost of IT Certifications
While there is no standard cost for IT certifications, there are a few things to consider. For instance, entry-level IT certifications are typically less expensive than expert-level ones. The rule of thumb is the more generalized the content, the less expensive the certification exam tends to be.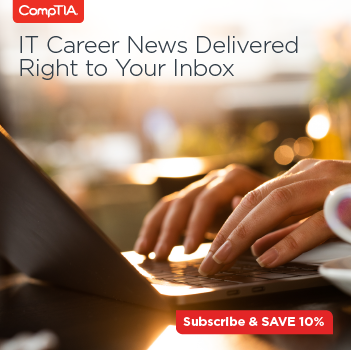 This is a great overview of the different IT certifications and their associated exam registration fees.
It's also true that IT certification costs aren't always bundled together in one lump sum. Training materials like online certification courses, self-study books and interactive labs should be factored in as well.
CompTIA offers a wealth of certification training and learning options that will prepare you for your CompTIA certification exam. And CompTIA does offer bundles, so you can save money by purchasing your training materials and exam voucher at the same time. (Bundles often include a free retake voucher as well, just in case you need a second chance.)
But is it worth the money (and time) you put in? These CompTIA-certified IT pros think so.
"I needed to establish my career. In this profession, a person who has a certification is more recognized in the market."
Wanderley Martins, CompTIA Advanced Security Practitioner (CASP+)-certified Senior Security Specialist, Capegemini-Brazil

"Certification refines your reasoning and your deductive ability when you're troubleshooting, so you're not just guessing."
Joshua Wragg, President, Nexus Tech

"Earning the CompTIA Security+ certification was the ace to set me apart from my peers. I wouldn't be where I am today without it."
N. Peter Caro, Senior Information Assurance Architect, KEYW Corporation
As long as IT certifications are accepted as the standard by employers, they remain necessary, relevant and worth the investment.
Why Are IT Certifications Important?
It's really pretty simple: the more you know, the better. IT certifications help you prove that knowledge. They also represent initiative. While an IT certification isn't always mandatory to land a job, employers like to see that candidates are being proactive, open to continuous learning and have the motivation to succeed.
But there's more.
While IT certifications certainly validate what you know, they also highlight the in-demand skills you have that others don't. CompTIA's 2020 Cyberstates report emphasizes the growing importance of technology in all types of jobs, pointing to a clear case of supply and demand.
For example, as cybersecurity becomes more critical for digital business operations, more organizations are investing in people who have specific skills that protect their data and that of their customers.
In response to this shift, CompTIA has built a comprehensive set of cybersecurity certifications to address new skills, like threat intelligence and penetration testing.
This means that you can be sure what you're learning in your initial certification program or ongoing professional development directly relates to the real-world experience and skills that recruiters and employers are seeking out right now.
What's Your Why?
Now you know why IT certifications are worth it. Not only are these credentials beneficial to you as an employee, but they are equally beneficial to your employer.
But don't just take it from us. Take some career advice from actual hiring managers.
"It all boils down to certification being an internationally recognized credential," said Mark Milton, director of people services at Goodwill Industries. "If you can put that on your resume, you'll have a competitive advantage."
Ask yourself what your why is. If it aligns with a career in technology, then start plotting your career path today and get to IT!
Get more great IT career advice delivered right to your inbox. Sign up for CompTIA's IT Careers Newsletter, and get 10% off your next purchase.