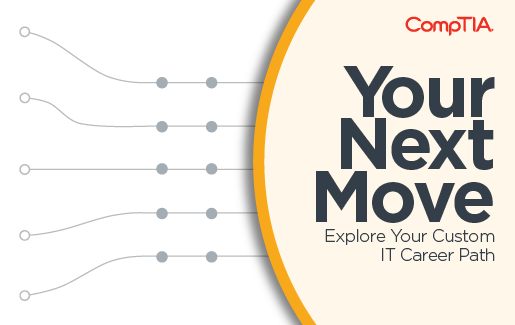 Starting a new career — whether it's your first job or you're changing careers — can be an intimidating endeavor, especially in the IT field. Where do you begin looking? Which job is right for you? How much money could you make? What do you want to do with your life?
No, the answer is not, "I wanna rock!"
The good news is that CompTIA's new IT career path planning tool has the answers to all of your IT career questions.
What is a Career Path Planning Tool?
CompTIA's IT career path planning tool helps you visualize your next move from beginner to intermediate to advanced IT jobs within five categories:
On the overview page, you see five IT pros in different beginner roles for their specialties. But when you click on the box with their title, you get more details about that role. Let's click through the IT support pathway to see what could be in store for you if you're an IT support specialist, help desk technician or similar tech support role.
Your Next Move: IT Support Specialist
An IT support specialist installs software, sets up computer workspaces and solves technical issues. According to the roadmap, the median national salary for an IT support specialist is $50,981, and there are approximately 230,000 job postings each year. The job is expected to grow by 13% from 2018 to 2028. And this is all on that first page of the roadmap. By clicking the red button that says Learn More, you can begin to visualize what your IT support career might look like.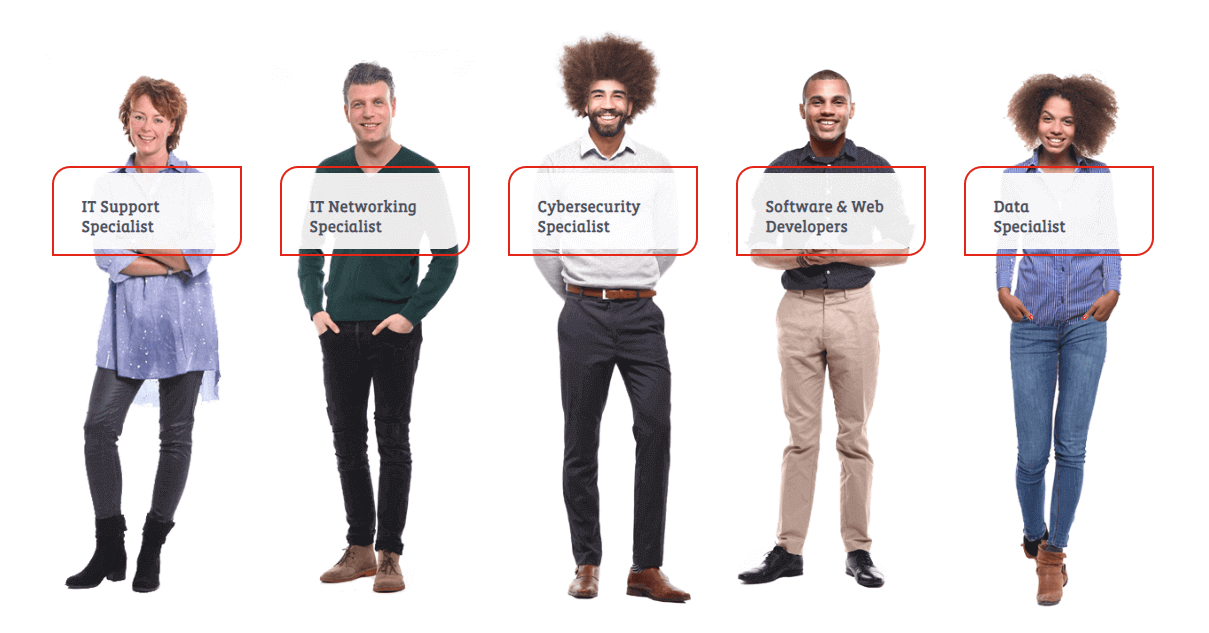 What is IT Support?
Each section begins with a description of the roles and responsibilities for the job category. For example, IT support specialists analyze, troubleshoot and evaluate technology issues. They may work with internal clients or external customers. They may work directly with end users or provide guidance to other technicians.


IT Support Specialist: The Details
The next section on the page is an interactive table, where you can find the median annual salary, annual number of job postings and number of IT certifications available for each job level – beginner, intermediate and advanced.
This can help you see your potential – the median annual salary for a beginner IT support technician is $39,885, but jumps to $59,234 for an advanced IT support technician. It can also help you identify what jobs are most in demand – with more than 83,000 job postings, IT support specialist offers a great opportunity for someone who wants to start an IT career.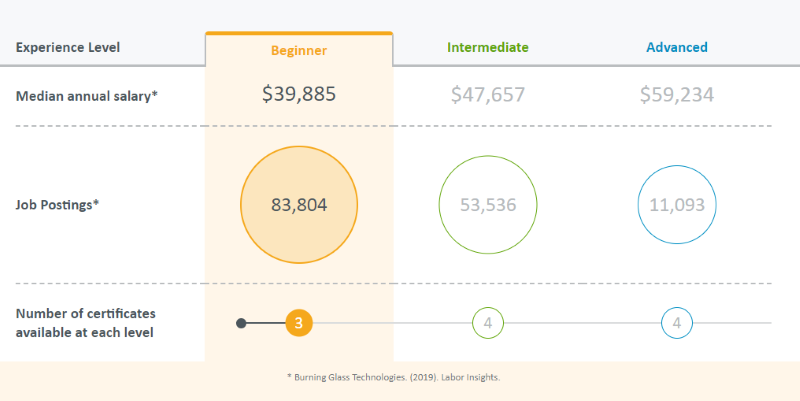 Lastly, you can not only see the number of IT certifications (CompTIA and otherwise) that are available, but if you scroll over the number, you see which ones they are. If you want to start your IT career as an IT support specialist, getting certifications like CompTIA IT Fundamentals+, CompTIA A+ and IT Infrastructure Library (ITIL) can set you off on the right foot.
Underneath the table are the job titles and skills needed for that experience level in that category. So, if you want to get into IT, you can look for jobs with the listed titles – desktop support specialist, IT technician or field service technician, just to name a few. You also have a list of the skills needed for jobs in this category at this level.


Planning Your Next Move in IT
Ready to map out your future? The next section has a visual roadmap of which IT certifications line up with which career paths. For CompTIA certifications, we've included descriptions, links and even example questions. For partner certifications, we provide a brief overview.
The roadmap shows you all the job categories in one view, so you can see what other career paths might be available to you if you get a certain certification. For example, CompTIA Network+ and CompTIA Security+ apply to three pathways: IT support, IT networking and cybersecurity.


If you want even more guidance, get a customized career roadmap emailed right to your inbox. Then you'll always know what lies ahead along your path to a successful IT career. Finding the right career in IT can be a challenge, but CompTIA's new IT career path planning tool makes it easier for you to see exactly what you need to do in order to attain your career goals.
No matter what your next move is, get inspiration and advice from CompTIA's IT Careers Newsletter. Subscribe today and get 10% off your next purchase.