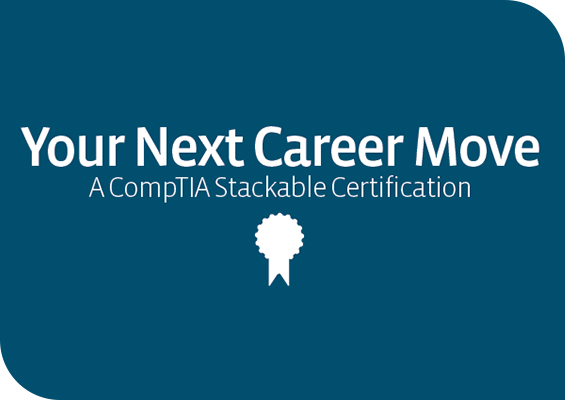 From badging and micro-credentials to nanodegrees and e-portfolios, plenty of ink has been spilled on the idea of stackable credentials, a catchphrase that refers to a sequence of credentials earned over time to build up an individual's qualifications. Unlike many nascent concepts promoted by MOOCs and other new entrants to the certification and training space, IT industry certifications, such as those awarded by CompTIA, have existed for decades.
The success of IT certifications – CompTIA's and others – is driven by employer trust. Employers have long recognized that third-party accredited and legally defensible certifications are useful job-qualifying criteria. We see this played out across the field of IT recruitment and talent management. A search through job ads for any number of data center roles uncovers postings that list one or more CompTIA certifications as a preferred or required qualification.
Why Introduce a CompTIA Stackable Certifications Program?
While attempts to stack new types of credentials has yet to gain significant traction, there is benefit in suggesting new options and sequences in skills acquisition. CompTIA's Stackable Certifications program offers guidance in skills acquisition along with acknowledgement that not all career journeys follow the same path. The certification you first earn and the one you choose to pursue next depends on the experience you bring to bear and your career goals.
Earning a CompTIA Stackable Certification offers several benefits:
Recognized expertise in rapidly growing areas of IT specialization
Validated achievement of the CompTIA certifications that employers rely on when staffing their IT teams
Demonstrated commitment to ongoing professional development and growth
CompTIA Stackable Certifications also offer benefits to employers:
A ready-made talent management tool for developing staff using well-defined standards of competence
An effective differentiator for recruitment and selection of IT staff
What Are the CompTIA Stackable Certifications?
Any one of CompTIA's certifications validates the skills needed for various roles in IT systems operations. So why pursue more than one? And why go beyond the "trifecta" of CompTIA A+, CompTIA Network+ and CompTIA Security+?
CompTIA Infrastructure Career Pathway
Taken together A+, Network+, Server+, Cloud+, Linux+ and Security+ validate the skillsets needed across multiple aspects of IT operations, deepening the mastery of needed skills, and broadening the number of IT infrastructure roles in which a designee can contribute.
Specialist
CompTIA IT Operations Specialist (A+/Network+)
CompTIA Systems Support Specialist (A+/Linux+)
Professional
CompTIA Cloud Admin Professional (Network+/Cloud+)
CompTIA Network Infrastructure Professional (Network+/Server+)
CompTIA Linux Network Professional (Network+/Linux+)
CompTIA Cybersecurity Career Pathway
Likewise, on the cybersecurity side, multiple CompTIA certifications validate skills needed in the red-hot area of security. While cybersecurity skills are necessary throughout the IT organization, nurturing the development of cybersecurity specialists who have practical, hands-on skills is a key ingredient for business success. With CompTIA Security+, CompTIA Cybersecurity Analyst (CySA+), CompTIA Advanced Security Practitioner (CASP) and the forthcoming CompTIA PenTest+, CompTIA cybersecurity certifications recognize the skillset of the technical specialist.
Specialist
CompTIA Secure Infrastructure Specialist (A+/Network+/Security+)
Professional
CompTIA Secure Cloud Professional (Security+/Cloud+)
CompTIA Security Analytics Professional (Security+/CySA+)
CompTIA Network Vulnerability Assessment Professional (Security+/PenTest+)
CompTIA Network Security Professional (Security+/PenTest+/CySA+)
Expert
CompTIA Security Analytics Expert (Security+/CySA+/CASP)
CompTIA Security Infrastructure Expert (Security+/CySA+/PenTest+/CASP)
How to Get CompTIA Stackable Certifications
If you actively hold certifications that make up one of the CompTIA Stackable Certifications, you should have received an email notification and can begin sharing your status immediately. Log into your certification account to download a certification to display in your workspace.
You can also add it digitally to the places where you highlight your professional accomplishments:
Your resume
Your LinkedIn profile
Your social media accounts
If you haven't qualified for any CompTIA Stackable Certifications yet, take a look at which ones make the most sense for your career and make a plan to cross those certifications off your list.
Ready to get your next certification? Sign up for our newsletter, and get 10 percent off your next CompTIA training or certification product.