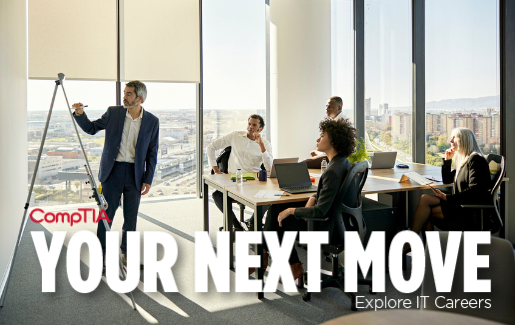 This article is part of an IT Career News series called Your Next Move. These articles take an inside look at job roles related to CompTIA certifications. Each article will include the responsibilities, qualifications, related job titles and salary range for the role. As you consider the next move in your IT career, check back with CompTIA to learn more about your job prospects and how to get there.
Like in any field, there are projects that teams of employees work on in technology. For those to go smoothly, someone needs to take charge and oversee the project. If you have excellent communication and project management skills, plus a natural ability to lead, a career as an IT project manager could be a good fit for you.
What Is an IT Project Manager?
An IT project manager sets timelines for group projects and keeps the group on task and on budget. In addition, a project manager may have the following job duties:
Coordinate project phases and schedules
Select the right people to serve on the project team
Delegate assignments
Effectively communicate with all stakeholders in the project
Organize project plans and prepare reports and other tools to detail the specific budget, time and projected outcomes of the project
Track the progress of the project and adjust plans as needed
A project manager is the liaison between those who ordered the project and those who bring it to life. Strong interpersonal skills are a must, as a project manager must relay the goals of the project to the team and the issues that arise back to the stakeholders.
A project manager must also be highly organized and task oriented to keep the team on track. This person needs extensive knowledge of IT to know what expectations are manageable for the size and scope of a particular project. A project manager will triage problems as they come up and maintain records of expenditures.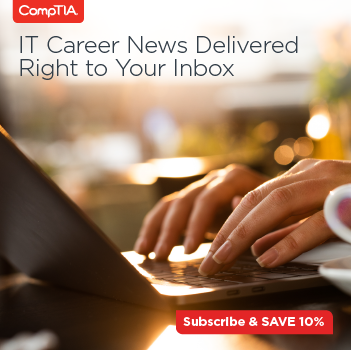 How to Become an IT Project Manager
Many organizations hiring an IT project manager are looking for someone with the above-mentioned skills plus a bachelor's degree in computer science or management information systems. However, the right project management certifications may make someone without a degree eligible for this position. These certifications may include CompTIA Project+ for people who are managing small- to medium-sized IT projects or Project Management Professional (PMP) for those who manage large-scale. CompTIA Project+ can be a steppingstone to getting PMP later in your career.
A background in both business and technology is also seen as a plus by many organizations. Certifications like CompTIA A+, CompTIA Network+, CompTIA Security+ and CompTIA Cloud Essentials+ can help you understand more about implementing technology solutions in the workplace. Check out the CompTIA Career Roadmap to see what other certifications can help you become a project manager.
The Details
IT Project Manager Salary Range
In 2020, the median pay for a project manager was $116,911, according to the Dice 2021 Tech Salary Report.
IT Project Manager Job Outlook
From 2016 to 2026, CompTIA projects an increase of 12% for project managers, with 44,200 net new jobs expected during that 10-year period.
Job Titles Related to IT Project Manager
IT and special systems project manager
Business development manager
Will your next move be IT project manager? If so, download the exam objectives for CompTIA Project+ to see what skills you need to get you there.