This article is part of an IT Career News series called Your Next Move. These articles take an inside look at the roles related to CompTIA certifications. Each article will include the responsibilities, qualifications, related job titles and salary range for the role. As you consider the next move in your IT career, check back with CompTIA to learn more about your job prospects and how to get there.
Without customers a business can't make money. Retaining accounts and bringing in new business is a cornerstone of success – and the business development manager makes it all happen. A business development manager in the technology sector must have foundational business and technical knowledge in order to make decisions that will positively affect the organization. If you have a head for business and a passion for technology, business development manager may be the next step in your IT career.
What Is a Business Development Manager?
A business development manager is responsible for developing and implementing growth opportunities in the following ways:
Researches and performs outreach to acquire new partners and customers
Determines new markets to enter
Develops new products
Decides which cloud service providers to use, what to migrate and when to implement
Collects and analyzes products and services to make optimal business decisions
Oftentimes, the role of a business development manager may be confused with that of the sales development manager, or even marketing roles. The difference is that the business development manager is ultimately responsible for generating new leads. This can be done by refining processes or launching new initiatives. When those changes lead to the identification of new business, the sales team takes over to close the deal.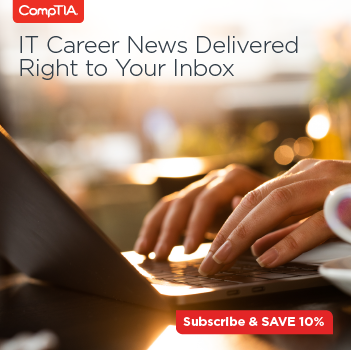 How to Become a Business Development Manager
Within the IT industry, business development managers can be employed by either a small business or a large enterprise organization in the business of IT infrastructure implementation and sale of technology products. A good business development manager will be able to talk the technology talk – and walk it with confidence as well.
Business development managers need to understand technology before they can generate new leads. Potential employers will likely want to see some formal education and/or equivalent technical experience – as it relates to their business offerings.
Many companies look for a degree in business, computer science or a related field. They'll also want to see a proven track record of generating leads, and validation of your technical knowledge.
While CompTIA is well-known for its certifications that validate hands-on technical skills, there are several that benefit people who work in technology and need that foundational knowledge.
CompTIA IT Fundamentals (ITF+) helps individuals develop a broader understanding of IT. It covers all areas of IT foundations, making it ideal for non-technical professionals. The CompTIA IT Fundamentals exam focuses on the essential IT skills and knowledge needed to perform tasks commonly performed by advanced end-users, including:
Using features and functions of common operating systems and establishing network connectivity
Identifying common software applications and their purpose
Using security and web browsing best practices
CompTIA Cloud Essentials+ is also designed for both IT and non-technical professionals who require the essential business acumen needed to make informed cloud service decisions. CompTIA Cloud Essentials+ empowers candidates to make data-driven cloud recommendations by using key skills to evaluate business use cases, financial impacts, cloud technologies and deployment models.
Earning CompTIA Cloud Essentials+ demonstrates a readiness for management-level positions while ensuring an understanding of the fundamental approach to cloud computing, as well as the business impact of migrating and governing in the cloud.
Depending on the company you work for, you may need additional technical expertise. Core certifications like CompTIA A+, CompTIA Network+ and CompTIA Security+ can help you build that foundational knowledge.
CompTIA A+ takes the topics covered by ITF+ (and more) to the next level. It adds problem-solving, troubleshooting and more hands-on skills related to hardware, software, operating systems, security, networking, mobile devices and the cloud. CompTIA A+ is the industry standard for launching an IT career.
CompTIA Network+ covers IT infrastructure topics such as troubleshooting, configuring and managing networks. The new CompTIA Network+ N10-008 exam was released in September 2021.
CompTIA Security+ validates the baseline skills necessary to perform core security functions. This certification is a great place to start if you don't have any cybersecurity training or experience.
In addition to certifications, CompTIA offers a full suite of training products for most certifications to help you gain the knowledge you need on the job and to pass your certification exam.

CertMaster Learn: Learn at your pace with interactive lessons and videos
CertMaster Practice: Test your knowledge and find out if you're ready for the exam
The Official CompTIA Study Guide: Learn and review exam objectives with our comprehensive textbook
The Details
Business Development Manager Salary Range
The median salary for an information technology business development manager $159,010 a year (U.S. Bureau of Labor Statistics (BLS)).
Business Development Manager Job Outlook
From 2020 to 2030, the BLS projects an increase of 11% for the category of computer and information systems managers with 52,700 net new jobs expected during that 10-year period.
Job Titles Related to Business Development Manager
+ Means More
At CompTIA, + means IT careers. That means you can consider us your partner on your journey to becoming certified, finding, interviewing for and winning that new job role.
We help you save money. Getting a CompTIA certification is an investment in your career but getting a discount can help. There are several ways you can save money on your CompTIA purchases.
We help you decide how to take your exam. Scheduling your exam is the easy part. CompTIA exams are offered at testing centers around the world as well as through online testing, which is available 24/7, so you can test in person or at home. Learn more about your testing options.
We help you land your next job. We've teamed up with ZipRecruiter so you can get access to job alerts, digital badging and more. Be sure to sync your credentials on ZipRecruiter as you continue to grow within the tech industry.
Need more job inspiration? Check out CompTIA's Tech Job Report video series now premiering on CompTIA Connect. Learn more about the latest data and trends in tech hiring and the implications for employers and the U.S. workforce with new episodes each month.
Read about more IT jobs featured in Your Next Move.
Will your next move be business development manager? If so, download the exam objectives for CompTIA Cloud Essentials+ to learn more.