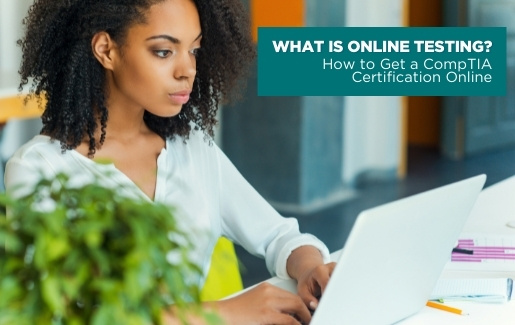 CompTIA understands the investment and effort you make in studying and training for your IT certifications. We've offered online training options for some time, and in 2020 we launched online testing. Being able to both train and test at home help you to more easily fit getting certified into your busy life.

If you would like to prepare for, schedule and take your test online, keep reading to understand your testing options and learn more about how to get a CompTIA certification at home. You can even switch your in-person exam to online if need be.
How to Get a CompTIA Certification: 2 Testing Options
CompTIA offers two ways to earn an IT certification:
CompTIA Online Testing
With online testing, you can earn a CompTIA certification online, from your home – or any quiet, distraction-free, secure location – at a time that's convenient for you. Online testing is available 24/7, giving you a broader scheduling window than in-person training.
Powered by Pearson OnVUE, CompTIA online testing is similar to – and just as secure as – the in-person exam experience you may be used to. It uses the same exam delivery platform as in-person testing centers do, but your proctor is monitoring you remotely through your device instead of being in the same room as you.
To take your CompTIA certification exam online, you'll need the following:
A quiet, enclosed, private location – like a home office or bedroom where you can close the door
A reliable device that meets the system requirements, including having a webcam (internal or external with a minimum resolution of 640 x 480 at 10 frames per second (fps))
A strong, consistent internet connection with a minimum speed of 1 Mbps down/up
Learn more about CompTIA online testing
CompTIA In-person Testing
You can also still test at any of the thousands of Pearson VUE test centers around the world – please visit the Pearson VUE website to find a testing center near you and check its availability.
This is the traditional exam experience with which you might be familiar, where you go to a testing center and use their equipment under the supervision of a proctor in the same room.
Learn more about in-person testing
How to Choose Your Testing Option
First, you might be wondering, which CompTIA certification exams are available online? The good news is that almost all CompTIA exams are available online. The one exception is CompTIA Certified Technical Trainer (CTT+).
While online testing is widely available, it's not for everyone. Outside of the technical requirements and the need for a private, distraction-free location, there are two other key differences:
Language: Pearson OnVUE software is English-based, and proctors communicate only in English. So, while you may use online testing to take any translated exam offered by CompTIA, you'll need to be proficient enough in English to communicate with the proctor and follow any software instructions or prompts.
Location: CompTIA online testing is currently not available in China, Cuba, Iran, North Korea, South Korea, Slovenia, Sudan and Syria
Regardless of how you choose to take your exam, candidates with disabilities may request test accommodations from Pearson VUE. Read our article on accommodations for people with disabilities, and visit Pearson VUE's test accommodations information page to learn more.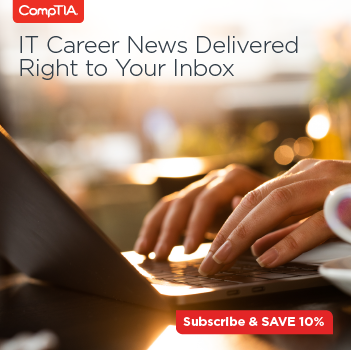 How Much Does Online Testing Cost?
Purchasing an exam voucher costs the same whether you plan to take your test online or in person. You do, however, need to decide how you'll test before buying an exam voucher.
We realize that online training and testing can be a large investment, so know you have ways to save. Be sure to read our article about how to save money on your exam voucher to learn about the various discounts CompTIA offers. Did you know you can split up the cost of your CompTIA training products and exam vouchers into smaller payments? The CompTIA Store offers financing from Affirm, with rates as low as 0% that can be paid over 3, 6 or 12 months with no hidden fees. Learn more about CompTIA financing options.
How to Get a CompTIA Certification Online
If you've decided that online testing is right for you, here's your step-by-step guide to getting your CompTIA certification online and how to prepare for your exam.
4 Steps to Taking Certification Exams Online
Still have questions about online testing? Check out Pearson OnVUE's FAQ page.
How to Prepare for Your Certification Exam
Congratulations! If you've followed these steps, you're now ready to take your online exam and get a CompTIA certification.
If you haven't taken a CompTIA exam before, start off on the right foot:
CompTIA is here for you throughout your IT career and is evolving with our changing world. Train and test at home to get the skills you need for a successful IT career and prove to employers that you're the right person for the job.
Ready to get started? Download the exam objectives and purchase an exam voucher today.