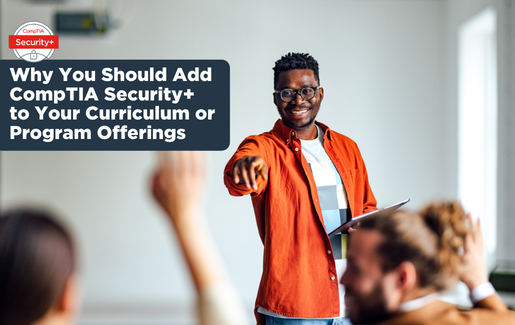 The global cybersecurity market value is expected to grow from $155 billion in 2022 to $376 billion by 2029, according to the ISC2 2022 Cybersecurity Workforce study. This is because cybersecurity and the technicians who implement it, who are in very high demand, have never played a bigger role in data protection as they do now.
By offering CompTIA Security+, CompTIA partners can help narrow the sizeable cybersecurity skills gap by preparing learners for in-demand IT security jobs, attract new talent and cement their organizations' success.
The Importance of Cybersecurity Professionals
Cybersecurity as a practice safeguards hardware, software, computer networks and more. In an age of cyber threats that are growing in frequency and sophistication, cybersecurity is vital. That's where cybersecurity professionals come in.
Cybersecurity professionals expertly design security solutions to protect sensitive data, mitigate threats and promote organizational compliance. These technicians use their skill set to enforce operating system security, create and implement cybersecurity best practices for organizations and provide network security. They also mitigate successful cyberattacks, secure computer systems, anticipate potential threats and reduce security incidents, such as data breaches.
Those who work in cybersecurity draw on a variety of skills to accomplish these tasks, including those related to:
Data analytics
IT project management
Database security
Governance, risk and compliance
Threat hunting
Encryption
Network monitoring
Incident response
Risk management
Penetration testing
Cloud security
Troubleshooting
Security management
Security practitioners gain these technical skills from experience, cybersecurity training programs and cybersecurity certifications such as CompTIA Security+.
Although cybersecurity professionals are desperately needed, they are in short supply. There is a need for more than 3.4 million cybersecurity professionals, an increase of over 26% from 2021, according to the ISC2 study. The study also explained 43% of organizations experiencing the cybersecurity skills gap say they can't find enough qualified talent.
The ISC2 study along with CompTIA's State of the Tech Workforce 2023, the U.S. Bureau of Labor Statistics (BLS) and Lightcast report that the need for cybersecurity specialists will increase in the United States to reach about 234,000 by 2033. Also, the 10-year projected growth rate for cybersecurity specialists is 242% above the national rate.
Cybersecurity is relevant in any IT role. All IT professionals would greatly benefit from having security skills. These skills can help them perform their job duties securely and lower an organization's vulnerabilities. CompTIA Security+ teaches the skills learners need to work in cybersecurity, as well as supplies those who are not planning to pursue a career in data security with the skills to gain a competitive edge.
What Is CompTIA Security+?
CompTIA Security+ is one of the most in-demand cybersecurity certifications on the market. It validates the fundamental skills needed to carry out core security functions and successfully establish a career in IT security. That's why hiring managers seek job candidates who have it.
More job roles use CompTIA Security+ for baseline security skills than any other industry certification. It is the most widely adopted ISO/ANSI-accredited early-career IT security certification available that features hands-on, performance-based certification exam questions. By passing the CompTIA Security+ exam, individuals will prove to employers that they have what it takes to resolve security issues of all kinds.
The CompTIA Security+ certification exam covers general security concepts, security operations and threats, vulnerabilities and mitigations. Other topics include security program management and oversight and security architecture.
CompTIA Security+ is also instrumental in making students aware of cybersecurity trends such as automation, zero trust, risk analysis, operational technology (OT) and Internet of Things (IoT).
Candidates studying for CompTIA Security+ will learn:
How to talk the talk and walk the walk. By understanding common industry language, they will speak and report more effectively.
How to use mitigation playbooks. Threat and mitigation playbooks are becoming more common. Candidates don't have to write the playbook, but they must know how to follow one.
How to automate tasks. Companies are trying to automate as much as they can to keep up with the work they have on their plates.
How to secure a network. There are more architectures than there used to be, and candidates must be able to work in the cloud, on premises and in hybrid environments.
How to implement and execute security operations. Candidates will learn how to work together with other cybersecurity professionals on daily tasks.
How to report what they're doing. Keeping up with changing regulations is a headache for many companies. Candidates will learn how to effectively communicate their actions.
Those who earn CompTIA Security+ often go on to become security architects, cybersecurity specialists, cybersecurity analysts, IT support managers or tier II IT support technicians, or land other cybersecurity roles. Additional IT roles also call for the skills this certification offers, such as network administrator, network engineer, systems administrator, software developer and software engineer.
The Benefits of CompTIA Security+ for Partners and Learners
CompTIA Security+ is beneficial for CompTIA partners and their learners for many reasons:
With CompTIA Security+, learners will develop a foundation of vital cybersecurity skills. This helps ensure a fulfilling career and better quality of life.
CompTIA Security+ results in better pay. In 2023, job roles that align with the current skills CompTIA Security+ provides pay an average annual salary of $80,000. The more advanced the cybersecurity practitioner, the higher the salary. According to the U.S. Bureau of Labor Statistics, cybersecurity specialists, listed under "information security analysts," earn $112,000 annually. This is 142% higher than all other occupations.
Learners who earn CompTIA Security+ can understand and use the most recent advancements in cybersecurity technology, terms, techniques and tools. Attaining early-career skills in the latest trends equips them to thrive in their cybersecurity career.
This certification can also help learners who are working in a junior-level role or IT support/help desk to upskill to a data security role that calls for the skills CompTIA Security+ teaches.
Just like earning CompTIA Security+ benefits learners, offering it to learners benefits CompTIA partners.
Here's why:
CompTIA Security+ is a hands-on certification. This helps organizations ensure employees have the capabilities they need to succeed on the job while doing their part to uphold security posture – and helping the tech workforce, as a whole, maintain security.
Including CompTIA Security+ in your program ensures you are training to the most current and widely used cybersecurity technology concepts and best practices.
Many who want to get into the IT field intend to one day land a cybersecurity job. When a CompTIA partner offers CompTIA Security+ as part of a cybersecurity career path, they pave the way for learner success and cement their organization's success. In fact, 24% of the total employed cybersecurity workforce in the United States holds CompTIA Security+, and 85,000 job postings in 2023 called for CompTIA Security+, according to CyberSeek.
Including CompTIA Security+ in your program allows you to build a cybersecurity career pathway that meets the needs of learners at all levels. This helps CompTIA partners attract new talent and learners. Repeat candidates can be engaged with more advanced security specializations like CompTIA Cybersecurity Analyst (CySA+).
Updates to the New Version of CompTIA Security+
The cybersecurity landscape is constantly changing, and practitioners need relevant skills to be effective. That's why CompTIA Security+ is updated every three years. The new version of CompTIA Security+ (SY0-701) equips learners with the same foundational security skills as the older version (SY0-601).
What's new about the latest CompTIA Security+ is primarily that it emphasizes practical, hands-on security skills so that IT professionals can solve a plethora of cybersecurity problems and prevent and mitigate cybercrime.
The newest version of CompTIA Security+ (SY0-701) features exam questions across five domains:
| | |
| --- | --- |
| Domain | Exam Weights |
| General security concepts | 12% |
| Threats, vulnerabilities and mitigations | 22% |
| Security architecture | 18% |
| Security operations | 28% |
| Security program management and oversight | 20% |
Also, 20% of the CompTIA Security+ (SY0-701) exam objectives were updated. They now include current trends and hybrid environments.

"Current trends" refers to emerging trends in cybercrime, vulnerabilities, automation, IoT, risk, zero trust, OT, cloud environments, communication, reporting and teamwork. Inclusion of hybrid environments as an exam objective ensures learners know of the newest techniques for information technology security professionals who work in hybrid environments (located on premises and in the cloud).
Interested in discovering the additional topics covered by the new CompTIA Security+? Download the exam objectives for free.
CompTIA partners should adopt the new version of CompTIA Security+ to ensure learners are adequately prepared for a career in cybersecurity and have the skills they need to meet industry demands.
As a CompTIA partner, your organization is committed to offering the IT curriculum both learners and your organization will benefit from most. By offering the new CompTIA Security+, your organization can become more successful by upskilling learners to meet the demands of the IT job market and establish cybersecurity careers that last.
Interested in Becoming a CompTIA Authorized Partner? Learn More.