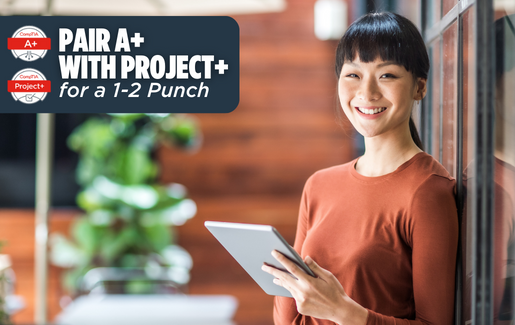 When you think about iconic duos, a few pairs come to mind: Abbott and Costello, Thelma and Louisa, Woody and Buzz Lightyear – even the traditional peanut butter and jelly. It's high time we add CompTIA A+ and CompTIA Project+ to this list. Why? Well, the thing about iconic duos is that they work well together. And that couldn't be truer of the skills an IT professional gains when they are both CompTIA A+ and CompTIA Project+-certified.
But don't just take our word for it. There's plenty of proof that the skills you learn when you become certified in CompTIA A+ and CompTIA Project+ are the same skills employers are looking for in entry-level tech jobs.
Entry-level IT Jobs that Map to CompTIA A+
The CompTIA A+ certification is the industry standard for establishing a career in IT and is the preferred qualifying credential for technical support and IT operational roles. If you want to break into the IT industry, this is where many start. Even as a steppingstone to another IT role, entry-level jobs in tech are plentiful and pay well.
According to the U.S. Bureau of Labor Statistics (BLS), the median annual salary for tech support specialists in the United States is $53,000 – 26% higher than the national median wage. And the latest CompTIA Tech Jobs Report shows that there were more than 18,500 open positions for IT support specialists in December 2022. Case in point, entry-level jobs in tech are ready and waiting for qualified IT pros.
If you are CompTIA A+-certified, consider yourself qualified for these jobs:
Read more about the jobs you can get with CompTIA A+.
But like any other job, just because you are qualified doesn't mean you're a shoe-in. Setting yourself apart from the competition is crucial in any job market, and one of the best ways to win an entry-level tech job today is to show employers that you possess more than the technical knowledge necessary to be successful. Enter CompTIA Project+.
The Value of Adding Project Management Skills to Your Technical Portfolio
Back in the day, many of us thought working in technology meant being holed up in a dark room by yourself and your machine. It's safe to say we've blown that stereotype out of the water. IT pros aren't working in silos anymore. They are an integral part of any organization and have to be able to communicate with people outside of the IT department.
Company-wide initiatives are looping in IT from the start, and you have to be able to work well with others in order to achieve your objectives. That's exactly why being able to manage a project lifecycle, ensure appropriate communication, manage resources and stakeholders, and maintain proper documentation – in addition to your technical skills – will set you up for success.
Here are a few desired qualifications – taken straight from real job descriptions – for the above-listed roles. It's easy to see that these jobs involve more than strict troubleshooting and system updates. They also require a set of professional and organizational skills.
Show potential employers that you are capable of:
Developing training materials and procedures
Training users in the proper use of hardware and software
Conferring with staff, users and management to establish new requirements for new systems
Documenting solutions to common problems and responses to frequently asked questions
Maintaining effective work direction, scheduling and time management skills
Building and maintaining exceptional vendor relationships
Effective writing and oral communication
Working with minimal supervision
Of course, you can always say you are competent and ready to take on these tasks. But validating that knowledge with a certification is always a good investment in yourself.
What Skills Does CompTIA Project+ Cover?
IT hiring managers are looking for IT pros who can participate in projects, write reports and communicate with IT project teams. CompTIA Project+ is perfect for IT pros who are (or will be) required to oversee smaller, less-complex projects.
IT professionals must possess a robust set of hard skills but are increasingly expected to have a set of professional skills, including the ability to:
Manage the project lifecycle
Ensure appropriate communication
Manage resources and stakeholders
Maintain project documentation
In addition, CompTIA Project+ meets current industry needs by promoting:
An IT focus: Hiring managers place a lot of value on IT pros who can skillfully manage IT projects and clearly communicate with project teams.
An agile focus: CompTIA Project+ also promotes a focus on agile methodologies.
A risk management focus: Regulations related to HIPAA, PCI-DSS, NIST and more call for a higher level of compliance from IT departments.
Read more about the new CompTIA Project+.
What Skills Does CompTIA A+ Cover?
CompTIA A+ covers the skills needed for technical support roles and help desk jobs. This certification is pivotal in supporting today's ever-evolving technologies in a high-demand field supporting the hybrid workforce.
The Core 1 exam (220-1101) covers five disciplines for IT pros to effectively perform job roles tasked with endpoint and end-user related skills:
Mobile devices
Networking
Hardware
Virtualization and Cloud Computing
Hardware and Network Troubleshooting
The Core 2 exam (220-1102) covers four different areas that IT pros will be tested on to demonstrate their knowledge and mastery:
Operating Systems
Security
Software
Operations
Read more about the CompTIA A+ exams.
Invest in Yourself: Get Certified Today
Recognizing that the technology industry is ever-evolving is your first step toward becoming an attractive candidate for an entry-level tech job. Employers want the whole package. And while that doesn't mean you have to know everything up front, it does bode well to have certifications like CompTIA A+ and CompTIA Project+ under your belt. With those certifications, you're showing potential employers that you have the skills they want, and you have a dedication to continued learning.

While certifications are a worthwhile investment in yourself, continued upskilling comes with a cost. But there are ways to save money. Once you're certified, leverage CompTIA's partnership with ZipRecruiter to match your CompTIA credentials with open jobs.

Ready to get started? Download the exam objectives for free to see what's covered.