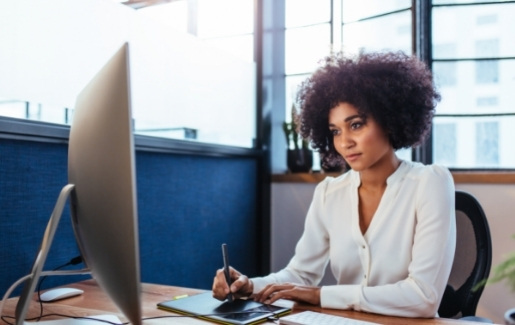 The tech industry is continuing to grow, and employers are looking to fill open job positions in cybersecurity, IT support and emerging technologies. But finding the right opportunity isn't always as easy as it sounds. Through CompTIA's partnership with ZipRecruiter, you can match your skills to new job opportunities and highlight those skills on your career profile. ZipRecruiter will promote your profile to employers looking for people with your skills – taking some of the leg work out of your job search.
What Is ZipRecruiter?
ZipRecruiter is a leading online employment marketplace that leverages artificial intelligence (AI)-powered smart-matching technology to actively connect millions of employers and job seekers. Every day, ZipRecruiter has more than 10 million active job postings available to search (ZipRecruiter Internal Data, daily average January 1 to December 31, 2020).
Now, partnered with CompTIA, ZipRecruiter helps certification earners who have claimed their digital badge showcase their CompTIA credentials to employers. We know that employers value credentials that prove what skills a job seeker brings to the table. Any CompTIA certification earner in the United States or Canada can participate. Sync your credentials on ZipRecruiter now.
3 Steps to Finding a Job with CompTIA and ZipRecruiter
Syncing your CompTIA digital badge to your ZipRecruiter profile is easy. In a few clicks, you can supercharge your ZipRecruiter profile and job applications so that you can make your next move.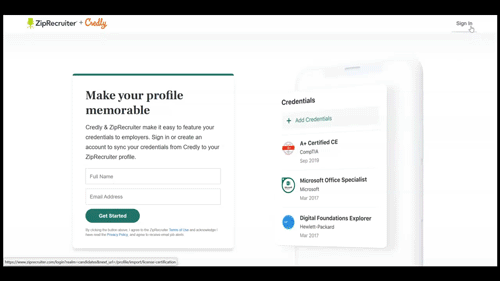 1. Login to Your ZipRecruiter Account
If you already have a job seeker profile with ZipRecruiter simply click on this link and sign in at the top of the page. You'll be directed to your profile and provided with directions as to how to sync your CompTIA digital badges – and you're all set!
2. Create a ZipRecruiter Account
If you don't have an existing job seeker profile, start by setting one up. You'll be asked what type of job you're looking for and where you'd like to work. Then you'll view some sample jobs, and you can decide if they are good matches for the work you'd like to do. Next, you'll be prompted to upload your resume.
3. Import Your Certification(s)
When your newly created profile is complete, you'll import your certification by selecting Credly to upload your CompTIA digital badge. You'll have to sign in to Credly and grant permission to share your credentials with ZipRecruiter. Once signed in, simply select which digital badge you want to share and complete the import.
Once you complete these steps your CompTIA credentials will be used to match you to jobs. It is really that easy.
The Perks of Using ZipRecruiter
Looking for a new job can be a full-time job in and of itself. When you sync your CompTIA digital badge to your ZipRecruiter profile, you'll increase your job prospects by enhancing your career profile, highlighting your skills in autofill job applications, getting matched with recommended jobs and getting invited to apply for jobs that fit your skill set.
ZipRecruiter is built to be more than a job search engine – it's a service that keeps you informed on the latest job openings, while also putting your resume to work for you. ZipRecruiter's "1-click apply" capability means they fill out the application for you using the information in your career profile – showcasing your CompTIA certifications to employers as part of that application.
By making your profile public to employers, ZipRecruiter can also help you get recruited, by empowering employers to invite you to apply to their positions. Saving your time, narrowing your focus and putting you on the right path to success is what it's all about.
Whether you are actively searching for a job, or want to be kept aware of new positions, CompTIA's partnership with ZipRecruiter can help you find your next great opportunity.
Get closer to landing your dream job by creating your profile on ZipRecruiter today!