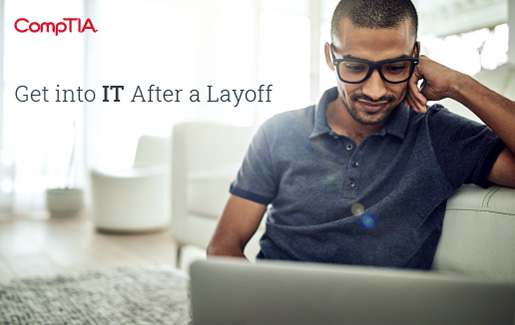 As the economy ebbs and flows, layoffs are unfortunately a part of our everyday lives. If you've been laid off, one of your first thoughts may be, "I need a new job." But where do you begin? Should you continue in the industry and field you've been working in, or switch careers and try something new?
If you haven't thought about technology before, now might be the time to get into IT. With above-average job growth, great salaries, multiple career pathways and relatively quick and inexpensive ways to get a foot in the door, IT may be a great opportunity to change careers.
Switch Careers into IT: The Basics
Compared to many other fields, IT has a relatively low barrier to entry. You may not even need a college degree to get started – a couple of classes and an IT certification could help you get an entry-level job as a support technician.
What you do need is a passion and a knack for technology. After all, a dream job is only so dreamy if you love what you do. That said, here are some steps you can take to show employers you're the right person for the job, even if it's your first IT job.
Switch Careers into IT: The Details
You may be wondering how to change careers to get into IT from your field. If you worked in manufacturing, retail, administrative roles or as a field technician, we've identified some IT careers that may be a good fit for you.
Career Switch for Retail Workers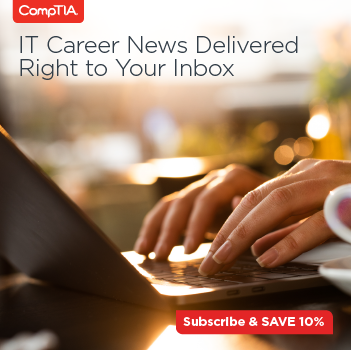 In retail, you've likely had a few experiences where you had to keep cool under pressure – perhaps with an unhappy customer or on a busy day. The communication and problem-solving skills you used will come in handy in any number of IT roles, including support technician and project management.
If you've worked in loss prevention, cybersecurity will give you similar opportunities to protect your organization and catch criminals in their paths. Creative types, like those who work in merchandising, can also find a home in IT in web design, development and content creation. The IT world is your oyster. Check out CompTIA IT Fundamentals or CompTIA A+ to get the technical skills you need.
Career Switch for Hospitality Workers
Whether you've worked in a restaurant, bar, hotel or theme park, your experience in customer service, problem solving and communication will translate well to IT. From IT support technicians to cybersecurity analysts to solution architects, IT professionals need to be able to communicate technical information in clear, direct language. They need to find solutions that not only make sense in the IT space, but also for the end user and the whole organization. CompTIA IT Fundamentals and CompTIA A+ can help you gain the IT knowledge you need to start your career.
Career Switch for Manufacturing Workers
If you're accustomed to working on machinery or on an assembly line, a career in infrastructure may be right for you. Infrastructure is the hardware, the network architecture, that keeps technology working. The experience you have putting things together and your attention to detail in making sure things are done right may make you a great fit for a job in the infrastructure career field. Start with CompTIA IT Fundamentals or CompTIA A+ to get the technical skills you need.
Career Switch for Administrative Professionals
In your administrative role, you may be accustomed to providing support and putting out fires. IT has more to do with helping people and less to do with typing code all day. An entry-level job as an IT support technician, or help desk technician, could be just what you need to launch your IT career.
From there, you can continue in the network architecture field, move into cybersecurity or even become a project manager. Start with CompTIA IT Fundamentals or CompTIA A+ to get the technical skills you need.
Career Switch for Field Technicians
If you've suffered a job loss as a cable or telephone field technician, you may already be used to working independently and solving problems. You've probably seen some tangled messes out in the field, and cables and connections may not scare you. In fact, you may even view this as a challenge!
Working on IT hardware can be very similar to what you've already been doing – just with different equipment and new connections to learn. Check out CompTIA A+ to nail down the basics of computers and servers to start your IT career.
Job cuts, especially in the midst of a global pandemic, are no fun. When an employee is fired or let go, it can be an emotional experience - but it's not the end of the world. If you find yourself in this situation, or think you may be next up to lose your job, get your ducks in a row and start your next job search.
Wondering if IT is right for you? Take our quiz to find out.