IT is a great field to get into, and it's relatively easy to get started compared to many other careers. You don't need a math or science background – or even a college degree – to start your career in information technology. With curiosity, determination, some hands-on practice and the right IT certification, you can start on your path to a successful, fulfilling IT career.
Which IT Certification is Right for Me?
IT certifications prove to employers that you have the skills they're looking for. To earn a certification, you'll need to pass an exam, which may consist of different types of questions or hands-on skills assessments, known as performance-based questions. Performance-based questions require you to perform tasks related to the job role covered by the IT certification.
Most CompTIA certifications are based in job roles, which means they test you on the skills needed for certain IT jobs – therefore proving to employers that you are a qualified candidate. Two great IT certifications for people who want to get into IT are CompTIA IT Fundamentals (ITF+) and CompTIA A+.
But how do you choose – CompTIA A+ vs. CompTIA IT Fundamentals? We're here to help you compare these two IT certifications so you can choose the one that will best help you take the next step to getting into IT.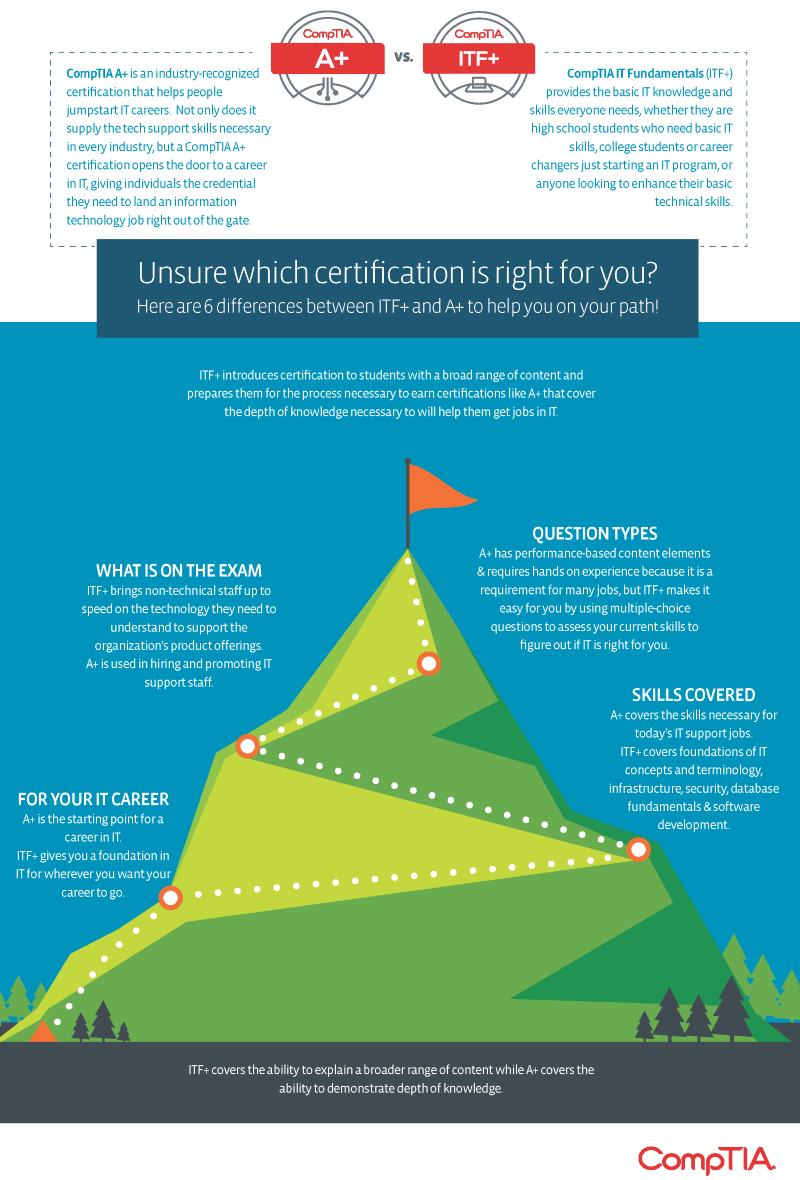 Click the image to download the PDF of this infographic.
CompTIA A+ vs. CompTIA IT Fundamentals: How to Choose
How Much IT Knowledge Should I Have?
CompTIA IT Fundamentals gives you a foundation in IT that will help you decide if an IT career might be right for you. If you don't have any IT experience and aren't sure where to start, this is the certification for you. It will help you understand the elements and functions of IT and will give you the baseline knowledge needed to start learning job-related skills.
CompTIA A+ is the starting point for a career in IT and focuses on job roles like help desk technician and technical support specialist. If you already have a basic understanding of IT and have been tinkering on your own, you may be ready for CompTIA A+. It's the industry standard for establishing a career and proves you can think on your feet to perform critical IT support tasks in the moment.
Invest in yourself without breaking the bank. CompTIA Tech Career Academy offers flexible, affordable and fast training for careers in tech.
Learn more.
What IT Skills Are Covered?
CompTIA IT Fundamentals covers the foundations of IT concepts and terminology, infrastructure, cybersecurity, database fundamentals and software development.
CompTIA A+ covers the skills necessary for today's IT support jobs.
Here are just a few examples of topics that are covered by both CompTIA IT Fundamentals and CompTIA A+ and how the coverage differs.
| | | |
| --- | --- | --- |
| | CompTIA IT Fundamentals | CompTIA A+ |
| Operating Systems | Knowledge of popular operating systems and the ability to explain their functions, including disk management, process management, authentication and access control. | Ability to troubleshoot operating systems, such as resolving performance issues, determining why applications won't launch and resolving boot-time problems. |
| Cybersecurity | Knowledge of behaviors that foster personal security and typical security issues involving confidentiality, integrity and availability. | Ability to identify security issues as they happen and manage access control and multifactor authentication systems. |
| Virtualization and Cloud Computing | Knowledge of advantages and disadvantages of cloud storage. | Understanding of how virtualization works and the ability to support cloud-based applications, storage and services. |
| Computer Hardware | Knowledge of the typical elements used in a PC, server, mobile phone or IoT device. | Ability to modify computers and differentiate between hardware and software issues while troubleshooting. |
What's on the Exam?
CompTIA IT Fundamentals brings career changers up to speed on the technology that they can master by earning CompTIA A+. The exam includes 75 questions on things like how to use the features and functions of operating systems, how to establish network connectivity, identifying applications and their purpose, and end-user security and web browsing best practices.
CompTIA A+ is trusted by employers around the world to hire and promote IT support staff. To earn CompTIA A+, you need to pass two exams that have a maximum of 90 questions each. CompTIA A+ 220-1001 covers mobile devices, networking technology, hardware, virtualization and cloud computing and network troubleshooting. CompTIA A+ 220-1002 covers installing and configuring operating systems, cybersecurity, software troubleshooting and operational procedures.
You can download the exam objectives for free to guide your studies and dive into the topics covered.
What Types of Questions Will I Have to Answer?
CompTIA IT Fundamentals makes it easy for you by using multiple-choice questions to assess your current skills and help you figure out if IT is right for you.
CompTIA A+ takes things a step further with performance-based questions, which test your hands-on skills to prove to employers that you have the skills needed for tech support jobs. Learn more about IT careers with our newly revised career roadmap.
CompTIA A+ vs. CompTIA IT Fundamentals: How to Get Started
The bottom line is that CompTIA IT Fundamentals helps you decide if a career in tech might be right for you. If you decide it is, then CompTIA A+ will show employers you have the skills they need and help you land your first IT job.
CompTIA A+ is the entry-level IT certification employers know and trust. They list it in job applications and look for it on resumes to identify candidates who have the tech support skills their organization needs. CompTIA IT Fundamentals covers a broader range of topics to give you an overview of IT, whereas CompTIA A+ dives deeper into technical support skills.
Once you've decided which certification is right for you, here are some tips on how to prepare for and earn your IT certification:
Ready to get started? Download the exam objectives for your certification and then sign up for our IT Careers Newsletter to stay in touch and get 10% off your next CompTIA purchase.