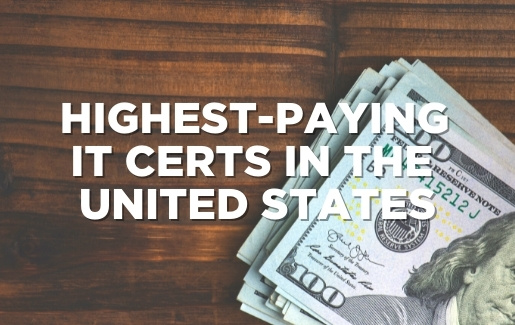 Earning one of the highest-paying IT certifications in the United States can be a career game changer for an IT pro. Not only can it help establish you as an expert in a tech specialty area, such as cloud architecture, incident management and mitigation, cloud infrastructure, cloud services, IT security or auditing, but it can also increase your salary.
Technologists are known for earning a good income, even during the worst of economic times. The Dice 2021 Tech Salary Report indicated that the salaries of IT professionals in the United States grew by 3.6% between 2019 and 2020. The average salary for a technologist was $97,859 during this time, despite the fact that COVID-19 was causing a huge number of organizations to make budget cuts. Many high-demand IT pros proved they had the skills needed to make themselves indispensable during the pandemic from the highest-paying IT certifications on the market.

It makes sense that a combination of skills, certifications and experience can help IT pros land lucrative positions. But which IT certifications are so in demand that some employers will pay top dollar for the candidates who hold them? The Dice Tech Salary Report tells all. Spoiler Alert: Three of the IT certifications are from CompTIA.

Top-paying IT Certifications in the United States
Certified Information Security Manager (CISM): $146,730
Certified Information Systems Security Professional (CISSP): $143,501
IT Service Management (ITSM): $130,215
AWS Certified Developer: $127,358
Certified ScrumMaster: $126,333
Project Management Professional (PMP): $126,281
AWS Certified Solutions Architect: $125,214
Certified Ethical Hacker (CEH): $123,524
Cisco Certified Network Professional (CCNP): $121,082
Agile and Scrum: $120,917
Microsoft Certified Solutions Expert (MCSE): $115,528
Information Technology Infrastructure Library (ITIL): $115,464
Cisco Certified Network Associate (CCNA): $101,254
Microsoft Certified Professional (MCP): $99,550
CompTIA Security+: $93,987
CompTIA Network+: $82,656
CompTIA A+: $78,629
"Many of these certifications can help technologists earn high salaries, demonstrating that, while a number of technologists might not think certifications are vital to their job, possessing one (or more) can help them stand out in a crowded market, as well as give them leverage in negotiations for better roles, salaries and benefits," wrote Dice Insights senior editor Nick Kolakowski.
Other valuable certifications for IT professionals include Certified Information Systems Auditor (CISA) and VMWare, as well as additional AWS certifications.
CompTIA A+, CompTIA Security+ and CompTIA Network+ Lead to Lucrative Jobs
The certifications listed above are in the highest-paying IT certifications category because they help IT pros gain the skills needed to land top-dollar tech roles. The CompTIA certifications that made the list help you secure in-demand IT jobs related to tech support, networking and cybersecurity that lead to a lucrative tech career.
Because CompTIA A+, CompTIA Network+ and CompTIA Security+ are foundational IT certifications, IT pros who earn them gain the skills they need now and to succeed throughout their IT career.
For example, someone who just earned CompTIA A+ and is in their first tech support job may not necessarily be earning the $78,629 cited by the Dice report. But honing the skills covered by CompTIA A+ and adding new skills and certifications to advance their career leads to more money over time.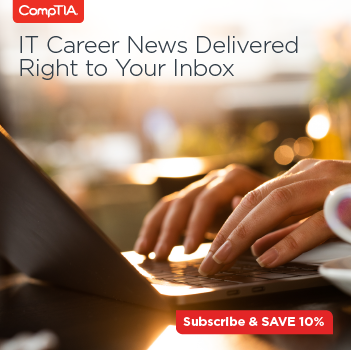 CompTIA A+
CompTIA A+ is the industry standard for launching IT careers.
This certification helps you:
Troubleshoot and problem solve core IT service and support challenges
Configure and support a wide range of devices and operating systems
Support basic IT infrastructure and networking
Demonstrate baseline security skills for IT support professionals
Administer client-based as well as cloud-based (SaaS) software
Implement basic data backup and recovery methods
CompTIA A+ proves you have the skills needed to get into IT and gives you the building blocks to prepare you for more advanced IT jobs. With this certification alone, you could become a help desk technician, which is a jumping off point for many specialized IT positions.

Help desk technicians solve technical issues and work with people. They often provide remote technical support over the phone, backup and restore data files and repair hardware. This is the starting point for many IT careers. According to the Dice report, help desk technicians earn $51,553 on average per year.

CompTIA Network+
CompTIA Network+ helps you develop a solid foundation of computer networking and IT infrastructure skills. It covers the following tasks related to jobs like systems analyst.
This certification helps you:
Design, implement and troubleshoot functional networks
Configure, manage and maintain essential network devices
Use devices such as switches and routers to segment network traffic and create resilient networks
Identify benefits and drawbacks of existing network configurations
Implement network security standards and protocols
Support the creation of virtualized networks
Systems analysts evaluate different problems in computer systems and implement and improve systems when needed. Dice reported that systems analysts earn $88,401 yearly.
CompTIA Security+
CompTIA Security+ covers baseline cybersecurity skills and prepares you for a cybersecurity career in roles such as systems administrator.
This certification helps you:
Install, configure and deploy network components, identity and access services, management controls and wireless security settings
Assess and troubleshoot issues to support organizational security
Implement secure network architecture concepts, systems design and public key infrastructure
Detect various types of compromise
Understand penetration testing and vulnerability scanning concepts
Implement and summarize risk management best practices and the business impact
Operate with an awareness of applicable laws and policies, including principles of governance, risk and compliance
IT pros who have CompTIA Security+ can fill any number of top-paying IT jobs. Systems administrator is an example. This IT pro is vital to an organization, as they ensure employees have access to the resources they need when they need them. This role calls for skills such as the ability to install applications that support the organization and the ability to identify, analyze and respond to security events and incidents. A systems administrator has an annual salary of $83,490, indicated by Dice.

Build Critical Vendor-neutral Skills With CompTIA Certifications
CompTIA A+, CompTIA Network+ and CompTIA Security+ are perfect for building and implementing vendor-neutral skills that can be applied to any platform or equipment. While these certifications aren't formal prerequisites for vendor-specific certifications, such as Amazon Web Services (AWS) Certified Cloud Practitioner, Azure Fundamentals and Google Cloud Platform (GCP), they provide the foundational IT skills that can be applied to them.
Get Into IT and Start Earning: CompTIA Can Help
CompTIA certifications and IT experience equal career success and generous income. No matter what IT job or salary is on your radar, CompTIA will see that you reach your goals.
Here are five ways that + means IT careers:

Find out more about how CompTIA can help you get started in IT and build the career of your dreams.

Ready to start studying? Writing out your plan will set you up for success. Download our free training plan worksheet to help get organized and make your dream a reality.