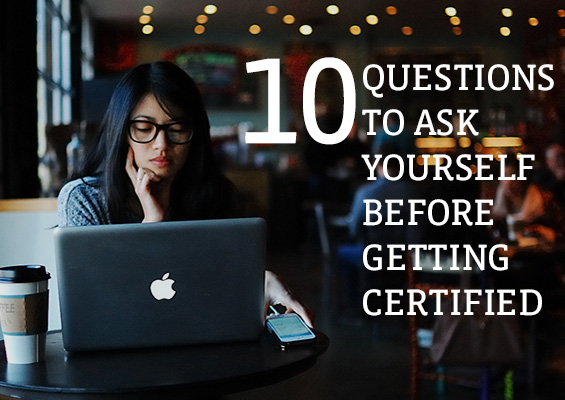 Du'An Lightfoot is a senior network engineer who has been working in IT for more than 15 years. He recently recorded a video on YouTube about chasing certifications versus building skills and has teamed up with CompTIA to highlight some of the key points. Keep reading to learn what it takes to progress through IT.
Achieving IT certifications offers a number of benefits, including personal fulfillment, financial growth and a boost in confidence. But most of all, they show employers that you have the ability to focus and learn and that you take your career seriously.
So, what does it take to climb the ranks of IT?
I spoke with a colleague of mine not too long ago, and he made an interesting point.
"If you want to take your career into your own hands, you need a trifecta."
He was referring to these three things:
Certifications
Experience (skills)
A Degree
With all three on your resume, there is no reason you can't have the job of your dreams. When it comes to certifications and skills, here are 10 questions to ask yourself before you decide to chase your next IT certification.
1. Why Should I Get an IT Certification?
In January, I earned the DevOps Foundation certification. Through this, I learned that the business has to establish its "why" – the purpose, beliefs, goal and reason for doing something. This can also be applied to certifications – what is your purpose, belief, goal or reason for achieving the certification? I apply this to every major decision in my life. Establishing the why puts the goal into focus.
2. Does This IT Certification Align With My Career Goals?
I've spoken with hundreds, if not thousands, of people via YouTube, and it always burdens me to hear someone chasing certifications that do not align with their career goals. Certifications require time, money and energy, and none of those should ever be wasted. CompTIA's IT Certification Roadmap can help you map out a plan to get your career exactly where you want to be.
3. Will This IT Certification Improve My Skills?
Let's be honest. Some certification exams are a bunch of memorization questions. Once the exam is out of the way, so is the information we obtained. CompTIA performance certifications require you to not only answer questions, but to also demonstrate your skills through performance-based questions, allowing you to prove you can do the work, not just memorize facts.

To me if it's not something that will improve my skills, knowledge and resume, I will not waste my time on it. I would rather have one valuable certification that proves my skills rather than 10 certifications that I earned and then forgot about.
4. What Value Will This IT Certification Add to My Resume?
In order to get pass automated HR filters, you need to have certs, skills or both. If you don't have the skills, then checking the box for CompTIA A+, CCNA or whatever IT certifications you have will really help you move on to the next phase of the interview process. Speaking of automation, learning Python, PowerShell or Ansible will put you at the front of the interview pack in 2019.
5. Does This Skill Relate to My Current Job?
In my career, it has always been easier to prepare for a certification that covers technology that I am working with. When I'm labbing eight hours a day on the job, it means less time labbing at home and more time reading and studying notecards. #LabEveryday
6. Will This IT Certification Increase My Salary?
Skills pay the bills! Ask anybody in any profession, and they will tell you the same. But one thing's for sure: certifications confirm your worth. Having in-demand certifications shows employers that you have the skills they're looking for.
7. What's More Important – Learning a Skill On the Job or Getting a New IT Certification?
If you are already working in your desired career field, sometimes learning the skills related to a new technology you work on daily will have more impact than simply getting another certification.

An example of this is Cisco ISE or Amazon AWS. Learning these technologies thoroughly will have a major impact not just on your resume, but also on your bank account. I'll repeat: Skills pay the bills, but certifications confirm your worth.
8. Can I Afford This IT Certification?
IT certifications can be expensive. Not only the exam cost, but also the required training to help you prepare. That said, you have options for saving money, or potentially getting your certification paid for entirely.
9. Do I Have the Right Resources?
Nothing is worse than taking an exam and realizing you have been using the wrong textbook version and training material. This may sound crazy, but it happens. Be sure to check your vendor's certification page to locate the exam topics and training resources – here's where to get CompTIA exam objectives and practice tests for free. Maybe you have a mentor or know someone who has taken the same certification – ask them for guidance. The internet, YouTube and Reddit are also great resources. Here are 7 ways to prep for a CompTIA certification exam.
10. Will My Life Allow Me the Time to Focus?
Life can get the best of us all. My wife and I are expecting our fourth child, so it's impossible to focus on a certification right now. But, thankfully, our family functions as a team. When you are working on a certification, be sure that your life has a support system that will encourage you on your journey. The #LabEveryday Community is a great place to go to find people that will help you get to where you want to be.
In 2019 our goal in IT has to be to learn, improve and automate. This goes for IT processes and your career. Whether you are chasing certifications or building your skill set, work to create balance. That will give your career agility and resilience.

Ready to get your IT certification? Sign up for CompTIA's IT Careers Newsletter, and get 10% off your next voucher or training product.