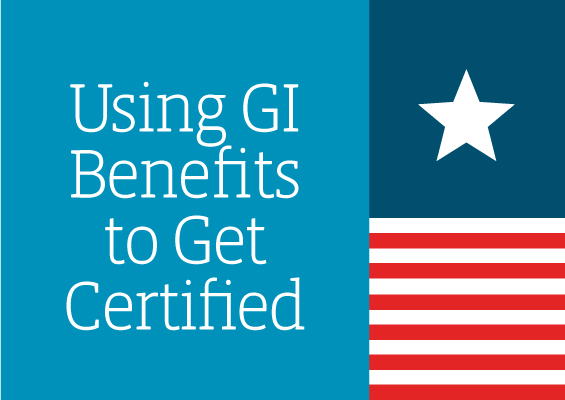 After serving our country and settling back into civilian life, many veterans want to take advantage of Post-9/11 GI Benefits. Whether it's to continue your education, start your college career or get certified in an area of interest, using the educational benefits available to you is a great way to advance your career.
The U.S. Department of Veteran Affairs (VA) provides financial support for classes, supplies and housing for veterans with at least 90 days of aggregate service after September 10, 2001, or veterans discharged with a service-connected disability after 30 days.
What Can I Do With My Post-9/11 GI Benefits?
You can use your benefits to obtain your undergraduate or graduate degree from an accredited institution of your choice or get vocational and/or technical training from a non-college degree program. You can also receive on-the-job training, flight training, correspondence training or entrepreneurship training.
If you want to use your GI Benefits for technical training and certifications, make sure that the course is approved by the VA. Getting a certification without taking a class, or even taking a class that focuses just on exam prep for a certification may not be covered, but a class about an area of technology that includes the certification may be.
How Much Money is Available to Me?
If you have been honorably discharged and served after September 10, 2001, you can receive up to $22,805.34 (as of August 1, 2017) per academic year at a non-degree program or private institute of higher learning. If you decide to go to a public school, all in-state tuition and fees are reimbursed.
What Other Things Can My Benefits Pay For?
Post-9/11 GI Bill benefits can be used to pay for:
Housing during the training, via a monthly allowance that varies by local cost of living rates.
Books and supplies, up to $1,000 annually if attending school full time.
How Do I Apply for My Post-9/11 GI Benefits?
Before you apply, think about what you'd like to do. What interests you, that you could see yourself doing every day as a career? Where do you see yourself in five years? Then decide if you will need a college degree or vocational training to get there.
Once you have a good idea of what you want to do and how you want to do it, visit the VA's Education Benefits Application Process page to get started.
After making the decision of what career you'd like to pursue, prepare your documents and make sure you have everything you need, such as your dates of service and your DD214 Certificate of Release or Discharge from Active Duty for all periods of active duty, as well as any transcripts from post-high school education. Apply for your benefit at vets.gov, in person at a VA regional office or with the school you plan to attend, or through the mail.
What's Next?
When choosing a program or school, make sure you understand the fees and tuition rates. Also make sure that your school has been approved for GI Bill benefits.
Consider casting a wide net and comparing a few different programs against one another to make sure the program you choose is the right one for you. After you apply for your benefits, it will take 30 days for the VA to make a decision. The Post-9/11 GI Bill can provide up to 36 months of education benefits, and generally those benefits are payable for 15 years following your release from active duty; however, in August 2017, President Donald Trump signed the Forever GI Bill, which eliminated this time limit for those discharged in 2013 or later.
If you are considering a career in IT, CompTIA is great place to get started. Many veterans end up working for or contracting with the government, and CompTIA certifications provide the qualifications needed to do IT for the federal government.
For more information, check out these available resources: