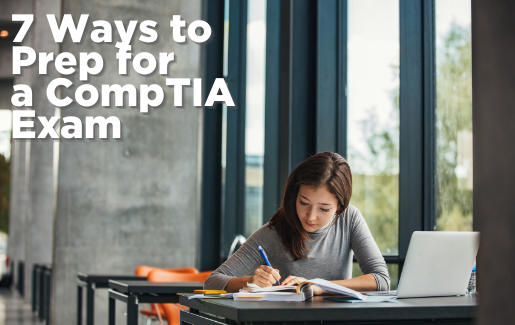 A common question people have related to CompTIA certifications is how to prepare for the CompTIA A+ certification. While the CompTIA A+ core series is one of the most popular IT certifications and the industry standard for launching an IT career, the answer to this question can apply to any CompTIA certifications. And the answer is – there is no one answer. How to prepare for a CompTIA certification exam depends on what will best help you understand and retain the information to pass the certification exam and to use throughout your IT career.
There is a whole world of study materials out there to choose from, so keep reading to learn how you can best prepare for a CompTIA certification exam.
Developing CompTIA certification exams requires input from industry professionals and oversight to ensure a high level of accuracy and impartiality.
Learn more.
Instructor-led Training or Self-study?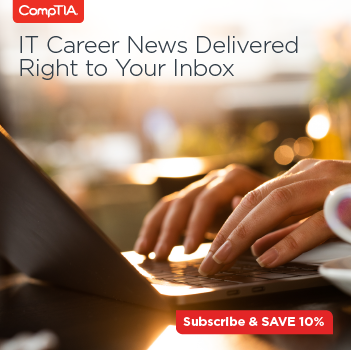 First it's important to establish if you learn best with instructor-led training or through self-study. Some people can go through a book start to finish, practice the hands-on skills they've read about and come out of it with a working knowledge of everything inside. Others learn better by sitting in a classroom, guided through exam objectives by an instructor in a structured learning environment to feel ready by the time the exam rolls around. There are also many, many gradations in between, and they're all perfectly good ways to approach preparing for a CompTIA exam.
But as a first step, you'll want to decide if you need an instructor-led training to guide you through the material for a given certification or if you can prepare on your own. If you need help determining what type of learner you are, take this quiz.

Instructor-led Training
There are many options for instructor-led training, depending on the certification you're going for.
Guided online learning: Today, online training is just as popular - and beneficial - as in-person training. CompTIA offers live online training for CompTIA A+, CompTIA Network+ and CompTIA Security+, and CompTIA authorized partners offer additional online courses. (Read more about this below.)

Online learning options can be cheaper, with prices in the $300 range and above. They are also often self-paced, so they allow for a student to benefit from the expertise of a remote instructor while still being able to fit the class into an otherwise busy schedule. This option is popular for those who are already working or have busy family lives.


Workforce development programs: Government and nonprofit workforce programs see the importance of having more skilled workers in the workplace, for the benefit of individual job seekers and society at large. People in certain economic circumstances may be able to benefit from these programs, and CompTIA's philanthropic arm, Creating IT Futures, runs several such programs, including the CompTIA Tech Career Academy.


Often, these programs are offered for free or at a rate drastically reduced from traditional IT education. These CompTIA prep courses cater to the professional needs of people seeking credentialing to help them get a foothold in an industry brand new to them.

Training centers: IT training centers like New Horizons are focused on getting people certified and workforce ready as quickly and efficiently as possible. Students often benefit from skills assessments and career counseling to make sure they're looking at the right role, and then it's just a matter of spending three to five intensive days getting set for the exam. Many who have served in technical roles in the military benefit from these programs, which can be pricey, but are very precisely targeted.

College courses: Getting certified in a traditional college environment can be good if you want a fully guided run-through of the material or if it's part of your degree program. You'll have labs, will have to hand in homework and will benefit from an instructor correcting your work and pointing you in the right direction.

Some programs teach directly to CompTIA's certifications and may even offer a chance to take the certification at the end of the course, when everything is fresh in your mind. Community college courses can cost in the $300 to $700 range, and they can take between 12 and 15 weeks. If that fits your price range, schedule and learning style, it could be a good option.
Invest in yourself without breaking the bank. CompTIA Tech Career Academy offers flexible, affordable and fast training for careers in tech.
Learn more.
Self-study Training

Not everyone wants – or needs – a live instructor to get prepped for a CompTIA exam. If you're someone who is self-motivated and enjoys learning at your own pace, here are some of our recommended options for self-study training.
The Best Way to Study for a CompTIA Exam
So, what's the best way to prepare for a CompTIA exam? The truth is, whatever works best for you. The choice that best fits how you learn, what you can afford to do and what suits your schedule is the option to pursue. That said, choosing a variety of study tools to immerse yourself in the world of a certification and absorb the information from every angle is a great way to set yourself up for success.
Ready to get started? Download our study planning worksheet to keep you on track for certification success.

Matthew Stern is a freelance writer based in Chicago who covers information technology, retail and various other topics and industries.