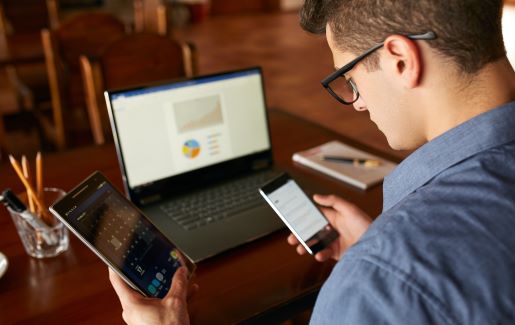 There's one in every workplace – a jack of all trades. That IT generalist who knows a little bit about everything, is praised for being an informed resource and has a very broad knowledge base. Maybe an IT pro you know comes to mind – maybe it's even you! Having knowledge on a variety of topics is great, but is it perhaps better to be specialized in one specific tech topic instead? We're here to compare being an IT generalist to an IT specialist to help you determine whether you want to set yourself up as a jack of all trades or a master of one. CompTIA's 2020 IT Industry Outlook revealed an abundance of information about the state of the IT industry this year that can help us decipher the benefits of each path.
The Benefits of Being an IT Generalist

1. You Have a Versatile Skill Set
As an IT generalist, your diversity is an impressive quality to employers. An IT pro that can be consulted with any type of project no matter what the challenge, is highly appreciated in the workplace.
According to the 2020 IT Industry Outlook, employers are facing a challenge of filling a broad range of skills. So, if you're the type of IT pro who can help rewire a server room, fight cybercrime and onboard a new hire, you provide a more unique value than someone with a specialization.
2. You Provide Flexibility and Dependability
Working with someone that is picky about the projects they want to be involved in can be tough. But as an IT generalist, you provide flexibility and dependability. Working with a jack of all trades is enjoyable, and when there is work that needs to be done quickly, being the go-to guy or gal is extremely respectable.
The 2020 IT Industry Outlook highlights the following as some of the top skills IT managers are looking for:
Teamwork: Your broad knowledge allows you to dive into a variety of projects at your organization, making you a great team player.
Breadth of skill: IT managers note that having a wide range of abilities is valuable because it helps mitigate everyday work challenges. As an IT generalist, this is your bread and butter.
3. You Are Valuable to Companies with Small IT Departments
A small company may also come with a small budget, which could mean they don't have the ability to hire several IT pros that specialize in different fields. Being an IT generalist can make you more appealing to a smaller company, where your varied skill set is invaluable. You can also continue to gain experience in many different facets of IT.
The Benefits of Being an IT Specialist
1. Being a Specialist Is Priceless
Specializing in a certain topic these days is rare, and therefore leads to greater appreciation. An IT specialist has a huge advantage when it comes to problem solving because you know the ins and outs of your craft. As an expert, you can potentially predict upcoming changes in the industry since you know it like the back of your hand.
The 2020 IT Industry Outlook found that IT managers are looking for the following skills:
Depth of skill in a particular field: Since you are a master in one specialty, you will be impressive to IT managers who are looking for an IT pro with a specialization.
Problem solving: With your extensive skills, you are a great resource at your organization when specific problems arise, and your ability to solve problems is very strong.
2. Specialization Seems to Be the Trend
The 2020 IT Industry Outlook predicts there will be a strong focus on training and getting certifications. The report says that 48% of IT pros plan on building technical skills within their current area of specialization, and 45% of IT pros plan on building a technical skill in a new area.
With so many different topics in IT, there is plenty of room for growth. Whether you already specialize in something like cloud computing or you're looking to enter a new specialization like server administration, there is a great opportunity to specialize in a certain skill.
3. You Save Your Organization Time and Money
Experts tend to be extremely efficient due to their high level of knowledge, and efficiency helps save companies time and money. As an IT specialist, you won't need as much training and babysitting in your job role, which, in turn, makes you more productive. You ensure quality in your work, which takes stress off other people at your organization.
If a hiring manager had to choose between an IT generalist or an IT specialist for a specialized job, the specialist would have the upper hand because they wouldn't require as much training, and their detailed knowledge is a no-brainer.
As you can see, there are pros and cons to each option. IT pros have to think about which is right for them – and it doesn't necessarily have to be a permanent decision! After weighing all the options – do you see yourself as a jack of all trades or a master of one?
Subscribe to CompTIA's IT Career News to learn more about how to advance your IT career.