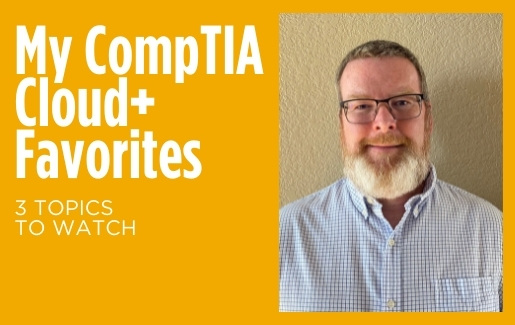 Some of you have been following my other blog series, My CompTIA Server+ Favorites: 3 Topics to Watch. Since I also wrote the Official CompTIA Cloud+ Study Guide, I wanted to share my favorites from the new CompTIA Cloud+ (CV0-003) as well. The series begins with this overview article, and will continue with a specific post dedicated to each of the three topics below.
I have been working with the CV0-003 objectives since last fall, so I've really had an opportunity to delve into the various topics. I honestly thought it would be easy to pick out three subjects as my favorites, but when I began outlining this article, I ended up with eight topics I wanted to highlight. Eventually I was able to narrow the list to three, but I'll mention the other contenders below.
Anything having to do with cloud computing is a major IT topic these days, but what I particularly like about these three subjects is their practicality. These are things cloud administrators will need to know on a regular basis.
My 3 Favorite CompTIA Cloud+ Topics
1. Managing Compute Resources
What I'm referring to here are the regular daily tasks of cloud administration:
Cloud-based network administration
Managing resource scaling
New service or application deployments
These subjects appeal to me based on my own background as a systems administrator and technical instructor who taught server administration content. The new CompTIA Cloud+ provides ample coverage of these fundamental skills and responsibilities.
2. Understanding Migration Types and Phases
Cloud migrations are another pertinent topic for cloud administration. The movement away from on-premises physical server installations to virtualized cloud deployments continues to expand. Administrators are being asked to migrate everything from newly developed cloud-native applications to legacy systems designed for single-user interactions.
In addition, cloud migration does not necessarily mean moving services and resources to a public cloud service provider such as Amazon, Microsoft or Google. Many organizations opt to retain direct control of their data while leveraging cloud technologies and practices in private data centers. Therefore, cloud administrators must migrate data to a company-owned private cloud.
CompTIA Cloud+ examines server migrations, such as physical-to-virtual (P2V). It also addresses the larger scale migrations from on-premises physical servers to off-premises public cloud service provider data centers.
3. Managing the Layers of Cloud Security: Physical to Data
I've always considered the layered approach to computer security to be a great way of visualizing security components. This approach lists best practices, tools and techniques at each physical or logical layer of data management.
Think of security based on the following layers:
Physical: Facility and server physical security
Operating system: Hardening, patching and minimalist deployments
Application: Hardening and patching
Data: Integrity, confidentiality, backups and replication
User: Training, authentication, authorization and restrictive access controls
CompTIA Cloud+ addresses this layered approach to provide effective threat mitigation.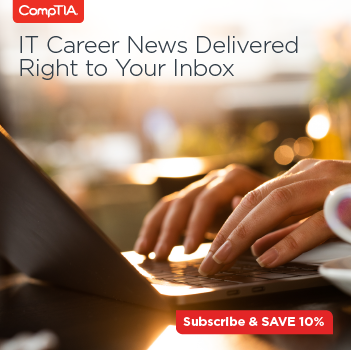 The Best of CompTIA Cloud+
The new CompTIA Cloud+ exam objectives offer an updated, practical approach to cloud administration. Furthermore, CompTIA Cloud+ is vendor neutral. This is essential as today's organizations continue to move toward multi-cloud deployments and are less willing to be locked into a single cloud vendor.
Don't forget that in the weeks to come I will dedicate specific articles to each of the above three topics:
Managing compute resources
Understanding migration types and phases
Managing the layers of cloud security, from physical to data
I mentioned above that I had a difficult time narrowing the list to just three topics. Here are five other topics that could also have shined just as strongly as the three I chose:
Service models and deployment models
Containers
Testing techniques
Logs, monitoring and alerts
Disaster recovery and disaster recovery documentation
If you'd like to learn more about CompTIA Cloud+, take a look at CompTIA Cloud Essentials+ vs. Cloud+: How to Choose and How to Study for CompTIA Cloud+. You can also read a similar series of my favorites from Server+, including virtualization and the cloud, server deployments and system hardening.
Ready to get started with CompTIA Cloud+? Download the exam objectives to see what's covered on the exam or sign up for a free trial of CompTIA CertMaster Learn and Labs for Cloud+.