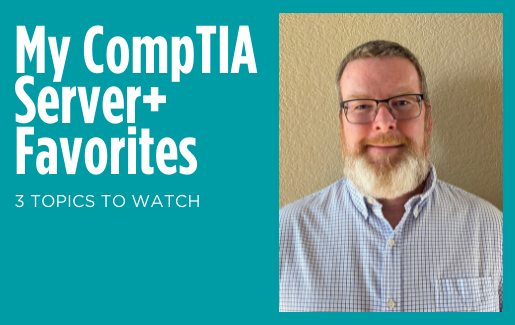 I am very excited to share some of my favorite topics from the new CompTIA Server+ (SK0-005) content. The CompTIA Server+ exam objectives contain an excellent body of knowledge for those wishing to venture into the sysadmin area of IT. I love that the content acknowledges both Windows and Linux and includes both on-premises and cloud-based administration topics. Follow along with this four-part series to learn more about those subject areas. This first article will give you a sneak peek about what I'll cover, and the future articles will provide more details and depth.
My 3 Favorite CompTIA Server+ Topics

1. Virtualization and the Cloud

Clearly, cloud computing is one of the most essential parts of a sysadmin's job these days. Cloud computing is built on virtualization. The Official CompTIA Server+ instructor and student guides, written by yours truly, pay close attention to this important topic. Virtualization and cloud computing will be the focus of the first article in this series.
I've enjoyed watching the revolution in IT brought on by virtualization. It has changed how I learn, teach, write articles and even how I think of computers.

2. Server Deployments

There are so many ways to deploy servers—whether virtual or physical—and understanding the differences in the methods can make an administrator's job far easier. A whole section of CompTIA Server+ is dedicated to deployment. Imaging? Covered. Unattended? Check. Manual? Yep, it's there. And the content does not just cover operating system (OS) deployment, application deployment is also mentioned.
The second article in the series will look at deployment and initial configuration topics.

3. Server Hardening

You must have anticipated that there would be a security topic mentioned, right? Security is, after all, one of the most critical parts of a sysadmin's job and the one subject guaranteed to be in the headlines daily.
When I teach classes that mention the term security hardening, I introduce the topic like this: Hardening means to remove what you don't need and use the most current version of whatever is left. The practical application is much broader, but that's a good starting point.

The CompTIA Server+ materials discuss several aspects of security hardening:

Services management
Application hardening
OS feature management
System updating and patching
While the concept of hardening is not new, or even all that glamorous anymore, it is critical in today's world of work-from-home, ransomware and cyber terrorism. I'll tackle this topic in the third article in this series.

Honorable Mention: Windows and Linux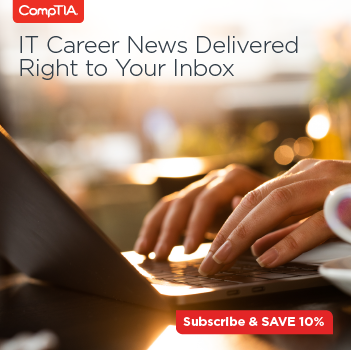 I'm not going to dedicate an article to this subject, but I think it's worth noting in the context of the above three topics. There are examples of both Windows and Linux administrative tasks and commands in CompTIA Server+.
As a technical instructor who has taught Windows Server and Linux (and a macOS user at home), I've often been asked what the best OS is. My answer? Use the best tool for the job, because they all have strengths and weaknesses.

The focus of CompTIA Server+ is not operating system details. Microsoft provides plenty of training on Windows Server, and the CompTIA Linux+ (XK0-004) content is a very strong introduction to that OS. I made a deliberate effort, based on the exam objectives, to integrate Windows tools and commands into the examples. You'll also notice, however, that there are plenty of screenshots and command examples for Linux, too.

The OS coverage is not limited to just the official courseware guide, either. CompTIA Labs for Server+ includes activities on both Windows and Linux platforms. It is essential to use both operating systems to drive home the lessons and concepts that a CompTIA Server+ exam candidate must understand.

The Best of CompTIA Server+

The content found in the CompTIA Server+ exam objectives will add significantly to a sysadmin's knowledge and value. It is a viable standalone certification as well as a stepping-stone to greater specialization in areas such as cybersecurity or cloud administration.
I believe these topics offer critical and practical information for tomorrow's server administrators. However, I also believe these concepts are interesting when so many other IT subjects are dry (I'm looking at you, subnetting). That is why they are my favorite parts of the course objectives. Please watch for my upcoming articles, where I delve deeper into each of these topics.

And in case you missed my previous article about how to study for the new CompTIA Server+, here are a few tips:
Download the exam objectives for free from the CompTIA website.
Determine if you prefer technical training, self-study or a combination of the two.
Find the right self-study tools for learning, practicing your hands-on skills and getting exam-ready. CompTIA offers a full suite of learning products that do all of this.
Start learning the topics covered by CompTIA Server+ with CompTIA CertMaster Learn. Sign up for a free trial today.