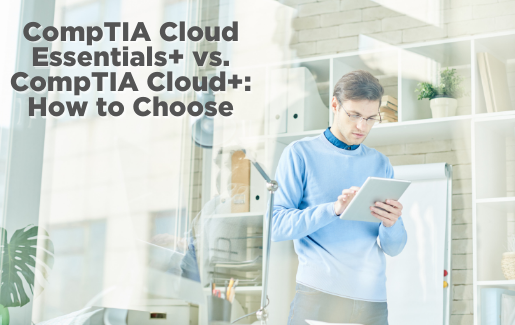 More companies than ever have moved some or all services to the cloud. Cloud services have a major impact on these organizations, and not just from a technical perspective. Organizations now need decision makers, analysts and process owners who understand vital cloud principles from a business perspective in addition to the technical know-how of cloud administrators. CompTIA covers both groups with two important certifications: CompTIA Cloud Essentials+ and CompTIA Cloud+.
The CompTIA Cloud Essentials+ (CLO-002) certification, released in 2019, validates the knowledge and skills required to make informed decisions about cloud technologies and their business impact. CompTIA Cloud Essentials+ addresses the decision makers and process owners, but what about the technical teams?
The new CompTIA Cloud+ (CV0-003) provides the vendor-neutral technical perspective needed in today's diverse cloud work environment. It covers critical cloud administration topics as identified by cloud experts in the field.
Let's break these two down into a little more detail.
Why Certify for Cloud Business Skills?
One of the largest skills gaps for IT professionals is business knowledge and experience. CompTIA Cloud Essentials+ teaches business concepts and terminology combined with the technical knowledge necessary to make informed decisions. Cloud administrators will have the ability to advise their company on cloud business decisions, while business analysts, managers and executives can use CompTIA Cloud Essentials+ to develop an understanding of basic cloud concepts.
Why CompTIA Cloud Essentials+?
Cloud decision makers recognize a lack of candidates who are knowledgeable about cloud services implementations and service lifecycles, and also possess the ability to consider these services from a governance and financial perspective. Organizations struggle to find the critical personnel to fulfill this combined role.
CompTIA Cloud Essentials+ validates your ability to accomplish various tasks, including the following:
Manage cloud assessments
Make cloud service decisions based on business and financial considerations
Understand cloud service operational requirements
Understand cloud concerns surrounding risk, compliance and governance
Why Certify for Cloud Administration Skills?
On the other hand, CompTIA Cloud+ is for the day-to-day cloud administrator who wants a vendor-neutral validation of their skills. It provides knowledge on public and private cloud administration subjects that cloud admins face daily.
Gartner anticipates end-use cloud growth to increase by 23% in 2021 as organizations continue to react to world events and move toward a less office-centric workforce. The demand for skilled and knowledgeable cloud administrators will also continue to increase.
CompTIA Cloud+ features a variety of technical topics, including the following:
On-premises private clouds and remote clouds hosted by public cloud service providers
Cloud security practices
Virtual networking
Troubleshooting
CompTIA Cloud+ gives far less attention to business concerns than CompTIA Cloud Essentials+. The CompTIA Cloud+ audience is typically individuals pursuing a more technical line of work. It is worth noting, however, that CompTIA Cloud+ objectives do include organizational documentation practices, such as business continuity plans and disaster recovery plans. CompTIA Cloud+ also covers legal concerns.
Why CompTIA Cloud+?
CompTIA offers a premier vendor-neutral certification path that contains content pertaining to Microsoft Azure, Amazon Web Services (AWS) and Google Cloud Platform (GCP). Many organizations continue to move toward a multi-cloud infrastructure (cloud services hosted by multiple cloud service providers), and their cloud administrators must be able to adapt to any environment quickly.
The CompTIA Cloud+ exam objectives cover universal cloud concepts and practices. Like CompTIA Security+ and CompTIA Network+, this vendor-neutral approach works very well if you intend to enter the IT workforce, where you will almost certainly manage devices, networks, security configurations and cloud services across a wide array of vendors.
How to Study for CompTIA Cloud+
With the newly updated CompTIA Cloud+ (CV0-003) content, CompTIA offers a full suite of learning products, including The Official CompTIA Cloud+ Study Guide, eLearning, labs and exam practice.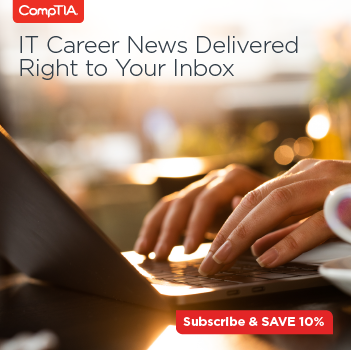 Official CompTIA Cloud+ Study Guide: Choose either an eBook or printed format to help you learn and master the material.
CompTIA CertMaster Learn: Manage your study time with this comprehensive solution, consisting of videos, hundreds of practice questions, performance-based questions and more, all organized into a personalized learning plan.
CompTIA Labs: Get hands-on practice by engaging in labs that take the material you've read or heard and solidify it by asking you to achieve the required settings and show your understanding. If you purchase a bundle that includes CertMaster Learn and CompTIA Labs, the labs are integrated into your learning plan in one seamless experience.
CertMaster Practice: Practice what you've learned with a full timed practice test experience, including scenario-based multiple choice and performance-based questions – the same types of questions you'll encounter when taking the CompTIA Cloud+ exam.
Be In Demand
CompTIA Cloud Essentials+ and CompTIA Cloud+ put you in control of your path to cloud computing. They each represent a substantial demand in the marketplace and position candidates for roles in the ever-growing cloud arena. And better yet, it is entirely reasonable to pursue both certifications.
Ready to get started? Download the exam objectives for either certification to see what's covered and begin studying.