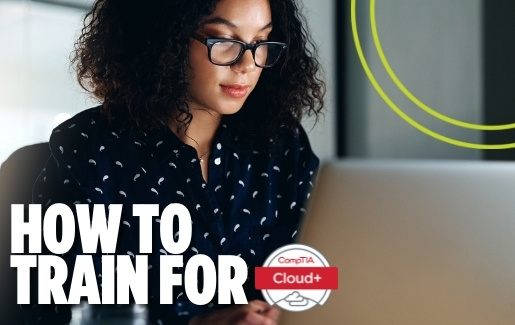 If you're looking for a job in cloud computing, such as cloud specialist, systems engineer or cloud engineer, CompTIA Cloud+ may be your next step. While you may already understand some of the content covered on the CompTIA Cloud+ exam, it's likely you still have quite a bit to learn. To get started, below are some general IT certification study tips followed by a look at the new CompTIA Cloud+ (CV0-003) certification exam and training options being released this month.
Step 1: Create a Plan
Once you've made the decision to earn CompTIA Cloud+, it can be tempting to start studying immediately. But it's important to take a few moments to consider the following points first.

Once you've answered these questions, you can begin figuring out what you know and what you need to study more. You can also get started using the training solutions that are right for you. In order to know what to study, you need to download the exam objectives.
Step 2: Download the CompTIA Cloud+ (CV0-003) Exam Objectives
Exam preparation begins with the exam objectives. How else will you know what to study? You can download the exam objectives for the new CompTIA Cloud+ exam directly from the CompTIA website. I'm just old-fashioned enough to print the objectives as a study reference.
One of the first things I do is read through all of the objectives, marking the topics I'm comfortable with as well as those I'm completely unfamiliar with. For example, I might have lots of experience with virtual machines but no experience with containers. Identifying areas of strength and weakness helps organize my studying.
Remember that the exam objectives are divided into domains. The domains are weighted, which also helps to organize exam preparation.

Here are the new CompTIA Cloud+ domains and their relative weights:

1.0 Cloud Architecture and Design = 13%
2.0 Security = 20%
3.0 Deployment = 23%
4.0 Operations and Support = 22%
5.0 Troubleshooting = 22%
I found that the beta version of the new CompTIA Cloud+ exam emphasizes some general cloud networking topics, such as VLANs, VXLANs and Geneve, as well as load balancing and router configurations. Some attention is also given to peering VPCs.

The exam covers many security topics, including data loss prevention (DLP), web application firewalls and endpoint detection and response (EDR). Performance topics include affinity/anti-affinity and microsegmentation.

It's vital to pay attention to the exam topic percentages, and always remember that security is always a critical subject.
Step 3: Learn the Material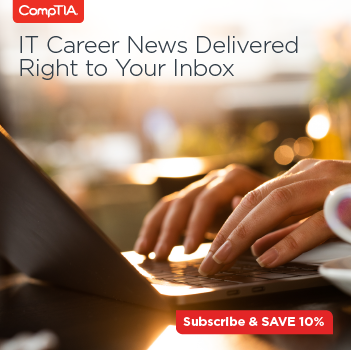 Now that you've reviewed the exam objectives and have an idea of what you already know and what you need to focus on, it's time to get to work. CompTIA CertMaster Learn is a comprehensive eLearning solution designed around CompTIA exam objectives. The interactive platform includes videos, hundreds of practice questions, performance-based questions and more, all organized into a personalized learning plan to help you manage your study time.
Alternatively, The Official CompTIA Cloud+ Study Guide also covers all of the exam objectives so you know you're focusing on the right topics.

But learning is just the beginning. You need to put what you've learned into action. The CompTIA Cloud+ exam includes performance-based questions, which evaluate your ability to complete hands-on tasks related to the exam objectives. In order to pass your certification exam, you'll need to get some hands-on experience.
Step 4: Work on Getting Hands-on Experience
While it may be easier to get hands-on experience with cloud technologies than it is for other IT skills, there's still some barriers. Major cloud vendors, including Amazon, Microsoft and Google, offer free cloud accounts that provide fundamental cloud services at no cost for a certain period of time. But to access these resources you need to enter your credit card information, and if you don't remember to cancel before the trial is up, you could end up paying for the service.
CompTIA Labs for Cloud+ provides cloud access for lab participants without signing up for a product trial. Access to the resources is rolled into the cost of the labs and is made possible by the CloudSlice technology of Learn on Demand Systems, the platform on which the labs are hosted. CompTIA Labs offers fast and easy access to the cloud environment. Lab activities have been developed for both the Azure and AWS platforms.

Remember how I mentioned earlier that you need to combine learning with hands-on practice? When you purchase a CompTIA Cloud+ bundle that includes both CertMaster Learn and CompTIA Labs, you'll get a seamless integrated experience where you can practice what you've learned within the same platform.

Want a sneak peek? Sign up for a free trial of CompTIA CertMaster Learn and Labs for Cloud+ (CV0-003) before it's available for purchase.*
Step 5: Get Exam Ready
You've learned the material and practiced the skills. Now it's time to prepare for your exam. If you haven't taken a high-stakes exam before (or in a long time), you'll want to become familiar with how questions are presented and get used to the pressure of the clock.
CompTIA CertMaster Practice offers a full, timed practice test experience, including scenario-based multiple-choice and performance-based questions – the same types of questions you'll encounter when taking the CompTIA Cloud+ exam. This is a great feature that enhances the learning process.

Here are a couple of specific recommendations for CertMaster Practice:

Discover if you tend to be quick or slow when taking exams
Learn the average time each question takes to complete
Get comfortable with the interface
Reinforce knowledge by using study mode (correct answers are displayed immediately)
CertMaster Practice gives you confidence as you go into your exam.
Bonus! Study These Additional CompTIA Cloud+ Topics
CompTIA Cloud+ covers a lot of ground. Because of the diversity and flexibility of cloud services, you may find yourself working with Windows one minute and Linux the next. You may also jump from a network configuration task to a database deployment.
I'd suggest having at least a basic level of comfort at the Linux command line (Bash) as well as with Windows PowerShell. Understanding the general differences between Linux distributions such as Ubuntu and Red Hat Enterprise Linux (RHEL) would also be helpful. Those who have earned CompTIA Linux+ or already possess the equivalent knowledge may find CompTIA Cloud+ a little easier.

I also recommend brushing up on networking and TCP/IP skills, including IP addressing. You do remember and recognize the private (or reserved) IP address ranges, right? And what about basic subnetting (hint, most network configurations nowadays use CIDR notation)? Routing and an understanding of firewall concepts will be useful, too. Both CompTIA Network+ and CompTIA Security+ could be beneficial if you're unfamiliar with these sorts of topics.
Ready to Get CompTIA Cloud+ Certified?
Now you can get started! Take your career to the next level by committing yourself to earning one of the best cloud computing certifications when you sign up for the new CompTIA Cloud+ (CV0-003) certification exam. Begin by creating a study plan, and understanding the exam objectives and domains. Then, study the topics, practice your hands-on skills and prepare for your exam. And studying some extra topics, like Linux and subnetting can't hurt.
Follow these steps and I'm sure you will succeed. Keep in mind, these skills will serve you well on nearly any CompTIA exam you decide to pursue.

Learn the skills you need with CompTIA CertMaster Learn + Labs. Sign up today for a free trial today!