This article is part of an IT Career News series called Your Next Move. These articles take an inside look at the roles related to CompTIA certifications. Each article will include the responsibilities, qualifications, related job titles and salary range for the role. As you consider the next move in your IT career, check back with CompTIA to learn more about your job prospects and how to get there.
Cloud computing is one of the hottest, and most in-demand technologies. There is no question over the past few years that cloud systems are a key ingredient to any IT strategy – making the role of cloud specialist especially sought after. If you're good at managing technologies and are willing to expand your knowledge and experiment as technology evolves, then cloud specialist may be a good next step for you.
What Is a Cloud Specialist?
A cloud specialist helps organizations migrate their information and services to the cloud in the following ways:
With flexibility and resilience as the guiding principles for future success, organizations will adopt a cloud-first mentality when it comes to building or upgrading IT infrastructure. In a smaller organization, the responsibilities of a cloud specialist may be rolled into a more general IT support role.
A cloud specialist may also work for an actual cloud service provider, like Amazon Web Services (AWS), Microsoft Azure or Google Cloud. In this capacity, a cloud specialist is typically responsible for onboarding new clients, troubleshooting and maintaining cloud computing solutions.
How to Become a Cloud Specialist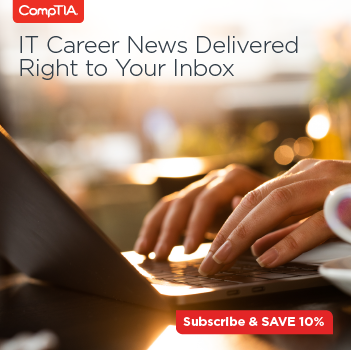 Having an established career in IT is a great foundation for a cloud specialist. Knowledge of networking, security, programming and project management make it easier to transition into the field. Most employers are looking for someone with a bachelor's degree in computer science, software engineering or a related field.
Many cloud specialists previously worked as systems administrators, database administrators or software developers. Since leadership positions in IT often require expertise in cloud computing, becoming a cloud specialist may allow you more potential to move up the ranks at your current company, or land a more prominent role at another. Certifications like CompTIA Cloud+ can prove that you have the skills to be a cloud specialist. Checkout the CompTIA Career Roadmap to see what other certification can help you become a cloud specialist.
The Details
Cloud Computing Salary Range
In 2020, the advertised median salary for U.S. job postings citing cloud-related skills was $99,700 (Burning Glass Technologies).
Job Outlook
From May 2020 to April 2021, there were more than 794,000 U.S. job postings citing cloud-related skills.

Job Titles Related to Cloud Specialist
Will your next move be cloud specialist? If so, check out CompTIA Cloud+ to get the skills to get you there.