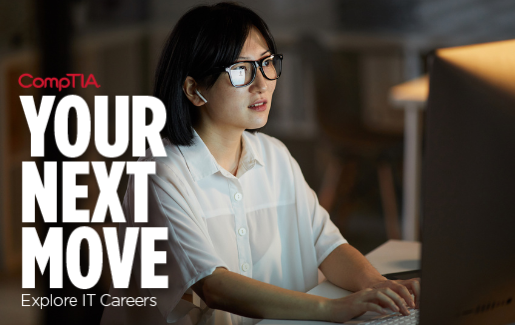 This article is part of an IT Career News series called Your Next Move. These articles take an inside look at the roles related to CompTIA certifications. Each article will include the responsibilities, qualifications, related job titles and salary range for the role. As you consider the next move in your IT career, check back with CompTIA to learn more about your job prospects and how to get there.
Interpreting raw data and turning it into usable feedback and applications is a vital part of any company that uses data to make business decisions. If you have a sharp, analytical mind and have a propensity for numbers and an interest in programming, then you may want to consider a job as a data scientist.
What Is a Data Scientist?
A data scientist is essentially an analytical data expert, with strong math and technical skills. They must analyze data for many different end results and communicate their findings to others in their organization.
Other job duties for a data scientist may include the following:
A data scientist can look at raw data from several different ways and draw meaning from it. They also must collect and clean up the data, requiring a keen eye for detail to vet the data and identify mistakes made during collection.
Data visualization and machine learning are a big part of this position, as are statistics and data preparation. A data scientist knows what all the numbers and patterns mean and can communicate the findings in layman's terms. And many data science tools allow you to interact with the command-line interface, so knowing Unix, Linux or another open-source operating system will make you a better data scientist.
How To Become a Data Scientist
Most data scientists start as data analysts or statisticians, and most companies hiring data scientists are looking for someone with a bachelor's degree in computer science, mathematics, statistics or management information systems. Data scientists often hold a master's degree as well, but not always.
If you want to become a data scientist, but have limited experience in a data role, consider CompTIA Data+. This early-career data analytics certification will prove you have the knowledge and skills required to promote data-driven business decision-making. Specifically, you will learn how to mine and manipulate data, apply basic statistical methods and analyze complex datasets throughout the entire data lifecycle.
Earning CompTIA Data+ can help you win a position as a data analyst or statistician, which puts you on the path to becoming a data scientist. Having knowledge of Linux could also be helpful. CompTIA Linux+ will validate your Linux skills so employers know you have the ability to make the most of their data science tools.
The Details
Data Scientist Salary
The median annual wage for computer and information research scientists, the occupation category that includes data scientists, was $131,490 in 2021, according to the U.S. Bureau of Labor Statistics (BLS).
Check out CompTIA's IT Salary Calculator for more details.
| | | | | |
| --- | --- | --- | --- | --- |
| 10th Percentile | 25th Percentile | 50th Percentile | 75th Percentile | 90th Percentile |
| $59,430 | $77,620 | $100,910 | $130,770 | $167,040 |
Data Scientist Job Outlook
Data scientist is one of the fastest-growing roles. Employment of computer and information research scientists is projected to grow 21% from 2021 to 2031, much faster than the average for all occupations, according to the BLS. The BLS projects about 7,100 new jobs over the 10-year period for the specific role of data and other research scientists.
Job Titles Related to Data Scientist
+ Means More
At CompTIA, + means IT careers. That means you can consider us your partner on your journey to becoming certified, as well as finding, interviewing for and winning that new job role.
Need more job inspiration? Check out CompTIA's Tech Job Report video series now premiering on CompTIA Connect. Learn more about the latest data and trends in tech hiring and the implications for employers and the U.S. workforce with new episodes each month.
Read about more IT jobs featured in Your Next Move.
Will your next move be data scientist? If so, download the exam objectives for CompTIA Data+ to learn more.